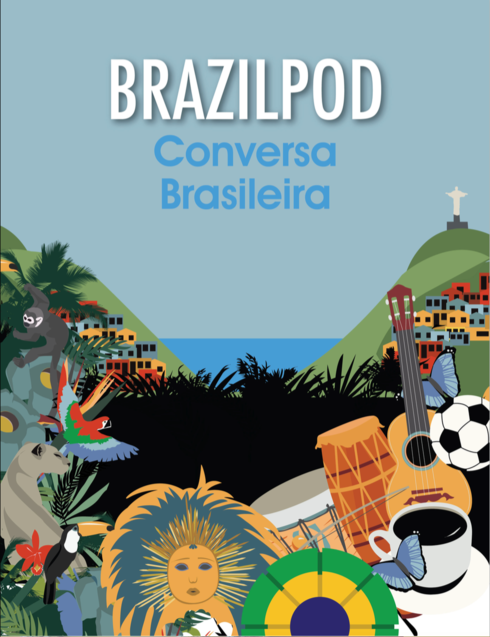 Conversa Brasileira
Orlando R. Kelm, University of Texas, Austin
Copyright Year: 2013
ISBN 13: 9781937963057
Publisher: COERLL
Language: English
Table of Contents
1. Animals 1: Dog Lovers 1
2. Animals 2: Dog Lovers 2
3. Travel 1: Hanging Out At Breakfast 1
4. Travel 2: Hanging Out At Breakfast 2
5. Hobbies I : Anne's Almost 4 Months Old
6. Hobbies 2: Collecting Brazilian Musical Instruments
7. Relationships 1: It's The Same Thing All Over Again
8. Relationships 2: Eloísa's The Black Sheep Of The Family
9. Food 1: Kill Me Now, Or Feed Me Something Brazilian
10. Food 2: Brazilian "Churrasco" With A Capital Bbq!
11. Working Out 1: I'm Just Not Feeling It
12. Working Out 2: I Love Going To The Gym
13. Wedding 1: A Coisa Tava Chique!
14. Wedding: Mixing It Up. When Brazilians Marry Americans
15. Grandparents 1: Hopscotch And Marbles Or Polly Pocket?
16. Grandparents 2: Well Grandma, There Isan Easier Way To Do It
17. Moms In The Park 1: Don't Cry. You'reok!
18. Moms In The Park 2: They Are Getting Along Really Well
19. School 1: I Have My Very Own Locker!
20. School 2: What Are You Doing About The Whole Lunch Thing?
21. Shopping 1: They'll Love This With A Passion!
22. Shopping 2: It Looks Like Spun Gold, Doesn't It?
23. Shopping 3: Capricha Lá!
24. Directions 1: Tô Perdido – I'm Lost
25. Directions 2: Moço, Dá Licença – I'm Lost
26. Traffic 1: Don't Be Blaming Me On This!
27. Traffic 2: I Hate This Traffic!
28. Gossip 1: Ói, Que Safado!
29. Gossip 2: Vai Ser Uma Dupla Interessante
30. Soccer 1: Você Foi Muito Fominha Hoje!
31. Soccer 2: Ninguém Tira O Título Da Gente
32. Jam Session 1: Acabou Batendo Aqui Na Cabeça
33. Jam Session 2:Tem Que Agradar Todomundo, Né?
34. Studio 1: Behind The Scenes, Ói, Que Safado!
35. Studio 2: Behind The Scenes – Eu Também Acho
About the Book
Conversa Brasileira is an online open access site that contains a series of 35 video scenarios in which Brazilians talk about their daily activities, everything from hobbies to shopping, and from traffic jams to soccer games. These materials are designed to help intermediate- and advanced-level learners of Portuguese to analyze the way that Brazilians really talk and improve in their own proficiency and fluency. This textbook provides a hardcopy of all of the online materials, including the dialog transcriptions, English translations, and lesson notes that link to the original website.
About the Contributors
Author
Orlando R. Kelm (PhD, University of California, Berkeley) is an Associate Professor of Hispanic Linguistics at the University of Texas at Austin where he teaches courses in Portuguese and Spanish, focusing mainly on business language and the cultural aspects of international business communication. He also serves as the Associate Director of Business Language Education at the UT CIBER (Center for International Business Education and Research). Prof. Kelm's research and publications center on the cultural aspects of international business and the pedagogical applications of innovative technologies in language learning. His most recent online materials development project is entitled Conversa Brasileira and his most recent book (coauthors: John N. Doggett and Haiping Tang) is entitled When We Are the Foreigners: What Chinese Think About Working With Americans.