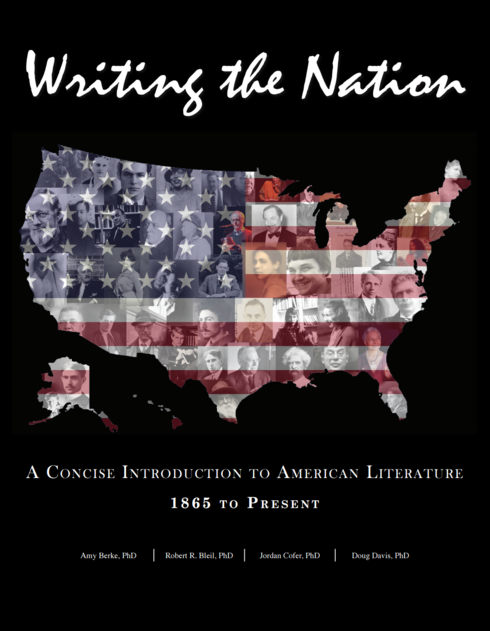 Writing the Nation: A Concise Introduction to American Literature 1865 to Present
Amy Berke, Middle Georgia State University
Robert Bleil, College of Coastal Georgia
Jordan Cofer, Abraham Baldwin Agricultural College
Copyright Year: 2015
ISBN 13: 9781940771342
Publisher: University of North Georgia Press
Language: English
Table of Contents
Chapter 1: Late Romanticism (1855-1870)
Chapter 2: Realism (1865-1890)
Chapter 3: Naturalism (1890-1914)
Chapter 4: Turn of the Twentieth Century and the Growth of Modernism (1893 - 1914)
Chapter 5: Modernism (1914 - 1945)
Chapter 6: American Literature Since 1945 (1945 - Present)
About the Book
Writing the Nation: A Concise Guide to American Literature 1865 to Present is a text that surveys key literary movements and the American authors associated with the movement. Topics include late romanticism, realism, naturalism, modernism, and modern literature.
About the Contributors
Authors
Dr. Amy Berke is the Chair of Department of English at Middle Georgia State University.
Robert R. Bleil, PhD is an Assistant Professor of English at College of Coastal Georgia.
Jordan Cofer is an Assistant Vice President of Academic Affairs, in charge of learning resources, and an associate professor of English at Abraham Baldwin Agricultural College.