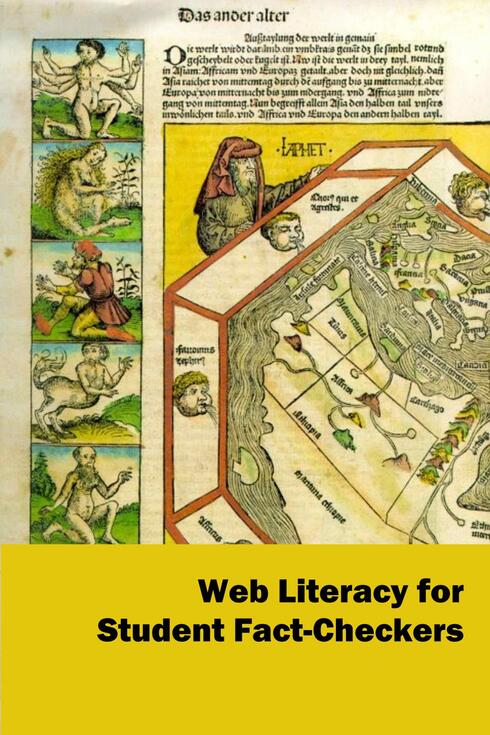 Web Literacy for Student Fact-Checkers
Mike Caulfield, Washington State University Vancouver
Copyright Year: 2017
Publisher: Mike Caulfield
Language: English
Table of Contents
Part I. Four Strategies and a Habit
1. Why This Book?
2. Four Strategies
3. Building a Fact-Checking Habit by Checking Your Emotions
Part II. Look for Previous Work
4. How to Use Previous Work
5. Fact-checking Sites
6. Wikipedia
Part III. Go Upstream
7. Go Upstream to Find the Source
8. Identifying Sponsored Content
9. Activity: Spot Sponsored Content
10. Understanding Syndication
11. Tracking the Source of Viral Content
12. Tracking the Source of Viral Photos
13. Using Google Reverse Image Search
14. Filtering by Time and Place to Find the Original
15. Activity: Trace Viral Photos Upstream
Part IV. Read Laterally
16. What "Reading Laterally" Means
17. Evaluating a Website or Publication's Authority
18. Basic Techniques: Domain Searches, WHOIS
19. Activity: Evaluate a Site
20. Stupid Journal Tricks
21. Finding a Journal's Impact Factor
22. Using Google Scholar to Check Author Expertise
23. How to Think About Research
24. Finding High Quality Secondary Sources
25. Choosing Your Experts First
26. Evaluating News Sources
27. National Newspapers of Record
28. Activity: Expert or Crank?
29. Activity: Find Top Authorities for a Subject
Part V. Field Guide
30. Verifying Twitter Identity
31. Activity: Verify a Twitter Account
32. Using the Wayback Machine to Check for Page Changes
33. Finding Out When a Page Was Published Using Google
34. Using Google Books to Track Down Quotes
35. Searching TV Transcripts with the Internet Archive
36. Using Buzzsumo To Find Highly Viral Stories
Part VI. Field Guide (Unfinished Articles)
37. Unfinished Articles
38. Finding Out Who Owns a Server
39. Finding Out When a Site Was Launched
40. Avoiding Confirmation Bias In Searches
41. Finding the Best Possible Opposition
42. Advanced Wikipedia
43. Promoted Tweets
About the Book
The web gives us many such strategies and tactics and tools, which, properly used, can get students closer to the truth of a statement or image within seconds. For some reason we have decided not to teach students these specific techniques. As many people have noted, the web is both the largest propaganda machine ever created and the most amazing fact-checking tool ever invented. But if we haven't taught our students those capabilities is it any surprise that propaganda is winning?
This is an unabashedly practical guide for the student fact-checker. It supplements generic information literacy with the specific web-based techniques that can get you closer to the truth on the web more quickly.
About the Contributors
Author
Mike Caulfield is currently the director of blended and networked learning at Washington State University Vancouver, and the editor of the New Horizons column for the OpenCourseWare Consortium.
Before that he was employed by Keene State College as an instructional designer,  and by MIT as director of community outreach for the OpenCourseWare Consortium.