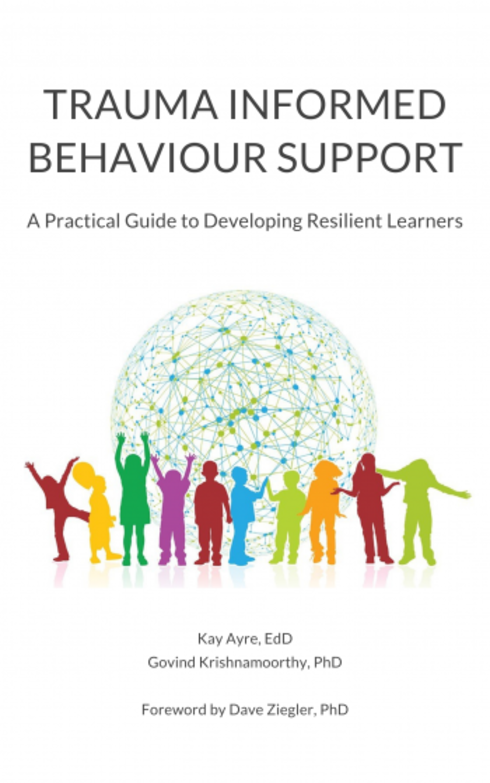 Trauma Informed Behaviour Support: A Practical Guide to Developing Resilient Learners
Kay Ayre, Edith Cowan University
Govind Krishnamoorthy, University of Southern Queensland
Copyright Year: 2020
ISBN 13: 9780648769835
Publisher: University of Southern Queensland
Language: English
Table of Contents
I. Understand and empathise
II. Observe and reflect
III. Prevent and contain
IV. Connect and validate
V. Teach and reinforce
VI. Survive and thrive
About the Book
If we want to impact the world of children who have experienced trauma then we must change not only ourselves and our classroom, but we must change our schools, our organisations, and our systems of care for children.  We must all speak out for these children who have no voice to bring awareness of new educational and mental health approaches to children who will become tomorrow's failed adults unless they receive our understanding and our help.
For whatever reason you have been attracted to this book, you have come to the right place.  You may at times put it down and wonder if the challenge is too great, but trust me it is not.  If you stay engaged with this book and with a child who has experienced trauma then you will learn new understandings, new ideas and new ways to reach the mind, the heart and the soul of young people who need our support and our love.
About the Contributors
Authors
Dr. Kay Ayre is a lecturer in Early Childhood Studies in the School of Education at Edith Cowan University, Western Australia. She has a background in early years teaching and behaviour support. She has worked extensively with disengaged and disruptive children, their teachers and schools. Kay has a passion for helping build the capacity of teachers to develop and maintain positive, inclusive classrooms with a focus on supporting children affected by trauma who demonstrate serious, disruptive behaviour. Her research interests are in challenging behaviour of children, positive behaviour support, trauma informed practice and parent-school engagement.
Dr. Govind Krishnamoorthy is a clinical psychologist and lecturer in the School of Psychology and Counselling at the University of Southern Queensland, Australia. Govind's clinical practice and research focuses on improving mental health and educational outcomes for children and adolescents from marginalised backgrounds. He has worked extensively with children and families exposed to abuse and neglect in both public and private sector. Govind has collaborated extensively with schools and a number of child welfare services in implementing systems approaches for trauma informed and attachment sensitive practices.