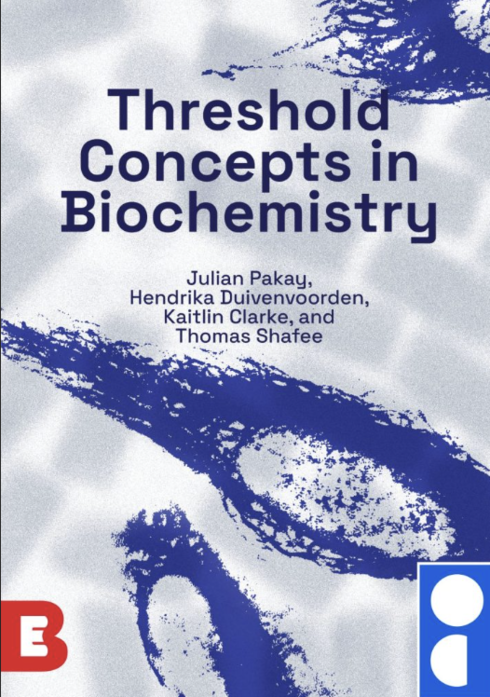 Threshold Concepts in Biochemistry
No ratings
Julian Pakay, La Trobe University
Hendrika Duivenvoorden, Monash University
Thomas Shafee, Hexima and La Trobe University
Kaitlin Clarke, La Trobe University
Copyright Year: 2023
Publisher: La Trobe eBureau
Language: English
Table of Contents
Chapter 1: Studying biology at the molecular level
Chapter 2: How to study biology at the molecular level
Chapter 3: The universality of life
Chapter 4: Information flow through organisms 
About the Book
Biochemistry (and Molecular Biology) represent one of the fastest-growing fields of scientific research and technical innovation and the resulting biotechnology is increasingly applied to other fields of study. So, an understanding of Biochemistry is increasingly important for students in all biological disciplines. However, at the same time, the content is inherently complex, highly abstract, and often deeply rooted in the pure sciences – mathematics, chemistry, and physics. This makes it difficult to both learn and to teach.
This book is designed as a succinct and focused resource, specifically aimed to help students grasp key threshold concepts in Biochemistry. Due to their troublesome nature, understanding threshold concepts is a cognitively demanding task. By using a series of thematically linked case studies that accompany theory, the cognitive load will be reduced. This will free up students to focus on learning concepts rather than distracting them with unnecessary specifics.
About the Contributors
Authors
Dr Julian Pakay is a teaching-focused academic in the Department of Biochemistry and Chemistry at La Trobe University with over 12 years' experience teaching Biochemistry and Molecular Biology at all tertiary levels from 1st year through to Masters. He has completed a graduate certificate in higher education and is a fellow of the Higher Education Academy. His teaching is informed by both experience and a scholarly approach to identify deficiencies in student understanding. His main research interests are to developing strategies to improve teaching of quantitative literacy1 and to improve employability skills through authentic learning2 , 3 This work earned the education award at the 44th FEBS congress in Krakow, 2019.4 His research has informed curriculum development and led to authoring an open education textbook on quantitative literacy in biomedical science, Foundations of Biomedical Science (in preparation). He has successfully authored numerous research articles, conference papers and education articles. In 2018, he was awarded the La Trobe Pro-Vice Chancellor's Teaching Award for redeveloping the Biochemistry capstone curriculum to support students by focusing on current concepts, functioning knowledge and employability skills.
Dr Hendrika Duivenvoorden is an education-focused lecturer and course coordinator of the Master of Genome Analytics within the School of Biological Sciences at Monash University. Over the past nine years she has taught at three independent universities, with experience teaching both undergraduate and master's year levels. Hendrika has completed a Graduate Certificate in Higher Education, is a Higher Education Academy Fellow and is the co-founder of the 'Biology Researchers in Greater Higher education and Training' (BRIGHT) group at Monash, to empower emerging education-focused academics to plan and publish their education research. Hendrika has published 12 research articles (three as first author) and was an invited speaker at the 2021 Monash University Learning and Teaching conference. Hendrika's passion lies in transforming curricula and resources to be more engaging, authentic, and interactive for students, informed by her field and current research. She also has an interest in electronic teaching resources and assessments, on which she has presented at the Monash Science Faculty Annual Science Symposium in 2020. In 2021 Hendrika was awarded the Faculty of Science Dean's Citation for Outstanding Contributions to Student Learning.
Dr Thomas Shafee is a data scientist and bioinformatician with experience in extracting actionable insights from large and complex datasets, and communicating complex concepts to a broad range of audiences. After completing a PhD in evolutionary biochemistry at University of Cambridge and Medimmune, he transitioned to postdoctoral work in bioinformatics and data science at Hexima and La Trobe University. There he developed a wide array of skills in data analysis, particularly network and multidimensional scaling analyses as well as a range of statistical techniques. He also has a keen interest in visualising data in a human-intelligible way in order to make abstract information more intuitive. This links into his wide experience in science communication to a range of stakeholders (other academics, industry partners, students, clinicians, policymakers, and the broader public). As well as direct data analysis and visualisation, he is able to advise on research data management and ethics best practices – whether securely handing sensitive data or efficiently disseminating open data. Having a versatile skillset has enabled him to provide advice and expertise to national and international organisations ranging from pharmacology (MIMS Australia) to psychology (H-GAPS), Antarctic research (SCAR), and knowledge dissemination initiatives (Wikimedia Foundation).
Kaitlin Clarke is a researcher and casual teaching academic, completing a PhD in the Department of Biochemistry and Chemistry at La Trobe University. Kaitlin holds a bachelor's and master's degree by Research in Biochemistry. Her high achievement throughout undergraduate studies were recognised by academic achievement awards including the La Trobe University Vice Chancellors Award and the ASM Nancy Millis Student Award in microbiology. She prepared and delivered a talk presenting her postgraduate research at the international FAOBMB conference in 2021. As a specialist subject support tutor and demonstrator, Kaitlin has been involved in curriculum development and extensive experience in guiding undergraduate students grappling with difficult concepts. Additionally, she has several years' experience in laboratory demonstration/tutoring including Anatomy at The University of Newcastle and Biochemistry at La Trobe University helping students to bridge the gap between theory and practical application. She brings this experience and importantly a "nearpeer" sensibility to the project. Kaitlin is a capable author and recently submitted a 10,000-word review first author paper to Frontiers in Immunology which will be published this year.