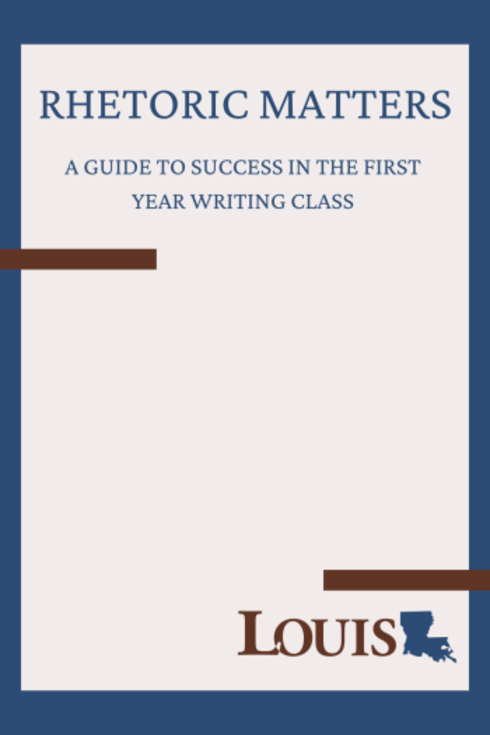 Rhetoric Matters: A Guide to Success in the First Year Writing Class
Adam Falik, New Orleans, LS
Dorie La Rue, Shreveport, LS
Tracey Watts, New Orleans, LS
Copyright Year: 2022
Publisher: LOUIS: The Louisiana Library Network
Language: English
Reviews
Reviewed by Damani Drew, English Instructor, Norfolk State University on 5/31/23
This book covered most aspects of writing; This book will generally help all first-year students who are currently / immediately transitioning from high school to college. Although experts predominately wrote the book from the state of... read more
Reviewed by Damani Drew, English Instructor, Norfolk State University on 5/31/23
Comprehensiveness rating: 5 see less
This book covered most aspects of writing; This book will generally help all first-year students who are currently / immediately transitioning from high school to college.
Although experts predominately wrote the book from the state of Louisiana, I believe any (Pre-Fall semester) Summer School and First Year student orientation administrators, nationwide, will find this book useful and should consider it as one of the required or reference tools for first year orientation or seminar.
Although there is no glossary, there is a comprehensive Works Cited with relevant links, and an Appendix, accessibility checklist, respectively.
Content Accuracy rating: 5
Although there is a lot of content for a freshman writer to absorb in one sitting (the book has 355 total pages), I found the content to be very accurate, helpful, unbiased.
Although there was some presented, I do wish there was more content on pre-writing, especially in regards to formulation of the outline.
Nevertheless, there was plenty of addition content in this book one that other books may not include.
Relevance/Longevity rating: 5
In every section, the relevance of content is introduced and explained.
This production can not only stand the test of time, but it can serve more ideally as a reference manual or as a reference handbook that one can use as a reference tool for improving his/her writing.
Some of the sections in the text include relevant questions and exercises to engage the students.
Clarity rating: 5
The best, most impressive, yet appreciative revelation of this text it that, from the beginning to end, the writers made certain that the content of the text was very clear to the reader. For example, even throughout the Preface and Introduction, the writers make very clear of its purpose, target audience, and contributions made from additional writers.
The text is written in a friendly, professional, yet personal mode as if the writer is speaking directly to a student. Therefore, it would be easy for anyone who read it to be able to absorb the information presented.
The writers state their philosophy up front. They explain that the text is to function more like a "manual guide", more so than a "textbook".
They even quote statistics from the American Association of Colleges and Universities to help convince the student reader why writing is so important.
Incoming students and current professors will appreciate how the writers give the student readers a "precursor" to what to expect (from their upcoming college instructors), not only in regards to their writing, but from their transitioning from high school to college in general.
Consistency rating: 5
Throughout the book, the writers give the (student) reader clear examples, definitions, suggestions, and tips that will help them understand class assignments, the expectations of the instructor.
The writers are consistently, strategically and impressively answering the student readers' question of, "Why should I do this?"
Modularity rating: 5
This text has so many various sub-units that the instructor can assign students to read any section with ease, or use the information as reference material in the course lecture discussions.
Organization/Structure/Flow rating: 4
Perhaps the section on the definition of "Rhetoric could have been better presented earlier than part three, especially since the section on "Reading Rhetorically" was presented before it. Other than that, the Organization is very clear and the Table of Contents section and its links are operable, and very user-friendly in a critically appreciative and valuable way.
Interface rating: 4
The sample reference page (on page 335) is blurred and does not appear clear enough for the reader to see.
In addition, there were a few blank pages with no text in some of the pages in between some sections and chapters. However, this could be a plus for those readers who like extra pages for writing notes, etc., but could be an annoyance to those who prefer not to disrupt the reading flow.
Grammatical Errors rating: 5
I found this manual to be well edited. I did not notice any visible grammatical errors.
Cultural Relevance rating: 5
I did not notice any cultural offences or biases; however, as a credit to the writers of this book, I did see a section in the text that gives instructions on how a writer can look for any author biases when one is reading rhetorically or researching critically.
Comments
Overall, I give this book five (5) stars.
It is an excellent manual and writing resource guide that includes a wealth of information that freshmen can use as a "go to" source for writing beyond the freshman level. It is worthy of consideration for use at various institutions.
Table of Contents
About This Book
Chapter 1: The Introduction
Chapter 2: Reading in Writing Class
Chapter 3: Thinking and Analyzing Rhetorically
Chapter 4: Writing a Summary and Synthesizing
Chapter 5: The Writing Process
Chapter 6: Structuring, Paragraphing, and Styling
Chapter 7: Revising and Refining
Chapter 8: Multimodal Reading and Visual Rhetoric
Chapter 9: The Research Process
Chapter 10: Sources and Research
Chapter 11: Ethical Source Integration: Citation, Quoting, and Paraphrasing
Chapter 12: Documentation Styles: MLA and APA
Works Cited
Appendix A: Checklist for Accessibility
About the Book
Rhetoric Matters: A Guide to Success in the First Year Writing Class offers students necessary concepts and practice to learn all the elements needed for successful first year writing and set the stage for future writing success in college.
This textbook was created as part of the Interactive OER for Dual Enrollment project, facilitated by LOUIS: The Louisiana Library Network and funded by a $2 million Open Textbooks Pilot Program grant from the Department of Education. This project supports the extension of access to high-quality post-secondary opportunities to high school students across Louisiana and beyond. This project features a collaboration between educational systems in Louisiana, the library community, Pressbooks technology partner, and workforce representatives. It will enable and enhance the delivery of open educational resources (OER) and interactive quiz and assessment elements for priority dual enrollment courses in Louisiana and nationally. Developed OER course materials will be released under a license that permits their free use, reuse, modification and sharing with others.

The target audience for this project and this textbook are dual enrollment students. Dual enrollment is the opportunity for a student to be enrolled in high school and college at the same time. A dual enrollment student receives credit on both their high school and college transcripts for the same course.
About the Contributors
Authors
Adam Falik, Southern University of New Orleans
Dr. Dorie LaRue, professor of English at Louisiana State University, Shreveport
Dr. Tracey Watts, instructor in English at Loyola University of New Orleans