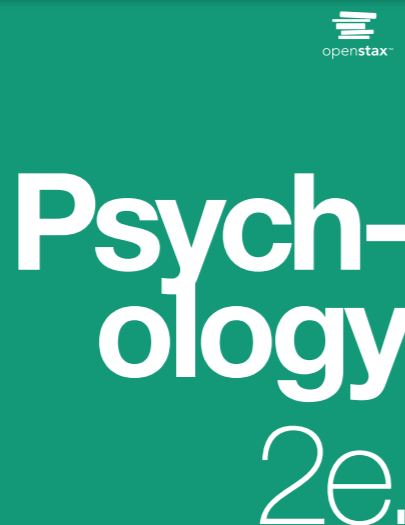 Psychology - 2e
Rose Spielman, OpenStax College
Kathryn Dumper, Bainbridge, Georgia
William Jenkins, Macon, Georgia
Marilyn D. Lovett, Spelman College
Copyright Year: 2014
Last Update: 2021
ISBN 13: 9781951693237
Publisher: OpenStax
Language: English
Table of Contents
Introduction to Psychology
Psychological Research
Biopsychology
States of Consciousness
Sensation and Perception
Learning
Thinking and Intelligence
Memory
Lifespan Development
Emotion and Motivation
Personality
Social Psychology
Industrial-Organizational Psychology
Stress, Lifestyle, and Health
Psychological Disorders
Therapy and Treatment
About the Book
Psychology 2e is designed to meet scope and sequence requirements for the single-semester introduction to psychology course. The book offers a comprehensive treatment of core concepts, grounded in both classic studies and current and emerging research. The text also includes coverage of the DSM-5 in examinations of psychological disorders. Psychology incorporates discussions that reflect the diversity within the discipline, as well as the diversity of cultures and communities across the globe.
The second edition contains detailed updates to address comments and suggestions from users. Significant improvements and additions were made in the areas of research currency, diversity and representation, and the relevance and recency of the examples. Many concepts were expanded or clarified, particularly through the judicious addition of detail and further explanation where necessary. Finally, the authors addressed the replication issues in the psychology discipline, both in the research chapter and where appropriate throughout the book.
About the Contributors
Authors
Senior Contributor
Dr. Rose Spielman has been teaching psychology and working as a licensed clinical psychologist for 20 years. Her academic career has included positions at Quinnipiac University, Housatonic Community College, and Goodwin College. As a licensed clinical psychologist, educator, and volunteer director, Rose is able to connect with people from diverse backgrounds and facilitate treatment, advocacy, and education. In her years of work as a teacher, therapist, and administrator, she has helped thousands of students and clients and taught them to advocate for themselves and move their lives forward to become more productive citizens and family members.
Kathryn Dumper, Bainbridge State College
William Jenkins, Mercer University
Marilyn D. Lovett, Spelman College