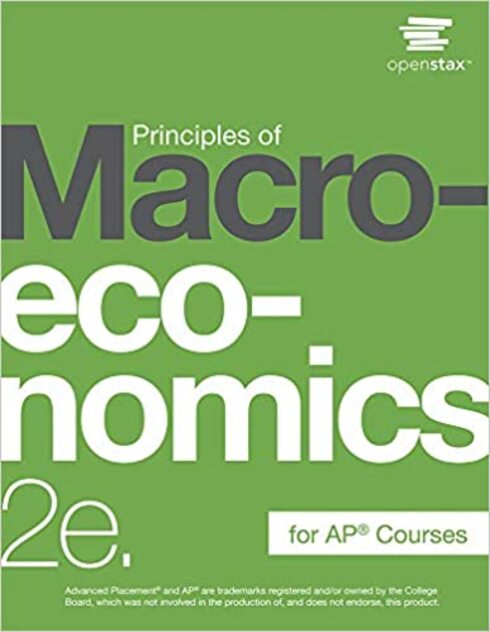 Principles of Macroeconomics for AP® Courses 2e
Steven A. Greenlaw, University of Mary Washington
David Shapiro, Pennsylvania State University
Copyright Year: 2017
ISBN 13: 9781947172432
Publisher: OpenStax
Language: English
Reviews
Reviewed by Shengnan Fang, Full-time Faculty, Linn-Benton Community College on 1/11/21
This textbook is designated to AP course, and it covers the major content for principles level class, but also introduces chapters related to worldwide macroeconomic policies, money and banking and how to view macroeconomics from Keynesian and... read more
Reviewed by Shengnan Fang, Full-time Faculty, Linn-Benton Community College on 1/11/21
Comprehensiveness rating: 5 see less
This textbook is designated to AP course, and it covers the major content for principles level class, but also introduces chapters related to worldwide macroeconomic policies, money and banking and how to view macroeconomics from Keynesian and neoclassical perspectives. There are 21 chapters in the textbook, which are organized into seven main parts. Each chapter begins with a real-world economic example or question in "Bring it Home" section, and it also ends with detail explanations related to the examples or questions in "Bring it Home". This layout is efficient and helpful for students to catch up the application of the chapter content. Within every chapter, at the beginning of each section, it specifies the expectations for students to learn after they finish this section's study, which is greatly efficient for students to grasp the key terms and major points.
Content Accuracy rating: 4
Overall, the contents of this textbook are largely accurate. However, I did find some issues. For example, on page 85, the demand curve of nurses is not always downwards, which might confuse students to understand the law of demand. On Page 171, in my opinions, it might be better to use bar chart rather than line chart to compare different groups' unemployment. On Page 205, Figure 8.5(b), the horizonal axis doesn't show the Year from 1996 to 2013 in a neat form.
Relevance/Longevity rating: 4
As this book published in 2017, and most of data stayed up-to-date until year 2016. And the examples at the beginning of each chapter is pretty attractive and relevant to the topic. As for the longevity, we typically have 10-11weeks long for a quarter, and this text has 18 chapters, which means that instructors need to cover nearly two chapter per week. In my opinion, it might be better to shorten some chapters. For example, Chapter 9 introduces capital flow, and Chapter 15 also talks about capital flow, which might be appropriate to combine those contents to one chapter in international trade. We can also find that Chapter 16 and 17 all talk about different fiscal policies. Although I think it is a good idea for students to know the macroeconomics from Keynesian and Neoclassical perspective, it might not necessary for our community college students to learn those contents in-depth.
Clarity rating: 5
This text does a great job to present clear and relevant explanations of key economic terms and concepts.
Consistency rating: 5
The book is consistent in terms of terminology and framework.
Modularity rating: 5
There are 18 chapters in this textbook, and after reading each chapter, I think the text can be readily divided into smaller reading sections. For example, if I just want to introduce Money and Banking, then I can assign Chapter 13 for students to learn without asking them to read Chapter 11 or Chapter 12.
Organization/Structure/Flow rating: 5
Each chapter is well organized. I like the "Introduction" at the beginning of each chapter. It highlights the questions needed to understand and gives me a guideline to go through the content. However, Chapter 1 and Chapter 2 can be combined together as an introduction of Economics. Chapter 9 introduces The International Trade and Capital Flows, and Chapter 15 also talks about Exchange Rates and Capital Flow, which might makes students confused about the differences in these two chapters.
Interface rating: 5
Download the textbook online is easy and the hyperlinks and QR codes in "Link It Up" section work well.
Grammatical Errors rating: 5
I cannot recall any grammatical errors in the textbook.
Cultural Relevance rating: 5
I think there is no culturally offensive content.
Comments
As an instructor to community college students, I think the content of this textbook is up-to-date and easy to go through. Especially for the beginning of each chapter, it starts with a "Bring it Home" example, which is attractive to let students know that Economics is in our daily life. For the section of "Link-It-Up", it might be better to put more video (less than 4 mins) to catch students' attention and improve their engagement. However, for a 10-11 weeks in a quarter, I think 18 chapters might be lengthy for my students.
Table of Contents
Chapter 1 Welcome to Economics!
Chapter 2 Choice in a World of Scarcity
Chapter 3 Demand and Supply
Chapter 4 Labor and Financial Markets
Chapter 5 The Macroeconomic Perspective
Chapter 6 Economic Growth
Chapter 7 Unemployment
Chapter 8 Inflation
Chapter 9 The International Trade and Capital Flows
Chapter 10 The Aggregate Demand/Aggregate Supply Model
Chapter 11 The Keynesian Perspective
Chapter 12 The Neoclassical Perspective
Chapter 13 Money and Banking
Chapter 14 Monetary Policy and Bank Regulation
Chapter 15 Exchange Rates and International Capital Flows
Chapter 17 The Impacts of Government Borrowing
Chapter 18 Macroeconomic Policy Around the World
About the Book
Principles of Macroeconomics for AP® Courses 2e covers the scope and sequence requirements for an Advanced Placement® macroeconomics course and is listed on the College Board's AP® example textbook list. The second edition includes many current examples and recent data from FRED (Federal Reserve Economic Data), which are presented in a politically equitable way. The outcome is a balanced approach to the theory and application of economics concepts.
The second edition was developed with significant feedback from current users. In nearly all chapters, it follows the same basic structure of the first edition. General descriptions of the edits are provided in the preface, and a chapter-by-chapter transition guide is available for instructors.
About the Contributors
Authors
Steven A. Greenlaw, University of Mary Washington
Steven Greenlaw has been teaching principles of economics for more than 30 years. In 1999, he received the Grellet C. Simpson Award for Excellence in Undergraduate Teaching at the University of Mary Washington. He is the author of Doing Economics: A Guide to Doing and Understanding Economic Research, as well as a variety of articles on economics pedagogy and instructional technology, published in the Journal of Economic Education, the International Review of Economic Education, and other outlets. He wrote the module on Quantitative Writing for Starting Point: Teaching and Learning Economics, the web portal on best practices in teaching economics. Steven Greenlaw lives in Alexandria, Virginia with his wife Kathy and their three children.
David Shapiro, Pennsylvania State University
David Shapiro is Professor Emeritus of Economics, Demography, and Women's, Gender, and Sexuality Studies at the Pennsylvania State University. He received a BA in economics and political science from the University of Michigan, and an MA as well as a PhD in economics from Princeton University. He began his academic career at Ohio State University in 1971, and moved to Penn State in 1980. His early research focused on women and youth in the United States labor market. Following a 1978-79 stint as a Fulbright professor at the University of Kinshasa in the Democratic Republic of the Congo, his research shifted focus to fertility in Kinshasa and more broadly, in sub-Saharan Africa. He has also received the top prize for teaching at both Ohio State and Penn State.