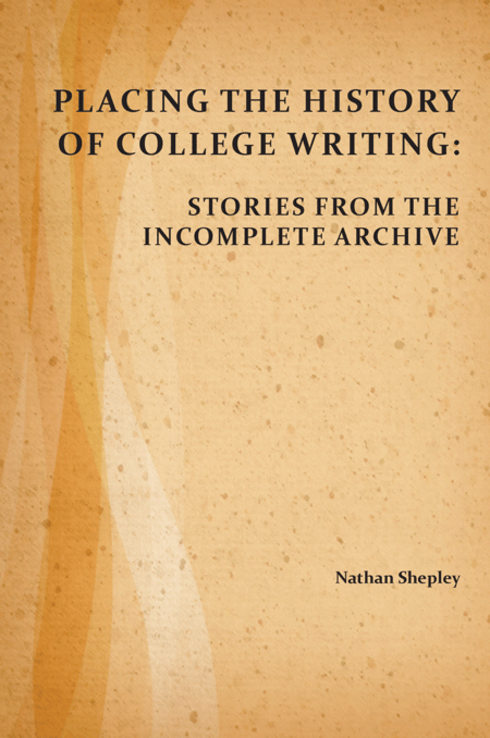 Placing the History of College Writing: Stories from the Incomplete Archive
Nathan Shepley, University of Houston
Copyright Year: 2015
ISBN 13: 9781602358010
Publisher: WAC Clearinghouse
Language: English
Reviews
Reviewed by Anna Plemons, Clinical Assistant Professor, Washington State University on 5/21/18
This text uses neosophistic rhetorical theory to suggest that the concepts of nomos, kairos, epideixis, and dynation are fruitful frames through which to situate an analysis of student writing. This claim, that a historical analysis of student... read more
Reviewed by Anna Plemons, Clinical Assistant Professor, Washington State University on 5/21/18
Comprehensiveness rating: 5 see less
This text uses neosophistic rhetorical theory to suggest that the concepts of nomos, kairos, epideixis, and dynation are fruitful frames through which to situate an analysis of student writing. This claim, that a historical analysis of student composition at two specific institutions before 1950 is generative for understanding student writing today, unfolds in a sequence of historical analyses using archival material from Ohio University and the University of Houston. The text is comprehensive it its analysis and defense of its major claims.
Content Accuracy rating: 5
Without local knowledge of the institutions or archives discussed, I have no reason to question the accuracy of this text.
Relevance/Longevity rating: 3
This text is relevant to Composition historians and since it primarily utilizes archival research, questions of obsolescence are not as critical as they would be for texts attempting to engage or discuss contemporary issues. The style and density of the prose is appropriate for advanced graduate students or other scholars in the field.
Clarity rating: 3
This text requires a familiarity with rhetorical theory and discourse. The writing is dense at times as the author works to carefully construct a highly academic argument.
Consistency rating: 5
In regards to consistency in the use of terminology and framework, this text has a fairly clear through-line.
Modularity rating: 3
I do not think this text was designed to be used modularly. It is a historical monograph which is designed to be read linearly as one extended argument.
Organization/Structure/Flow rating: 5
The book has a clear structure and the topics follow in a logical fashion.
Interface rating: 5
The interface of this text is straightforward. There are not very many images/charts and all of the display features work seamlessly.
Grammatical Errors rating: 5
The text contains very few grammatical errors.
Cultural Relevance rating: 3
Regarding cultural relevance, the text is not culturally insensitive or offensive, but neither is it particularly culturally expansive. The archival research provides the basis for some local cultural analysis, but inclusivity does not seem to be an explicit aim of this text.
Comments
One of the potential strengths of this text is the model it provides for doing rhetorical research in Composition Studies. It also provides a thorough literature review and could, in that way, be of use to other scholars interested in similar lines of inquiry.
Table of Contents
Front Matter
Acknowledgments
Chapter One: Placing History, Historicizing Place
Chapter Two: Customizing Composition: Students Broadening Behavioral Codes
Chapter Three: Tracking Lines of Communication: Student Writing as a Response to Civic Issues
Chapter Four: Composition on Display: Students Performing College Competence
Chapter Five: Rethinking Links Between Histories of Composition
Chapter Six: Composition as Literacy, Discourse, and Rhetoric
Works Cited
Glossary
About the Book
In Placing the History of College Writing, Nathan Shepley argues that pre-1950s composition history, if analyzed with the right conceptual tools, can pluralize and clarify our understanding of the relationship between the writing of college students and the writing's physical, social, and discursive surroundings. Even if the immediate outcome of student writing is to generate academic credit, Shepley shows, the writing does more complex rhetorical work. It gives students chances to uphold or adjust institutional codes for student behavior, allows students and their literacy sponsors to respond to sociopolitical issues in a city or state, enables faculty and administrators to create strategic representations of institutional or program identities, and connects people across disciplines, occupations, and geographic locations. Shepley argues that even if many of today's composition scholars and instructors work at institutions that lack extensive historical records of the kind usually preferred by composition historians, those scholars and teachers can mine their institutional collections for signs of the various contexts with which student writing dealt.
About the Contributors
Author
Nathan Shepley is Assistant Professor of English at the University of Houston, where he teaches undergraduate and graduate courses in Rhetoric and Composition. In addition to composition history, his specialization areas include composition pedagogy and ecological and neosophistic theories of writing. His articles have appeared in Composition Studies, Enculturation, Composition Forum, and Open Words: Access and English Studies.