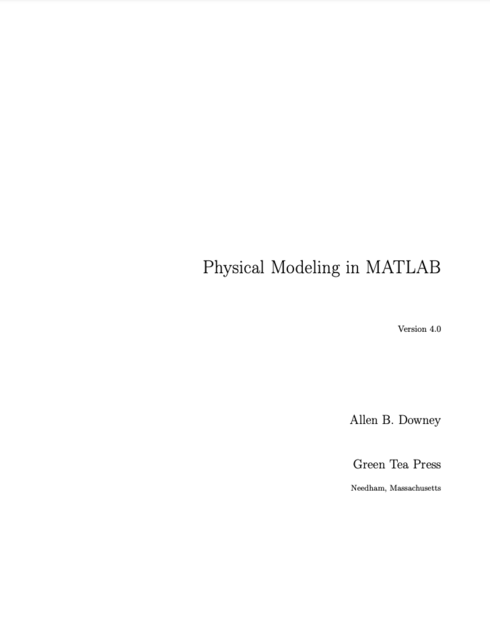 Physical Modeling in MATLAB - Version 4.0
Allen Downey, Franklin W. Olin College of Engineering
Copyright Year: 2021
Publisher: Green Tea Press
Language: English
Table of Contents
Preface
Modeling and Simulation
Scripts
Loops
Vectors
Functions
Conditionals
Zero-Finding
Functions of Vectors
Ordinary Differential Equations
Systems of ODEs
Second-Order Systems
Two Dimensions
Optimization
Springs and Things
Under the Hood
Glossary
About the Book
Modeling and simulation are powerful tools for explaining the world, making predictions, designing things that work, and making them work better. Learning to use these tools can be difficult; this book is my attempt to make the experience as enjoyable and productive as possible.
By reading this book — and working on the exercises — you will learn some programming, some modeling, and some simulation:
With basic programming skills, you can create models for a wide range of physical systems. My goal is to help you develop these skills in a way you can apply immediately to real-world problems.
This book presents the entire modeling process, including model selection, analysis, simulation, and validation. I explain this process in Chapter 1, and there are examples throughout the book.
Simulation is an approach to modeling that uses computer programs to implement models and generate predictions. This book shows how simulations are used to run experiments, answer questions, and guide decision-making.
About the Contributors
Author
Allen Downey is an American computer scientist, Professor of Computer Science at the Franklin W. Olin College of Engineering and writer of free textbooks. Downey received in 1989 his BS and in 1990 his MA, both in Civil Engineering from the Massachusetts Institute of Technology, and his PhD in Computer Science from the University of California at Berkeley in 1997. He started his career as Research Fellow in the San Diego Supercomputer Center in 1995. In 1997 he became Assistant Professor of Computer Science at Colby College, and in 2000 at Wellesley College. He was Research Fellow at Boston University in 2002 and Professor of Computer Science at the Franklin W. Olin College of Engineering since 2003. In 2009-2010 he was also Visiting Scientist at Google Inc.