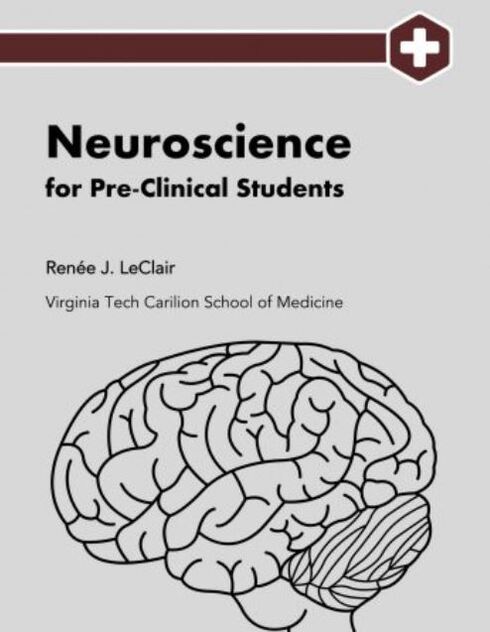 Neuroscience for Pre-Clinical Students
Renée J. LeClair, Virginia Tech Carilion School of Medicine
Copyright Year: 2022
Publisher: Virginia Tech Publishing
Language: English
Reviews
Reviewed by Anna-Marie Beck, Program Director, Johnson County Community College on 5/16/22
This book is not a comprehensive Neuroscience book as the title states. If you read the book description, you find that it is about neuroenergetics, neurotransmitters, neuropeptides, and some amino acids. This is a small part of neuroscience. This... read more
Reviewed by Anna-Marie Beck, Program Director, Johnson County Community College on 5/16/22
Comprehensiveness rating: 3 see less
This book is not a comprehensive Neuroscience book as the title states. If you read the book description, you find that it is about neuroenergetics, neurotransmitters, neuropeptides, and some amino acids. This is a small part of neuroscience. This is the reason for the average score. The content does not align with the title of the book.
Content Accuracy rating: 4
No errors noted.
Relevance/Longevity rating: 3
As this text does not include the whole of neuroscience as the title suggests, there is a lot of content missing that should be updated for future use.
Clarity rating: 2
This text is written by someone who knows the language and it is assumed that the students in the courses also know this language. I am not privy to when this text is used in the program; however, students are already behind if it is used early on. There is a disclaimer in the text that states that students have been introduced to the fundamental concepts presented in the text; however, the concepts presented are at a more advanced level than fundamental and should be considered.
Consistency rating: 4
The text is internally consistent in terms of terminology.
Modularity rating: 3
The text is divisible into small reading sections.
Organization/Structure/Flow rating: 3
There are pieces missing, to truly be a neuroscience text. There are pieces missing to fully discuss neuroenergetics, neurotransmitters, neuropeptides, and amino acids. Until the missing pieces are included, commenting on the organization is moot.
Interface rating: 4
Image/chart distortion was not present. However, different colors could have been used to demonstrate chemical differences and not blend into the background of the page.
Grammatical Errors rating: 5
No grammatical errors were noted.
Cultural Relevance rating: 5
The text is not culturally insensitive or offensive.
Comments
This text is hard to read, and I've been in neuroscience (clinically) for twenty years. The text was in no doubt written by someone very knowledgeable. However, it does not appear to be written with learners in mind. I missed anything in the text to help me learn something in a new way. The text reads like someone's notes; here are things that can be found in the human body, but not all things, only what was covered during this lecture. The author could add helpful tools for learners to navigate the enormous amount of information present (for example, pneumonics, tips on learning what is postsynaptic excitatory or inhibitory). I wanted this to be a text that truly covered the neuroscience topic; I was disappointed that it didn't.
Table of Contents
Neuron and astrocyte metabolism
Neurotransmitters — ACh, glutamate, GABA, and glycine
Neuropeptides and unconventional neurotransmitters
Amino acid metabolism and specialized products
About the Book
Neuroscience for Pre-Clinical Students covers neuroenergetics, neurotransmitters, neuropeptides, and selected amino acid metabolism and degradation. This USMLE-aligned text is designed for a first-year undergraduate medical course and is meant to provide the essential biochemical information from these content areas in a concise format to enable students to engage in an active classroom. Hence, it does not cover neurophysiology and neuroanatomy; and clinical correlates and additional application of content are intended to be provided in the classroom experience. The text assumes that the students will have completed medical school prerequisites (including the MCAT) in which they will have been introduced to the most fundamental concepts of biology and chemistry that are essential to understand the content presented here. With its focus on high-yield concepts, this resource will assist the learner later in medical school and for exam preparation.
The 49-page text was created specifically for use by pre-clinical students at Virginia Tech Carilion School of Medicine and was based on faculty experience and peer review to guide development and hone important topics.
Instructors reviewing, adopting, or adapting parts or the whole of the text are requested to register their interest at: https://bit.ly/interest-preclinical.
Instructors and subject matter experts interested in and sharing their original course materials relevant to pre-clinical education are requested to join the instructor portal at https://www.oercommons.org/groups/pre-clinical-resources/10133.
About the Contributors
Author
Renée J. LeClair is an Associate Professor in the Department of Basic Science Education at the Virginia Tech Carilion School of Medicine, where her role is to engage activities that support the departmental mission of developing an integrated medical experience using evidence-based delivery grounded in the science of learning. She received a Ph.D. at Rice University and completed a postdoctoral fellowship at the Maine Medical Center Research Institute in vascular biology. She became involved in medical education, curricular renovation, and implementation of innovative teaching methods during her first faculty appointment, at the University of New England, College of Osteopathic Medicine. In 2013, she moved to a new medical school, University of South Carolina, School of Medicine, Greenville. The opportunities afforded by joining a new program and serving as the Chair of the Curriculum committee provided a blank slate for creative curricular development and close involvement with the accreditation process. During her tenure she developed and directed a team-taught student-centered undergraduate medical course that integrated the scientific and clinical sciences to assess all six-core competencies of medical education.