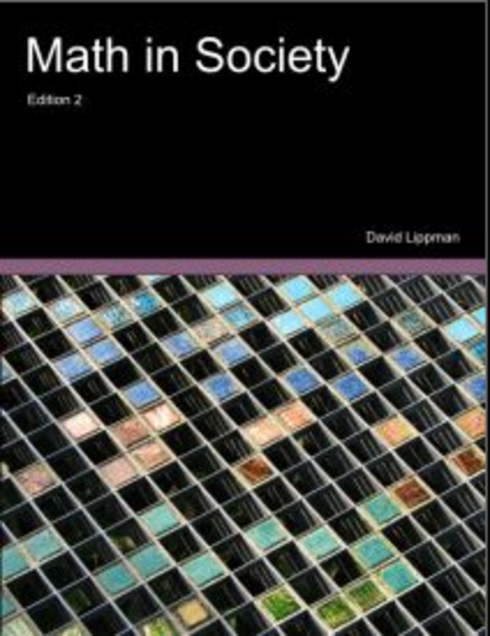 Math in Society - Edition 2.5
David Lippman, Pierce College
Copyright Year: 2017
Publisher: David Lippman
Language: English
Table of Contents
Problem Solving
Voting Theory
Weighted Voting
Apportionment
Fair Division
Graph Theory
Scheduling
Growth Models
Finance
Statistics
Describing Data
Probability
Sets
Historical Counting Systems
Fractals
Cryptography
Logic
About the Book
Math in Society is a free, open textbook. This book is a survey of contemporary mathematical topics, most non-algebraic, appropriate for a college-level topics course for liberal arts majors. The text is designed so that most chapters are independent, allowing the instructor to choose a selection of topics to be covered. Emphasis is placed on the applicability of the mathematics. Core material for each topic is covered in the main text, with additional depth available through exploration exercises appropriate for in-class, group, or individual investigation. This book is appropriate for Math 107 (Washington State Community Colleges common course number).
About the Contributors
Author
David Lippman received his master's degree in mathematics from Western Washington University and has been teaching at Pierce College since Fall 2000.
David has been a long time advocate of open learning, open materials, and basically any idea that will reduce the cost of education for students. It started by supporting the college's calculator rental program, and running a book loan scholarship program. Eventually the frustration with the escalating costs of commercial text books and the online homework systems that charged for access led to action.
First, David developed IMathAS, open source online math homework software that runs WAMAP.org and MyOpenMath.com. Through this platform, he became an integral part of a vibrant sharing and learning community of teachers from around Washington State that support and contribute to WAMAP. These pioneering efforts, supported by dozens of other dedicated faculty and financial support from the Transition Math Project, have led to a system used by thousands of students every quarter, saving hundreds of thousands of dollars over comparable commercial offerings.