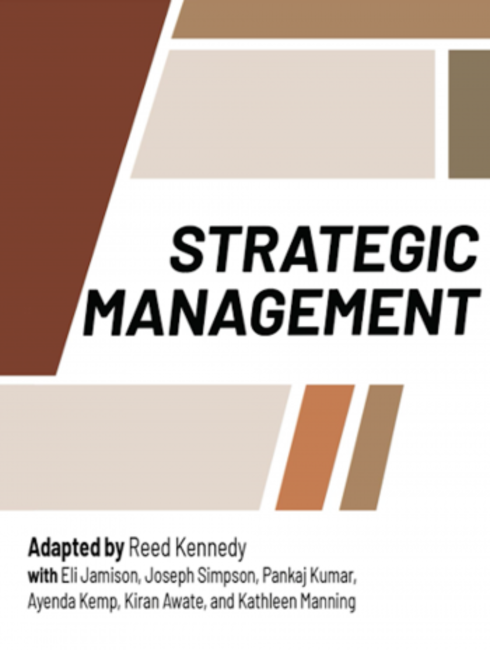 Strategic Management
Kennedy B. Reed, Virginia Tech
Copyright Year: 2020
ISBN 13: 9781949373950
Publisher: Virginia Tech Publishing
Language: English
Table of Contents
I. Chapter 1: Mastering Strategy: Art and Science
II. Chapter 2: Assessing Organizational Performance
III. Chapter 3: Evaluating the External Environment
IV. Chapter 4: Evaluating the Internal Environment
V. Chapter 5: Synthesis of Strategic Issues and Analysis
VI. Chapter 6: Selecting Business-Level Strategies
VII. Chapter 7: Innovation Strategies
VIII. Chapter 8: Selecting Corporate-Level Strategies
IX. Chapter 9: Competing in International Markets
X. Chapter 10: Executing Strategy through Organizational Design
XI. Chapter 11: Leading an Ethical Organization: Corporate Governance, Corporate Ethics, and Social Responsibility
About the Book
STRATEGIC MANAGEMENT offers an introduction to the key topics and themes of strategic management. The authors draw on examples of familiar companies and personalities to illustrate the different strategies used by today's firms—and how they go about implementing those strategies. Students will learn how to conduct a case analysis, measure organizational performance, and conduct external and internal analyses. In short, they will understand how organizations operate at the strategic level to be successful.
An older version of Mastering Strategic Management (2015) by University of Minnesota Libraries Publishing can be found here: https://open.lib.umn.edu/strategicmanagement/
About the Contributors
Author
Reed B. Kennedy, Associate Professor of Practice, Pamplin College of Business, Virginia Tech
Reed B. Kennedy is an Associate Professor of Management Practice in the Management Department, where he teaches management courses. He began his career as a naval officer before entering his primary career in healthcare administration, where he served in senior executive roles in various hospitals for over 20 years. He then worked as a business consultant for the Small Business Development Center for the New River Valley at Radford University. His education includes a Bachelor of Science in Aerospace Engineering from the U.S. Naval Academy, a Masters of Healthcare Administration from Medical College of Virginia / Virginia Commonwealth University, a Masters in Public Health and a Graduate Certificate in Global Planning and International Development from Virginia Tech. Reed served as the chief textbook reviser on this project. He worked with the contributor and editorial teams from project start to completion.