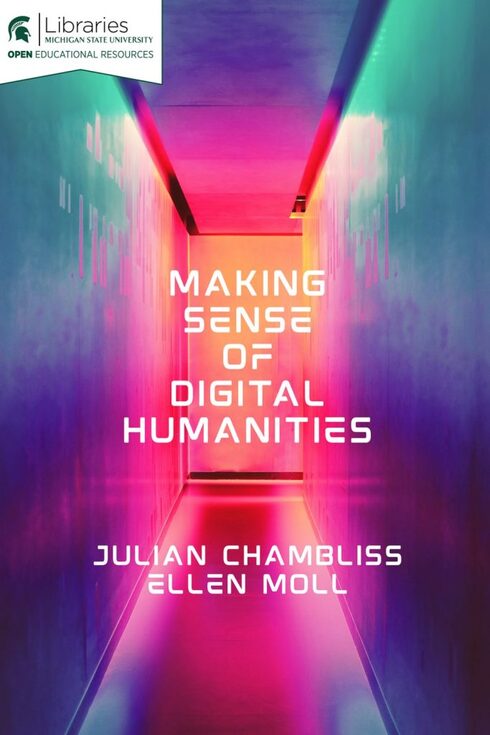 Making Sense of Digital Humanities
Julian Chambliss, East Lansing, MI
Ellen Moll, East Lansing, MI
Copyright Year: 2022
ISBN 13: 9781626101210
Publisher: Michigan State University
Language: English
Reviews
Reviewed by Robert Arellano, Professor, Southern Oregon University on 1/31/23
A much-needed expansion of research and pedagogy in a subfield whose scope runs the risk of being limited (like the entirety of the field) to a white, male understanding of Jeffersonian humanities. The contributors represent diverse backgrounds... read more
Reviewed by Robert Arellano, Professor, Southern Oregon University on 1/31/23
Comprehensiveness rating: 4 see less
A much-needed expansion of research and pedagogy in a subfield whose scope runs the risk of being limited (like the entirety of the field) to a white, male understanding of Jeffersonian humanities. The contributors represent diverse backgrounds with a wealth of experience, and the articles are engaging with specific examples of the humanities in action and the affordances of digital media for participatory programs in the communities they collaborate with. The major shortcoming is that there is no "end-pages" index. While the full-text search feature (see Interface) allows for pinpointing specific terminology, a thoughtful index would allow for subtler connections between themes and disciplines across articles.
Content Accuracy rating: 5
This book is a blast of accuracy and integrity for a teacher whose students are increasingly subjected to false information and inaccurate analysis. Access to technology — and the absence thereof — is increasingly dividing how societies are empowered to tell their stories or gain representation in government, industry, and other power structures. Making Sense of the Digital Humanities is full of insightful essays that shed light on the intersecting influences of inquiry, data, and communication on scales both local and global — as well as at every level in between. Salient examples of real-world projects bring to life the struggles of communities to leverage storytelling and visualization into organizing and advocacy tools that advance social justice as well as amplify opportunities for equity and inclusion. This is perhaps the highest mission of the digital humanities.
Relevance/Longevity rating: 4
A bold and timely effort to define a field that (as the foreword and introduction acknowledge) is notoriously challenging to define. Data science has been, and continues to be used for special interests that perpetuate barriers to equity, diversity and inclusion, and I was pleased that the editors focused on articles offering definitions through lenses that enhance access with approaches such as Black Digital Humanities and data feminism.
Clarity rating: 4
Although there are places where tone and precision vary, that is to be expected of an edited anthology with nearly two dozen contributors. The prose crackles with a collective sense of urgency among the authors to offer humanistic alternatives to digital scholarship in the spirit of inclusive research and accessible design.
Consistency rating: 4
For a subject whose legacy is as contested as the digital humanities, use of terms and framing was remarkably consistent. The editors clearly promoted a sense of shared lexicon among critics and scholars around nuanced understandings of subjects like epistemology, directionality, intersectionality, and decolonization.
Modularity rating: 5
Along the lefthand side of the browser window, a pulldown "Contents" menu of the four major sections remained accessible the whole time, and easy-to-view/hide subsections with links to specific articles inside sections could be expanded in detail with titles and author info.
Organization/Structure/Flow rating: 3
At first, I was surprised that the brief introduction section did not set out to present an overview of the book's breakdown into thematic sections (in brief: data and society, global DH, community DH, teaching and learning), but in short order I discovered the précis I was looking for — along with information about the contributors — inside each of the section summaries. Future editions of this book could benefit from a conclusion that allows the editors to tie together insights from across the four main sections. I was surprised that the final chapter, a collection of learning plans, gave way to an empty appendix (the fact that there was no content suggested it was an unused artifact of the publisher's basic template). A missed opportunity to connect the dots.
Interface rating: 5
Available as eBook, PDF, ODF, XML, and online. The interface for the online edition I used was a great improvement on the two usual formats of either a long, scrolling HTML document or a table of contents with links to separate chapters that you have to keep using the "back" button to navigate. Also, the full text was searchable from within any subsection by an integrated (as opposed to browser-based) fillable field top-right labeled "Search in book..."
Grammatical Errors rating: 5
Not only were there no typos or glaring errors, the full text was impeccably edited for clarity and precision. Michigan State University libraries clearly has prioritized quality in preparing their authors' OER publications.
Cultural Relevance rating: 4
Not insensitive, and by contrast notably inclusive of Black and Latinx voices (see above, Comprehensiveness and Relevance) as well as a broad spectrum of religious and cultural identities, but I'll reserve my top rating for a future edition that includes more examples of digital-humanities projects that take into account indigeneity and Asian heritage — the beginnings of which were evident in articles on mestizo culture and postcolonialism.
Comments
Excellent resource. I am adopting it for my new courses in Data Feminism and Arts-based Research.
Table of Contents
Acknowledgements
Image Credits
Foreword
Introduction

I

. Data, Ethics, and Society

II

. Global Digital Humanities

III

. Community and Digital Humanities

IV

. Teaching and Learning

Appendix
About the Book
Taking up the challenge of navigating the complex world of digital humanities, Making Sense of Digital Humanities offers readers an exploration of the many ways scholars have employed the diverse toolkit of digital humanities to create a better understanding of the synergies and disruptions created by technological change. Rooted in a concern for the daunting tasks associated with teaching and learning about the digital humanities, this volume hopes to provide easy entry into a complex topic while highlighting how an understanding of digital humanities can transform our thinking about technology in the modern world.
About the Contributors
Authors
Julian Chambliss, Michigan State University
Ellen Moll, Michigan State University