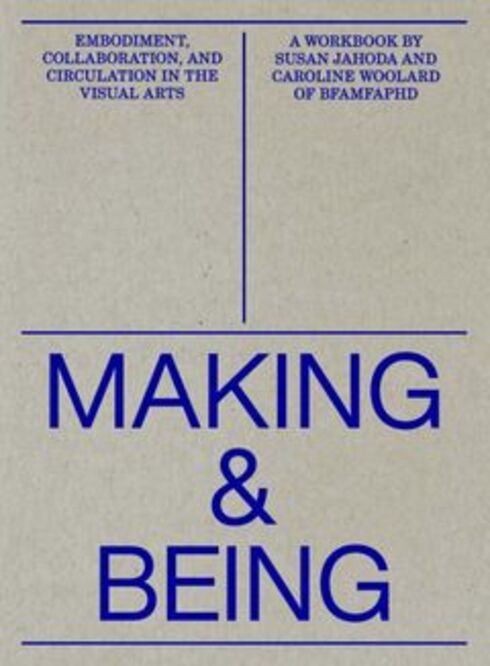 Making and Being
Susan Jahoda, University of Massachussetts-Amherst
Caroline Woolard, University of Hartford
Copyright Year: 2019
Publisher: Pioneer Works Press
Language: English
Reviews
Reviewed by Joshua Hart, Associate Professor, Studio Foundation, Massachusetts College of Art and Design on 12/15/22
This text offers a holistic approach to a studio arts practice. What might be taken for granted in the development of any project (materials, time, space, support, non-physical resources) are taken here as aspects of the work of developing the... read more
Reviewed by Joshua Hart, Associate Professor, Studio Foundation, Massachusetts College of Art and Design on 12/15/22
Comprehensiveness rating: 5 see less
This text offers a holistic approach to a studio arts practice. What might be taken for granted in the development of any project (materials, time, space, support, non-physical resources) are taken here as aspects of the work of developing the capacities to make at all. Comprehensiveness is part of the subject area specialty of the authors. Additionally, citations run throughout where they build upon the ideas and work of others, so further research is encouraged and supported.
Content Accuracy rating: 5
The modes of thought introduced and elaborated in Making and Being are consistently backed up by research. When concrete examples are given, as in the introductory chapters which are given over to guest essayists, the work reads as anecdotal, but illuminated.
Relevance/Longevity rating: 5
This text is certainly of its moment. I would look forward to a revisit by the authors, or their collaborative, some years on. When sincere reflection is taken as a subject, as it is here, one anticipates continuing.
I am a Studio Foundation teacher, guiding first-year college students into their own studio practices. This book, taken as a whole, expands my pedagogical footing.
It would also serve well as a text in an Art Education program, and provides ample examples of activities and approaches to take with a class of makers.
Clarity rating: 5
This text takes great care in not assuming that jargon is widely accessible or understood, and takes pains to define terms and ideas even after several appearances in the text. This care lends a clarity even to fragments or excerpts. Very little is assumed, and much is given.
Consistency rating: 5
Like block upon block.
Modularity rating: 4
This text offers a holistic approach to a making practice. Sectioning out parts for group work would benefit greatly from being familiar with the entire text. It is designed in modules or segments, but they interdepend.
Organization/Structure/Flow rating: 5
I especially benefit from the diagramming and re-listing of major concepts and subject headings.
Interface rating: 4
Please bear in mind that I am reviewing, specifically, after having read the pdf version. It took my actively imagined page rotation to build consistency sometimes, especially when the printing switches between vertical and horizontal formats. I imagine that in print certain issues with facing pages would be easier navigated than I experienced on a screen.
Grammatical Errors rating: 5
Clear and concise.
Cultural Relevance rating: 5
Justice, and studio-centered human-scale care, is evident page after page.
Reviewed by Yong Huang, Assistant Professor, Bowling Green State University on 5/5/22
The book is clearly structured and articulated and easy to follow. read more
Reviewed by Yong Huang, Assistant Professor, Bowling Green State University on 5/5/22
Comprehensiveness rating: 5 see less
The book is clearly structured and articulated and easy to follow.
Content Accuracy rating: 4
It is relatively unbiased, informative, and instrumental.
Relevance/Longevity rating: 5
It is up-to-date, relevant to contemporary practice and education, also projects suggestions for the future.
Clarity rating: 5
The structure and sequence is very clear. The terminolgy used is well explained.
Consistency rating: 5
The book is consistent in terms of terminology and framework, easy to follow.
Modularity rating: 5
The text can be read in sections and modules to fit in a related course well.
Organization/Structure/Flow rating: 5
The topics in the text are logical, clearly articulated and developed.
Interface rating: 5
This is a well documented and clearly organized book.
Grammatical Errors rating: 4
I did not check the grammatical errors so closely but it read well.
Cultural Relevance rating: 5
Many materials introduced in this book are culturally diverse.
Comments
Overall a meaningful and insightful subject! Can be very helpful for contemporary studio art teaching.
Table of Contents
Part 1: Entry Points

Part 2: Spaces of Learning

Chapter 1: Why Now

Chapter 2: Spaces of Learning

Chapter 3: Who Do You Honor?

Chapter 4: Teacher/Facilitator Guides (The First Five Weeks)

Part 3: Capacities

Chapter 5: Capacities

Chapter 6: How Are You in the World and How Is the World in You?

Part 4: The Lifecycle Framework

Chapter 7: Lifecycle Phases and Framework

Chapter 8: Understanding the Lifecycle Framework from Multiple Perspectives

Chapter 9: Support

Chapter 10: Source

Chapter 11: Depart

Chapter 12: Transfer

Chapter 13: Labor

Chapter 14: Narrate

Chapter 15: Encounter

Chapter 16: Tools

Chapter 17: Copyright

Chapter 18: Acquire

Part 5: To Be Continued

Chapter 19: Imaging the Future

Chapter 20: How We Work
About the Book
Making and Being offers a framework for teaching art that emphasizes contemplation, collaboration, and political economy. Authors Susan Jahoda and Caroline Woolard, two visual arts educators and members of the collective BFAMFAPhD*, share ideas and teaching strategies that they have adapted to spaces of learning which range widely, from self-organized workshops for professional artists to Foundations BFA and MFA thesis classes. This hands-on guide includes activities, worksheets, and assignments and is a critical resource for artists and art educators today. Making and Being is a book, a series of videos, a deck of cards, and an interactive website with freely downloadable content (click on links below to download worksheets, activities, and chapters as PDFs and editable Google Docs).
*BFAMFAPhD is a collective that formed in 2012 to make art, reports, and teaching tools to advocate for cultural equity in the United States. The work of the collective is to bring people together to analyze and reimagine relationships of power in the arts. BFAMFAPhD core members are: Susan Jahoda, Emilio Martínez Poppe, Agnes Szanyi, Emily Tareila, Vicky Virgin, and Caroline Woolard.
We wrote this book for those of you who want a holistic art education that includes how to be both more fully present with yourself and with others. The term holistic means that the parts of any given system are intimately interconnected; that they are understandable only in relation to the whole system. How can you talk about making a new project without talking about labor conditions? How can you talk about labor conditions without talking about payment? It's time to address your artistic labor, your budgets your storage units, your gifts, and your well-being.
About the Contributors
Authors
Susan Jahoda is an artist, educator and organizer whose work includes video, photography, text, performance, installation and research-based collaborative projects, and a core member of the New York–based collectives BFAMFAPhD and the Pedagogy Group. She is currently a Professor of Art at the University of Massachusetts, Amherst, and resides in New York City.
Caroline Woolard is an Assistant Professor of Sculpture at the Hartford Art School, CT. Woolard employs sculpture, installation and online networks to study the pleasures and pains of interdependence. She is the 2018–20 inaugural Walentas Fellow for Women Leaders in the Arts at Moore College of Art and Design.