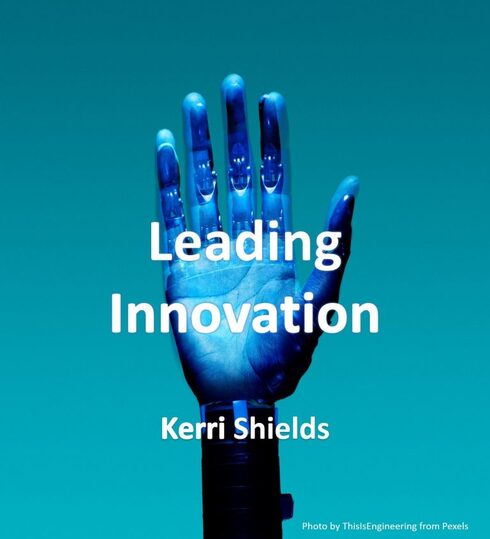 Leading Innovation
Kerri Shields, Toronto, CCA
Copyright Year: 2022
Publisher: eCampusOntario
Language: English
Reviews
Reviewed by Stephanie Moran, Director of Adult Studies, Anderson University on 2/13/23
This text covers a lot of ideas and theories relative to innovation. It is a great overview, and provides some stimulating reflection, but doesn't go deep into each concept. read more
Reviewed by Stephanie Moran, Director of Adult Studies, Anderson University on 2/13/23
Comprehensiveness rating: 4 see less
This text covers a lot of ideas and theories relative to innovation. It is a great overview, and provides some stimulating reflection, but doesn't go deep into each concept.
Content Accuracy rating: 5
The concepts covered are very indicative of common presentation of the idea. Citations and substantiated and contributions of others are well recognized.
Relevance/Longevity rating: 5
This text has very current ideas and concepts. The text is easily supplemented with other free and open resources to connect the context with real world application.
Clarity rating: 5
Very easy to read. Comfortable amount of work with each chapter. Relevant speech and explanations. Nicely connected with other online resources and print material.
Consistency rating: 5
The text is very consistent with terminology and framework, although the ideas aren't explored in depth. Most of the ideas are consistently presented, but maybe not as thorough as one might want in an advanced course.
Modularity rating: 5
This text is very engaging. There are many types of exercises that provide provoking responses and direct applications. This makes it easy to organize sections and also provide a ramp to more technical or comprehensive assignments.
Organization/Structure/Flow rating: 5
I really enjoyed the format of the text. I get excited when I discover a resource that I think students will enjoy and feel connected to as a part of the course learning. This is one of the resources. It covers a lot of ground, but is not overwhelming or sterile in presentation and content delivery. You can lay the chapters into modules and depending on whether you use an accelerated or traditional format, you can enhance and supplement the material with additional outside media without overwhelming students.
Interface rating: 5
This text was easy to progress through. It was organized in a way that provided easy navigation. With links, pictures, bullet points, and references, it was an entertaining and engaging read without feeling chaotic are hard to follow.
Grammatical Errors rating: 5
The grammar was very professional, but casual in context. If you are looking for something very "scholarly" and academic in style, this might not be as pleasing for you. With the students that I am teaching in the adult program, they are looking for applicable learning with text that they can integrate into professional conversation. This works wonderfully for that purpose.
Cultural Relevance rating: 5
I found no cultural offenses. I am pretty sensitive about cultural offenses, and I found the text to be a pleasure and applicable to students from any culture and at all levels of innovation exploration.
Comments
I was hoping to find a new and engaging text on this list that would satisfy course content needs but also be engaging to students. This text was a delightful surprise for me. It provided me plenty to build on while also allowing me opportunity to supplement with meaning media to individualize it for this set of students. I am hopeful to do a full course redesign with this text as a significant piece of inspiration.
Table of Contents
Introduction
Chapter 1: Business Innovation Foundation
Chapter 2: Thinking Creatively
Chapter 3: Service Innovation
Chapter 4: Process Innovation
Chapter 5: Sustainable Innovation
Chapter 6: Growth Strategy
Chapter 7: Design Thinking
Chapter 8: Product Innovation
Chapter 9: Innovation Risks
Chapter 10: Leading Innovation
Glossary of Terms
About the Book
Innovation today considers the economic, environmental, and/or social sustainability of an innovative initiative from its inception or idea generation through to its commercialization or implementation. This concept applies to many types of innovation such as products, processes, services, technologies, and business models. Companies use innovation as a means to gain a competitive advantage and bring value to business stakeholders.  This book introduces business innovation, from incremental innovation such as enhancing the performance of an existing product, service, or process, to radical or disruptive innovation such as one that has a significant impact on a market. The content examines how leaders foster a culture of innovation, how companies turn creativity into innovation, and how innovation transforms not only organizations but economies as well.
About the Contributors
Author
As a college professor, I have developed many courses and used creativity and innovative skills to develop projects and engaging content for students. What I have learned about innovation, is that it takes a lot of hard work and a little creativity to be innovative. I have built skills in researching, developing partnerships, networking, solving problems, and spotting opportunities to make changes and improvements. Some of my successful innovative ideas include: embedding industry certifications in courses to enable students to gain industry credentials, using open educational resources (OER) to reduce student fees, partnering with software vendors to embed current business technologies within courses to enable students to practice with current systems and prepare for the work world.
Prior to my career as a college professor, I worked in the human resource solutions industry and used creativity and innovative thinking to design corporate training modules that fit the unique needs of each client. Clients would have a need but often did not have a solution. My job was to identify the problem/need and recommend solutions, then apply creativity and innovation to implement the clients' vision. Win-win for everyone!
I hope you find the content in this book interesting and the lessons helpful. You may find some tips for improving your personal creative thinking skills as well as learn some of the important concepts pertaining to business innovation. I will try my best to update the book content from time to time and check that videos or resources do not become obsolete or outdated.