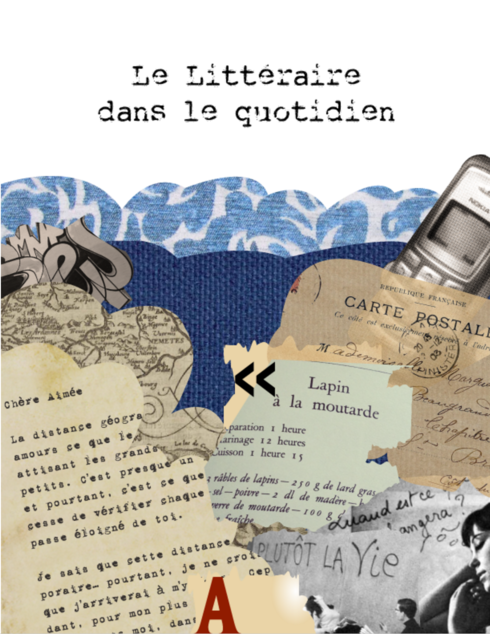 Le Littéraire dans le quotidien
Joanna Gay Luks, Cornell University
Copyright Year: 2015
ISBN 13: 9781937963064
Publisher: COERLL
Language: English
Table of Contents
1a. What's in a name?
1b. Comment?!
2. Un portrait chinois
3. Envie de voyager
4. Respect et verité
5. Un peu de hareng fume
6. La Ville et le graffiti
7. Fêtes et souvenirs
8. Sur le chemin du retour
9. La Technologie...
10. Il était une fois
11. Mais je digresse
12. Le Monde du travail
13. L'Amour (et la guerre)
About the Book
Le Littéraire dans le quotidien is an open textbook for use in French courses. The Literary in the Everyday represents a new pedagogical approach to reading and writing at the lower levels and is applicable to all languages. Teachers of foreign languages besides French can read about the approach in the Teacher's Guide. Go to Google Drive for individual chapters. Additionally, the Foreign Languages & The Literary in the Everyday (FLLITE) Project, a joint initiative of COERLL and CERCLL, two national foreign language resource centers, offers open resources for professional development in the publication of CC licensed FLLITE lessons in any language.
About the Contributors
Author
Joanna Luks earned a B.A. in Chinese Studies from Columbia University, a professional certificate in teaching English as a Foreign Language (EFL) from the American University of Paris, and an Ed.M. from Boston University's School of Education in Teaching English for Speakers of Other Languages (TESOL).
She taught EFL in France and China, and ESL at Boston University and, starting in 1994, at Cornell. She joined the French program at Cornell in Fall 2003. She has been married to a Frenchman since 1984 and lived in Paris for six years. Her areas of interest include TA development for language pedagogy, articulation across language, literary and cultural studies, and materials development for language learning and teaching, including the (re)conceptualization and visualization of grammar drawing from theories in cognitive grammar.
In Fall 2004 she was awarded a grant by the Consortium for Language Teaching and Learning and provided support by the Department of Romance Studies for the creation of a course for TA development within the department. The course was offered for the first time in Spring 2005.