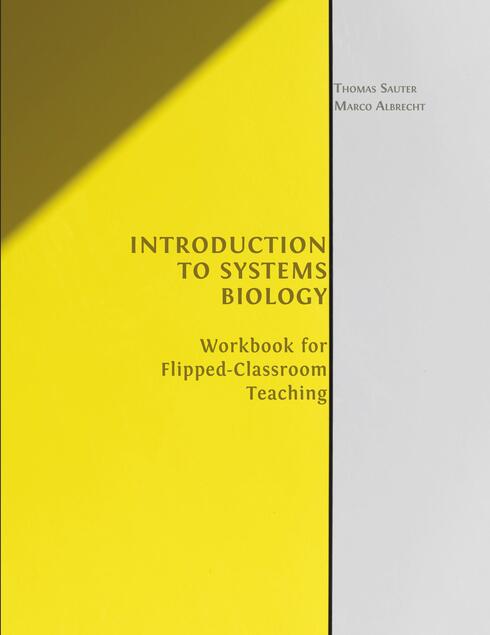 Introduction to Systems Biology: Workbook for Flipped-Classroom Teaching
Thomas Sauter, Esch-sur-Alzette, Luxembourg
Marco Albrecht, Esch-sur-Alzette, Luxembourg
Copyright Year: 2023
Publisher: Open Book Publishers
Language: English
Reviews
Reviewed by Mecca Baker, Research Associate/Instructor, James Madison University on 9/6/23
The book does an excellent job of introducing mathematical concepts to biological topics. There is no index or glossary, but there are hyperlinks within the text that lead to YouTube videos that further explain the topics. These links allow the... read more
Reviewed by Mecca Baker, Research Associate/Instructor, James Madison University on 9/6/23
Comprehensiveness rating: 4 see less
The book does an excellent job of introducing mathematical concepts to biological topics. There is no index or glossary, but there are hyperlinks within the text that lead to YouTube videos that further explain the topics. These links allow the reader to be exposed to the concepts in a more in-depth manner.
Content Accuracy rating: 5
The content is accurate and well-researched. The text is unbiased and logically written, which makes it easy to read and straightforward.
Relevance/Longevity rating: 5
The topics presented in the book are up to date and likely won't be affected over time unless there are new ways to write the formulas or any changes in the models.
Clarity rating: 4
Although the topics in the book take time to read and understand, the text gives great explanations that allow the reader to better understand the material. The examples that follow make it easier to grasp the technical terminology used. For readers who have no background in mathematical or biological concepts, it may be harder to understand, even with all of the given explanations.
Consistency rating: 5
The text consistently stays on topic and the information builds as the reader progresses through the book. After the introduction of the topics in the first chapter, the reader encounters the bioinformatical topics that involve teaching the reader new ways to structure and analyze data. A consistent framework is helpful as students progress in a course.
Modularity rating: 3
Although the text is divided into chapters and subsections, the paragraphs can be dense at times and make it difficult to assign small sections during a course. The text isn't overly self-referential, but there are a number of figures that are mentioned in the paragraphs. This could make it harder to reorganize the material for a course.
Organization/Structure/Flow rating: 5
The book's organizational flow is clear and easy to follow. It starts with an overview of what the text has to offer, and moves into how to use the book in conjunction with a class, in order to retain the information. After reading each chapter, readers can test their knowledge with practice questions that are relevant to the previously read topics.
Interface rating: 5
I did not encounter any interface issues. All of the hyperlinks work and the charts and figures are clear and free of any distortion.
Grammatical Errors rating: 5
I did not see any grammatical errors while reading the text.
Cultural Relevance rating: 5
The book is strictly presented as logical and does not touch on topics that involve race or ethnic backgrounds. This is what makes it easy to present in any classroom. You don't have to worry about engaging with text that may be insensitive to your students.
Comments
Although I won't be using all of the topics presented in this book in my courses, I consider it a wonderful textbook that can provide courses with information that is relevant to the intersection of mathematics and biology.
Table of Contents
Preface
Introduction
Chapter 1: Biochemcial networks in the matrix form
Chapter 2: Metabolic modeling
Chapter 3: the magic of change and how to find itt
Chapter 4: Physical modeling and non-linear enzyme
About the Book
This book is an introduction to the language of systems biology, which is spoken among many disciplines, from biology to engineering. Authors Thomas Sauter and Marco Albrecht draw on a multidisciplinary background and evidence-based learning to facilitate the understanding of biochemical networks, metabolic modeling and system dynamics.
Their pedagogic approach briefly highlights core ideas of concepts in a broader interdisciplinary framework to guide a more effective deep dive thereafter. The learning journey starts with the purity of mathematical concepts, reveals its power to connect biological entities in structure and time, and finally introduces physics concepts to tightly align abstraction with reality.
This workbook is all about self-paced learning, supports the flipped-classroom concept, and kick-starts with scientific evidence on studying. Each chapter comes with links to external YouTube videos, learning checklists, and Integrated real-world examples to gain confidence in thinking across scientific perspectives. The result is an integrated approach that opens a line of communication between theory and application, enabling readers to actively learn as they read.
This overview of capturing and analyzing the behavior of biological systems will interest adherers of systems biology and network analysis, as well as related fields such as bioinformatics, biology, cybernetics, and data science.
About the Contributors
Authors
Thomas Sauter has been professor for Systems Biology and study director of the Master in Integrated Systems Biology and the International Master in BioMedicine at the University of Luxembourg since 2008. He studied Technical Biology at the University of Stuttgart and at the Max Planck Institute for Dynamics of Complex Technical Systems in Magdeburg, Germany. He received a PhD in Engineering for modeling of the metabolism of Escherichia coli. His research group develops tools for molecular network reconstruction and network-based drug discovery, with applications mainly in cancer biology. He has more than 20 years of experience in educating and supporting students.
Marco Albrecht is an engineer, trained in system theory, control engineering, modeling, and molecular biology. He studied biosystems engineering at the Ottovon-Guericke University in Magdeburg and did a PhD at the University of Luxembourg on "Mathematical histopathology and systems pharmacology of melanoma" in the context of the MELPLEX ITN training program supported by the European HORIZON 2020. He is now a research scientist at esqLABS GmbH, Germany, with expertise in Quantitative Systems Pharmacology.