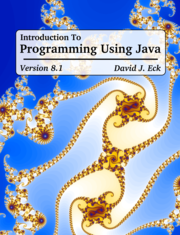 Introduction to Programming Using Java - Eighth Edition
David J. Eck, Hobart and William Smith Colleges
Copyright Year: 2015
Publisher: David J. Eck
Language: English
Table of Contents
Chapter 1: Overview: The Mental Landscape
Chapter 2: Programming in the Small I: Names and Things
Chapter 3: Programming in the Small II: Control
Chapter 4: Programming in the Large I: Subroutines
Chapter 5: Programming in the Large II: Objects and Classes
Chapter 6: Introduction to GUI Programming
Chapter 7: Arrays and ArrayLists
Chapter 8: Correctness, Robustness, Efficiency
Chapter 9: Linked Data Structures and Recursion
Chapter 10: Generic Programming and Collection Classes
Chapter 11: Input/Output Streams, Files, and Networking
Chapter 12: Threads and Multiprocessing
Chapter 13: GUI Programming Continued
About the Book
Welcome to the Eighth Edition of Introduction to Programming Using Java, a free, on-line textbook on introductory programming, which uses Java as the language of instruction. This book is directed mainly towards beginning programmers, although it might also be useful for experienced programmers who want to learn something about Java. It is not meant to provide complete coverage of the Java language.
The eighth edition requires Java 8 or later, and it uses JavaFX for GUI programming. Version 8.1 is a small update of Version 8.0. This version briefly covers some of the new features in Java 11 and makes it clearer how to use this book with Java 11 and later.
About the Contributors
Author
David J. Eck Ph.D. is a Professor at Department of Mathematics and Computer Science at the Hobart and William Smith Colleges.