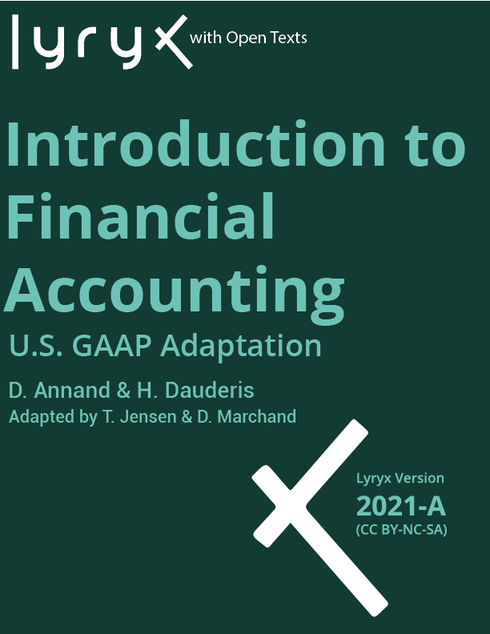 Introduction to Financial Accounting: U.S. GAAP Adaptation
David Annand, Athabasca University
Donna Marchand, Emmanuel College
Henry Dauderis
Copyright Year: 2019
Publisher: Lyryx
Language: English
Table of Contents
Chapter 1: Introduction to Financial Accounting
Chapter 2: The Accounting Process
Chapter 3: Financial Accounting and Adjusting Entries
Chapter 4: The Classified Balance Sheet and Related Disclosures
Chapter 5: Accounting for the Sale of Goods
Chapter 6: Assigning Costs to Merchandise
Chapter 7: Cash and Receivables
Chapter 8: Long-lived Assets
Chapter 9: Debt Financing: Current and Long-term Liabilities
Chapter 10: Equity Financing
Chapter 11: The Statement of Cash Flows
Chapter 12: Financial Statement Analysis
Chapter 13: Proprietorships and Partnerships
About the Book
This textbook is an adaptation by D. Marchand and Athabasca University of the original text written by D. Annand and H. Dauderis. It is intended for use in entry-level college and university courses in financial accounting. A corporate approach is utilized consistently throughout the book.
The adapted textbook includes multiple ancillary student and instructor resources. Student aids include solutions to all end-of-chapter questions and problems, and randomly-generated spreadsheet problems that cover key concepts of each chapter. These provide unlimited practice and feedback for students. Instructor aids include an exam bank, lecture slides, and a comprehensive end-of-term case assignment. This requires students to prepare 18 different year-end adjusting entries and all four types of financial statements, and to calculate and analyze 16 different financial statement ratios. Unique versions can be created for any number of individual students or groups. Tailored solutions are provided for instructors.
Another version of the textbook written by D. Annand and adapted by T. Thompson, including .docx files and ancillary material, can be obtained upon request to D. Annand (davida@athabascau.ca).
About the Contributors
Authors
David Annand, EdD, MBA, CPA (CA), is a Professor of Accounting in the Faculty of Business at Athabasca University. His research interests include the analysis of costs and organizational structure on distance-based universities. He has written several accounting-related undergraduate- and graduate-level texts, all available as open educational resources. David completed his Doctorate in Education in 1998. His thesis deals with the experiences of instructors in graduate-level computer conferences.
Donna L. Marchand, CPA, is an Assistant Professor of Accounting at Emmanuel College in Boston. Prior to taking this position she worked as a full-time instructor at Wheaton College in Norton, MA, and played a key role in transitioning the Business and Management program into a fully open source program for students. Prior to this, she worked as Director of the Academic Achievement Center and full-time instructor at Bridgewater State University in Bridgewater, MA. Before transitioning into higher education she worked in public accounting. However, her career initially began in K-12 education, playing an integral role in launching a fully inclusive education program that became a state-wide model in New York State.
Henry Dauderis