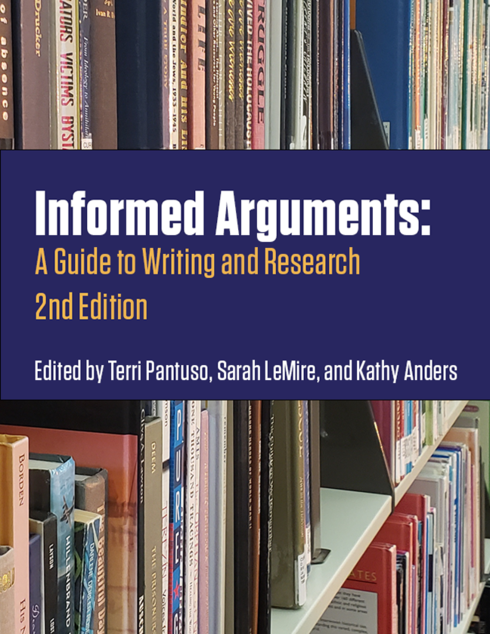 Informed Arguments: A Guide to Writing and Research - Revised Second Edition
Terri Pantuso, Texas A&M University
Sarah LeMire, Texas A&M University
Kathy Anders, Texas A&M University
Copyright Year: 2019
Last Update: 2022
Publisher: Texas A&M University
Language: English
Table of Contents
I. Introduction

II. Getting Started

III. Rhetorical Situation

IV. Types of Argumentation

V. Process and Organization

VI. Joining the Academic Conversation

VII. Researched Writing

VIII: Ethics
About the Book
Welcome to composition and rhetoric! While most of you are taking this course because it is required, we hope that all of you will leave with more confidence in your reading, writing, researching, and speaking abilities as these are all elements of freshman composition. Many times, these elements are presented in excellent textbooks written by top scholars. While the collaborators of this particular textbook respect and value those textbooks available from publishers, we have been concerned about students who do not have the resources to purchase textbooks. Therefore, we decided to put together this Open Educational Resource (OER) explicitly for use in freshman composition courses at Texas A&M University. It is important to note that the focus for this text is on thesis-driven argumentation as that is the focus of the first year writing course at Texas A&M University at the time of development. However, other first year writing courses at different colleges and universities include a variety of types of writing such as personal essays, informative articles, and/or creative writing pieces. The collaborators for this project acknowledge each program is unique; therefore, the adaptability of an OER textbook for first year writing allows for academic freedom across campuses.
About the Contributors
Editors
Dr. Terri Pantuso is the Coordinator of the English 104 Program and an Instructional Assistant Professor in the English Department at Texas A&M University.
Prof. Sarah LeMire is the Coordinator of First Year Programs and an Associate Professor in the Texas A&M University Libraries.
Dr. Kathy Anders is the Graduate Studies Librarian and an Associate Professor in the Texas A&M University Libraries.