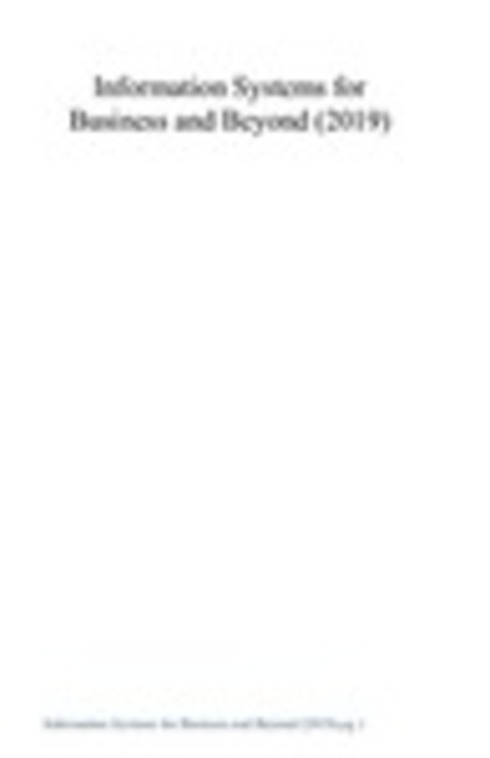 Information Systems for Business and Beyond
David T. Bourgeois, Biola University
James L. Smith
Shouhong Wang
Joseph Mortati
Copyright Year: 2014
Last Update: 2019
Publisher: Saylor Foundation
Language: English
Table of Contents
Part 1: What Is an Information System?
Chapter 1: What Is an Information System?
Chapter 2: Hardware
Chapter 3: Software
Chapter 4: Data and Databases
Chapter 5: Networking and Communication
Chapter 6: Information Systems Security
Part 2: Information Systems for Strategic Advantage
Chapter 7: Does IT Matter?
Chapter 8: Business Processes
Chapter 9: The People in Information Systems
Chapter 10: Information Systems Development
Chapter 11: Globalization and the Digital Divide
Chapter 12: The Ethical and Legal Implications of Information Systems
Chapter 13: Future Trends in Information Systems
About the Book
This book is written as an introductory text, meant for those with little or no experience with computers or information systems. While sometimes the descriptions can get a little bit technical, every effort has been made to convey the information essential to understanding a topic while not getting bogged down in detailed terminology or esoteric discussions.
Information Systems for Business and Beyond was written by Dr. David Bourgeois and originally published in 2014 as part of the Open Textbook Challenge at the Saylor Foundation. Since then, it has been accessed thousands of time and used in many courses worldwide. This 2019 update to the textbook brings it up to date and adds many new topics. True to its open textbook roots, many of the updates have come from the community of instructors and practitioners who are passionate about information systems.
Please note that the XML and MS Word links go to an earlier version.
About the Contributors
Authors
David T. Bourgeois worked as an information technology professional for 15 years for companies such as Southern California Edison and Texas Instruments before coming to Biola in 2002 to lead the information systems program. He received his master's degree in management science from Cal State Fullerton in 1994 and his doctorate degree in information systems and technology from Claremont Graduate University in 2006. Bourgeois currently serves as the undergraduate department chair and as the director of innovation with a focus on ensuring that all undergraduates are fully skilled in the digital technologies they need in their business careers.
James L. Smith
Shouhong Wang
Joseph Mortati