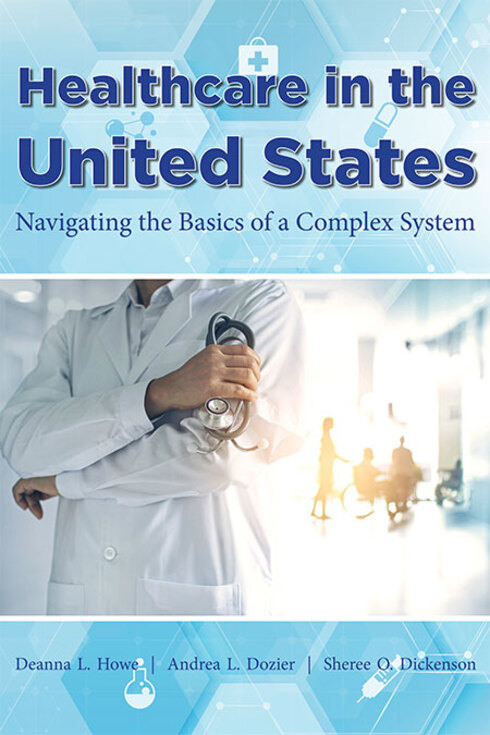 Healthcare in the United States: Navigating the Basics of a Complex System
Deanna L. Howe, Albany, NY
Andrea L. Dozier, Albany, NY
Sheree O. Dickenson, Albany, NY
Copyright Year: 2022
ISBN 13: 9781940771915
Publisher: University of North Georgia Press
Language: English
Reviews
Reviewed by Jessica Sellars, Medical assistant office instructor, Mt. Hood Community College on 2/10/23
There is a lot of fantastic information in this textbook. I will be able to utilize some of it in the course I teach in patient advocacy for health insurance. I have struggled to find good information to give to my students in this course. Due to... read more
Reviewed by Jessica Sellars, Medical assistant office instructor, Mt. Hood Community College on 2/10/23
Comprehensiveness rating: 5 see less
There is a lot of fantastic information in this textbook. I will be able to utilize some of it in the course I teach in patient advocacy for health insurance. I have struggled to find good information to give to my students in this course. Due to a lack of traditional textbook. It has been a huge challenge. I am grateful for this OER option it really helps me get all of the information to my students in a digestible form and will make them better healthcare workers. This text in particle has quite a few usable chapters for my course. And bonus there is a huge section that explains the the differences in licsening which is something else that comes up in class.
Content Accuracy rating: 5
This book is very accurate. It covers a lot of the healthcare industry standards, licensing and how to utilize the healthcare system in an effective manner. All of this will be particularly interesting in the course I teach. More then one of them actually. It is also written in an easy read format which I think my students will really appreciate.
Relevance/Longevity rating: 5
This is very relevant to my courses at least. There are things that will change over time in medicine so that will something to watch for as health insurance changes. But that is to be expected in all medical and health insurance text books. Medicine is always changing.
Clarity rating: 5
It is very clear to read for the target audience. And will do well in my course.
Consistency rating: 5
The book is consistent with what I would expect.
Modularity rating: 5
This book will be perfect for that. The chapters and sections are very easy to break a part and utilized independently.
Organization/Structure/Flow rating: 5
It is written in a very organized fashion it could easily be used in the order written or in modules.
Interface rating: 5
The book is clear, images look great. I had no navigation issues.
Grammatical Errors rating: 4
I only noticed a few spots where grammar errors were present.
Cultural Relevance rating: 4
It is inclusive for the type of textbook it is. It touches on equality and gender pay.
Comments
Not that come to mind. I plan to utilize it in my course. I really enjoyed it and it had a lot for me to use. I am grateful for this experience.
Table of Contents
Acknowledgments
Preface
Introduction
Overview of Health
Healthcare Workforce
Healthcare Settings
Federal and State Funded Healthcare
Private Insurance
Special Populations
Access Issues in Healthcare
Cost of Healthcare
Quality in Healthcare
Technology Use in Healthcare
National Healthcare Systems
Glossary
Contributors
About the Book
This book is a collaborative effort among three faculty members from the Darton College of Health Professions, Nursing Department, at Albany State University, a Historically Black College and University (HBCU), and part of the UniversitySystem of Georgia. The book idea originated from a grant-funded program to create open education resources (OER) for students learning in UniversitySystem of Georgia's eMajor courses. The cost of education in the United States is remarkably expensive, and the added burden of purchasing textbooks for each course can be prohibitive. The opportunity to create free educational materials has been a rewarding experience. A free pdf form of this text is available for download. The authors of this book are registered nurses who have each worked 25 or more years in various roles and specialties within our healthcare system. There have been many changes throughout the years. The authors' experience and knowledge are from a nursing perspective not found in other texts of similar content.The healthcare system has advanced tremendously since the very beginning of our formalized system. The most significant growth has been in technology use to support, diagnose, increase patient safety, and document patient outcomes.However, more can be done to ensure a system that meets all our citizens' healthcare needs.Readers of this text will learn a brief history of our healthcare system and explore the current state of health in the U.S. In the next 12 chapters, readers will:
consider health as defined using determinants of health
discover the many types of healthcare providers seen throughout the system
differentiate between the different types of healthcare settings
explore state and federal programs that provide oversight
examine private insurance and managed care plans
survey access issues and the cost of healthcare
review how state and federal government provides support to special populations
discover the quick expansion of technology use in healthcare
assess quality determinants and accreditation standards
compare national healthcare systems presently used to the present U.S.healthcare system
identify advantages of a national healthcare system for the UnitedStates
This book will describe and explain our current healthcare system's complexities by providing the basics of many components in easy to understand terminology. Each chapter includes essential features to assist the student in learning and understanding.
About the Contributors
Authors
Dr. Deanna Howe has worked in healthcare since 1985 when she first entered the field as a medical technician in the Air Force. After active duty she began nursing school and initially graduated with an Associate of Science in Nursing degree. She continued with education while working in the field as a registered nurse and earned a BSN, MSN, and Ph.D. in nursing. Dr. Howe has worked in community health, public health, medical-surgical nursing, operating room and the last 16 years teaching nurses of the
future. She teaches post-licensure and graduate courses from a distance as a full-time professor with Albany State University. Her research focus and writing to date has been on
faculty experiences and satisfaction teaching online. She has lived and visited several countries, working with many different cultural groups, has been exposed to numerous unique health practices and experienced eastern and western health systems. Through these diverse experiences, she has developed a global point of view regarding healthcare. Dr. Howe currently lives in Germany with her husband and two dogs (Lucy and Beau) and has two grown children.
Dr. Andrea Lovett Dozier received her Associate of Science in Nursing degree from Darton State College, Bachelor of Science in Nursing from Georgia Southwestern State University, Master of Science in Nursing from Albany State University, and Doctorate in Curriculum
and Instruction from Valdosta State University. She also received her Online Teaching Certification from Valdosta State University. Dr. Dozier has over 25 years of nursing experience and has been providing instruction in higher education for over 18 years. She is currently employed as an associate professor of nursing and currently serves at the Associate of Science in Nursing Programs Director at Albany State University. Her research interests include teacher efficacy, instructional methodologies, and course design in nursing education.
Dr. Sheree Dickenson received her undergraduate A.S.N. and B.S.N. degrees from Georgia Southwestern University, A M.S.N degree in Adult Health/Nursing Education from Valdosta State University, and an Ed.D. for nurse educators from The University of Alabama. She has recently accepted an adjunct nursing teaching position after over 40 years in nursing with the last more than 15 of those years teaching undergraduate nursing students. She has served on various boards and committees within the school, hospital, and community. Her research interests are clinical judgement of nursing students and the care and teaching of patients with diabetes mellitus.