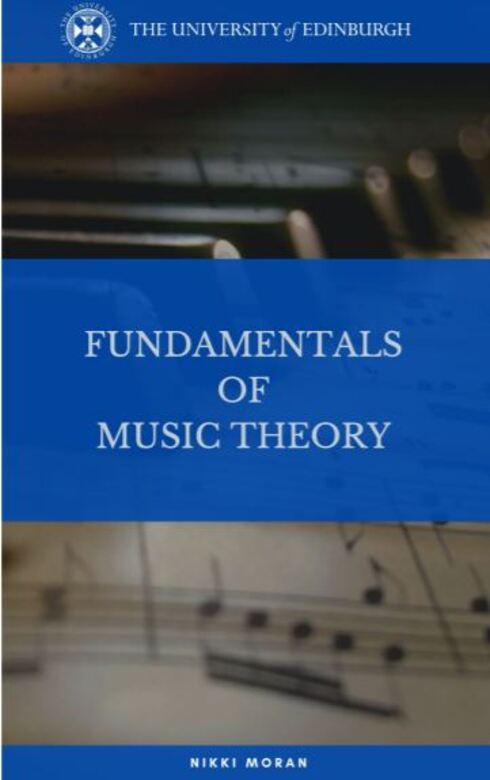 Fundamentals of Music Theory
Nikki Moran, Reid School of Music
Michael Edwards, Folkwang University of the Arts
Richard Worth, University of Liverpool
Zack Moir, Edinburgh Napier University
John Kitchen, The University of Edinburgh
Copyright Year: 2021
Publisher: University of Edinburgh
Language: English
Reviews
Reviewed by MARK ZANTER, Professor, Marshall University on 12/28/21
It's difficult to comment on the comprehensiveness of the text without knowing to which audience the author is writing. For an independent adult learner or music hobbyist, the text is an enjoyable introduction to the subject with enough general... read more
Reviewed by MARK ZANTER, Professor, Marshall University on 12/28/21
Comprehensiveness rating: 2 see less
It's difficult to comment on the comprehensiveness of the text without knowing to which audience the author is writing. For an independent adult learner or music hobbyist, the text is an enjoyable introduction to the subject with enough general information to learn the basics of musical notation, pitches, and rhythms on the staff, intervals, scales (major, and minor), keys, key signatures, triads, seventh chords, harmonization, secondary dominants, and modulation. Materials in the written text link to online videos with a discussion of topics (video transcript included after the text). Students and young learners will welcome the easy-going pace of video content. Some pages in the text link to Wikipedia pages on various topics, the text offers tangents into various other topics that might interest a student (e.g, historical notation, just intonation, microtones, etc.) Information in the first five Topics (chapters) would be included in most Music Fundamentals texts (in the U.S.). Modulation and secondary function are typically covered during the second semester of most music theory sequences (in the U.S.).
The text would be suitable for hobbyists, high school students or could be used in college courses aimed at non-majors. As it currently stands, it is not comprehensive enough to be used in a college music theory sequence where the primary audience is music majors. The reasons are the: lack of depth of what is covered, sequence of materials, lack of many examples from the literature, and the lack of exercises.
Content Accuracy rating: 4
Accurate enough but lacking the depth necessary to train music majors. Fine for hobbyists, young students, and non-professionals. The text introduces the U.K. jargon for identifying chord inversions. See comment on comprehensiveness.
Relevance/Longevity rating: 3
Relevant and useful especially for non-professionals. Updates can easily be added to the text as needed. If there is a desire to continue to develop the text, it might be developed using a framework that facilitates exploring the material in more depth. For instance: Chord Functions presents inversions and shows harmonizations using inversions from the get-go. In most texts, this topic is presented using many steps. I propose these steps be added, and accessible as "drop-down" topics so an instructor/student can go deeper into the topic.
The link to Harmonization on Wikipedia lacks a clear strategy that will yield "good" results. The use of Wikipedia could negatively influence the adoption of this title. These are a few examples of where the good intentions of the text run afoul of what is generally considered sound pedagogy. As I've mentioned this book will be good for amateurs, but will likely not replace any of the standard music theory texts currently available.
Clarity rating: 4
Very clear and easy to follow. There is a consistent approach, but the learning objectives are not well defined. An instructor using the text will need to supplement material and exercises to help students gain mastery.
Consistency rating: 4
There is a consistent approach throughout.
Modularity rating: 5
Yes, the text could be reorganized, but its current form follows the general outline of most music fundamentals texts (U.S.).
Organization/Structure/Flow rating: 4
It follows the general outline of most music fundamentals texts (U.S.).
Interface rating: 4
Using the text online without downloading it, presents some issues when links are not opened in a new tab or window (the PDF reloads when you wish to go back to the text). Overall the interface and navigation are easy to use and intuitive. Pages flow like web pages, which I prefer to online texts that emulate page turns.
Grammatical Errors rating: 5
No egregious grammatical errors.
Cultural Relevance rating: 5
Overall sound.
Comments
Overall, there are many learners who could benefit from a text of this sort. It's well organized, easy to navigate, and features videos that are clear and easy to follow. Though I don't think this text is suitable for use in a college music theory curriculum, high school instructors might find it a useful resource when paired with another resource such as Teoria.com, or app-based MusicTheory.net.
Table of Contents
Preface
Topic 0 Music theory in critical and global context
Topic 1 Musical notes, scales, and the rudiments of notation
Topic 2 Tonal music language - concepts and theory
Topic 3 Musical Time and Rhythm
Topic 4 More on Chords
Topic 5 Music theory code-breaking reference guide
Topic 6 Chord functions in practice
About the Book
This open e-book is the result of a project funded by a University of Edinburgh Student Experience Grant, Open e-Textbooks for access to music education. The project was a collaboration between Open Educational Resources Service, and staff and student interns from the Reid School of Music. As a proof-of-concept endeavour, the project aimed to explore how effectively we could convert existing course content into convenient and reusable open formats suitable for use by staff and students both within and beyond the University. The resulting e-book presents open licensed educational materials that deal with the building blocks of musical stave (sometimes known as staff) notation, a language designed to communicate about musical ideas which is in use around the world. The resources in this e-book include video lectures and their transcripts, as well as supporting text explanations, examples and illustrations. The materials introduce topics such as the organisation of discrete pitches into scales and intervals, and temporal organisation of musical sounds as duration, in rhythm and metre. These rudiments are presented through an introduction to the elements of five-line stave notation, and through critical discussion of the advantages and limitations served by notational systems in the representation and analysis of musical sounds. This serves as the basis of further explanations, to illustrate musical concepts including key, time signature, harmonisation, cadence and modulation. We anticipate that subsequent versions of this e-book will update and develop the contents and presentation of the materials, following the success of this student-led collaboration.
About the Contributors
Authors
Nikki Moran, Reid School of Music
Michael Edwards, Folkwang University of the Arts
Richard Worth, University of Liverpool
Zack Moir, Edinburgh Napier University
John Kitchen, The University of Edinburgh