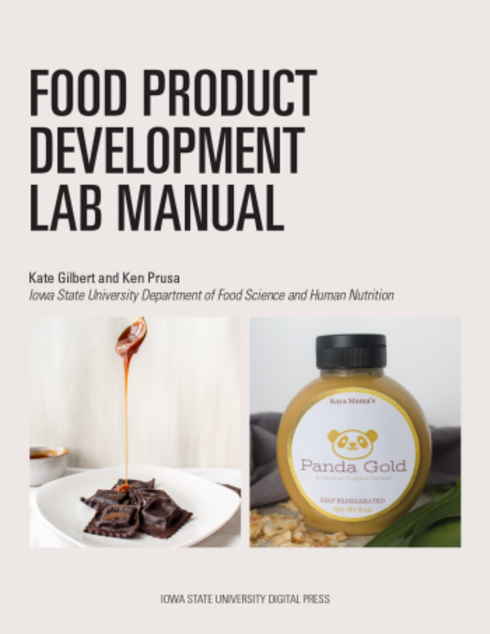 Food Product Development Lab Manual
Ken Prusa, Iowa State University
Kate Gilbert, Iowa State University
Copyright Year: 2021
Publisher: Iowa State University
Language: English
Reviews
Reviewed by Lauren Tamamoto, Instructor, Kapiolani Community College on 3/9/22
If you are developing a new course on Product Development, this manual is a good guide with a top level overview of product development for beginners. I would like to have seen more in-depth information in the text, but I understand that this... read more
Reviewed by Lauren Tamamoto, Instructor, Kapiolani Community College on 3/9/22
Comprehensiveness rating: 3 see less
If you are developing a new course on Product Development, this manual is a good guide with a top level overview of product development for beginners.
I would like to have seen more in-depth information in the text, but I understand that this book is a supplement to in-class lectures, videos, and hands-on work. Just like the author states in the preface and the conclusion, it is not likely complete. The text reads as a supplemental book to a lecture and class on Food Product Development. There are references to an appendix and other documents like a HACCP document, but I could not find it.
Content Accuracy rating: 4
The information in the book is standard information necessary for teaching students about Food Product Development.
Relevance/Longevity rating: 5
The basics of Food Product Development hasn't changed much over time and this text contains up-to-date information that would be useful to students learning about the development process.
Clarity rating: 4
The text is clear and easy to understand.
Consistency rating: 4
The structure of the text flows from topic to topic in a logical fashion. The format of the text remains consistent throughout the text.
Modularity rating: 4
Materials were broken down in manageable chunks of information.
Organization/Structure/Flow rating: 5
This text is organized like it was cut and pasted from an original informational packet that students used in an in-person course. It's clear and logical and includes a chunk of information on how to succeed as a student in the course.
Interface rating: 4
No interface navigation problems.
Grammatical Errors rating: 5
No grammatical errors.
Cultural Relevance rating: 5
Nothing culturally insensitive in the text.
Comments
It would be nice to include more examples, more interactive elements, and images to this text. I would also reduce the "Required Skills" section or include it in the Introduction section of the text. It's a good guide for an instructor who is developing a brand new course and needs a starting point for students.
Table of Contents
I. Introduction
II. Required Skills
III. Formulation
IV. Processing
V. Commercialization
About the Book
A practical how-to illustrating the process of developing a new food product from ideation and formulation to processing and lastly commercialization. This book highlights the overall process and gives instructions for each of the steps along the way.
About the Contributors
Authors
Ken Prusa received his Ph.D. in Food and Nutrition from Kansas State University, spent two years at the University of Missouri in Columbia, and then joined the faculty at Iowa State University in 1985. Ken is a Professor of Food Science and Human Nutrition and is Professor-in-Charge of the Sensory Evaluation Center. He works closely with the food industry in new product development and product quality optimization through sensory testing. Ken helped develop the course FSHN 412, Food Product Development, at Iowa State into what we believe is the best experience possible for our students entering food-related careers.
Kate Gilbert is an alumnus of the food product development course, graduating with a Bachelor of Science in Food Science in 2007. She worked in technical services and research for the Grain Processing Corporation and completed a Masters in Food Science from Kansas State University before returning to teach at Iowa State University in the fall of 2014. Kate transitioned from industry to academia because she wanted to share real-world experiences with students to better prepare them for their careers. Her approach to teaching is to meet students where they are, connect new information to what they already know, and then allow them to understand and apply that information. In addition to teaching a variety of courses, she coordinates internship opportunities, advises the Food Science Club, and is active in the Iowa Section of the Institute of Food Technologists.