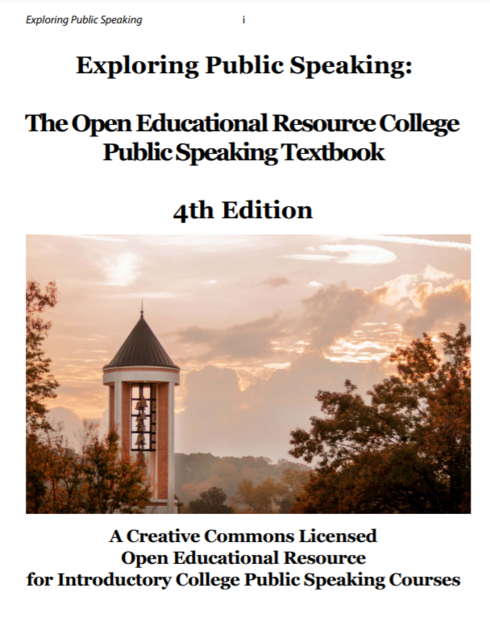 Exploring Public Speaking - 4th Edition
Kris Barton, Florida State University
Barbara G. Tucker, University of Georgia
Copyright Year: 2016
Last Update: 2019
Publisher: University System of Georgia
Language: English
Table of Contents
Chapter 1: The Basics of Public Speaking
Chapter 2: Audience Analysis and Listening
Chapter 3: Ethics in Public Speaking
Chapter 4: Developing Topics for Your Speech
Chapter 5: Researching Your Speeches
Chapter 6: Organizing and Outlining Your Speech
Chapter 7: Supporting Your Speech Ideas
Chapter 8: Introductions and Conclusions
Chapter 9: Presentation Aids in Speaking
Chapter 10: Language
Chapter 11: Delivery
Chapter 12: Informative Speaking
Chapter 13: Persuasive Speaking
Chapter 14: Logical Reasoning
Chapter 15: Special Occasion Speaking
Appendix A: Cultural Diversity and Public Speaking
Appendix B: Succeeding as a College Student
Appendix C: Public Speaking Online
Appendix D: Funny Talk: The Art and Craft of Using Humor in Public Address
Appendix E: APA Citation
Appendix F: Research with Dalton State Library Resources
Appendix G: Glossary
Appendix H: References
About the Book
In Exploring Public Speaking, especially in its second through fourth editions, we have attempted to create a usable, zero-cost textbook for basic public speaking courses or courses that include basic public speaking skills as one of their primary learning outcomes. The free, open nature of the text means that instructors are able to use all or part of it, and add their own materials.
We believe this text addresses all the subjects that traditional publishers' books would address in an appropriate writing style and with appropriate college-level learning theory in mind. The appendices address some additional topics that might be excluded from most texts, but that we believe add to the experience: learning theory, plagiarism, speaking online, speaking to diverse audiences, and humor in public speaking. In the third and fourth editions we have added "case study" examples and some different outline samples.
We think this book is especially useful in coverage of PowerPoint, audience analysis and responsiveness, ethics in public speaking, persuasion, special occasion speeches, and structure of speeches. Because it was written by communication professors with decades of experience in the classroom, we are aware of the needs of basic public speaking students. Three ancillaries are currently available: electronic "flash cards" for study, PowerPoint slide decks on the 15 main chapters, and test banks for the 15 main chapters. As the website is developed, it will include videos of student speeches.
About the Contributors
Authors
Dr. Kris Barton (Ph.D., Mass Communication, Florida State University) was Chair of the Department of Communication and Associate Professor of Communication at Dalton State College from 2008 to his sudden passing in May 2016. He was a well published and respected scholar in pop culture and mass media as well as the author of trivia books. His legacy at Dalton State included the initiation of the Bachelor of Arts in Communication, the development of an undergraduate research program and introduction of many students to scholarly conferences, and making an indelible mark on the hundreds of students he taught.
Dr. Barbara G. Tucker (Ed.D., Organizational Leadership, University of Georgia) is current Chair of the Department of Communication and Professor of Communication at Dalton State College. She holds master's degrees in public address and writing from Ohio University and the University of Tennessee Chattanooga, respectively. Her 38-year teaching career, especially of the basic public speaking course, informs this textbook. She has served as president of the Georgia Communication Association and Interim Assistant Vice President for Academic Affairs as DSC.