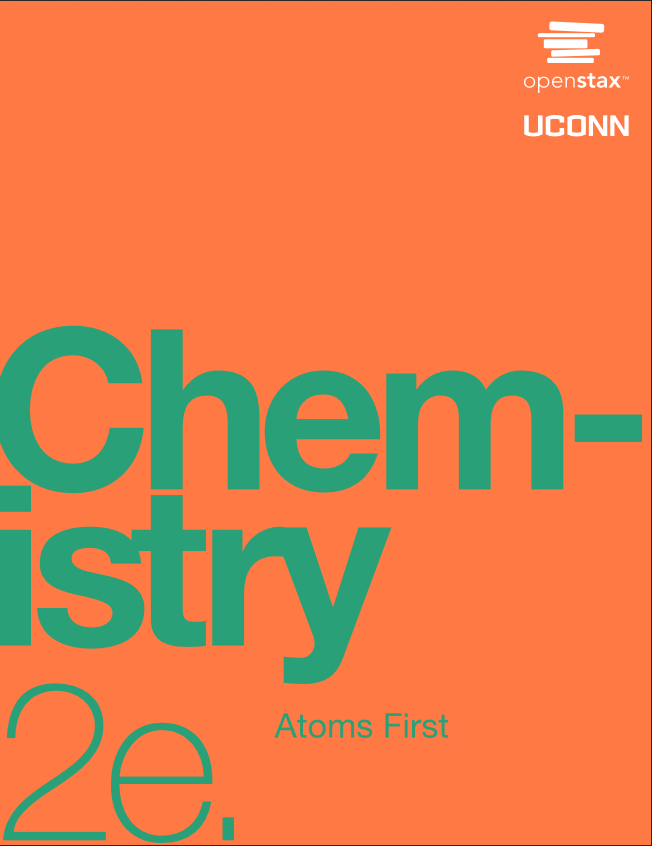 Chemistry: Atoms First - 2e
Paul Flowers, Pembroke, North Carolina
Edward J. Neth, Mansfield, Connecticut
William R. Robinson
Copyright Year: 2019
ISBN 13: 9781947172630
Publisher: OpenStax
Language: English
Table of Contents
Chapter 1: Essential Ideas
Chapter 2: Atoms, Molecules, and Ions
Chapter 3: Electronic Structure and Periodic Properties of Elements
Chapter 4: Chemical Bonding and Molecular Geometry
Chapter 5: Advanced Theories of Bonding
Chapter 6: Composition of Substances and Solutions
Chapter 7: Stoichiometry of Chemical Reactions
Chapter 8: Gases
Chapter 9: Thermochemistry
Chapter 10: Liquids and Solids
Chapter 11: Solutions and Colloids
Chapter 12: Thermodynamics
Chapter 13: Fundamental Equilibrium Concepts
Chapter 14: Acid-Base Equilibria
Chapter 15: Equilibria of Other Reaction Classes
Chapter 16: Electrochemistry
Chapter 17: Kinetics
Chapter 18: Representative Metals, Metalloids, and Nonmetals
Chapter 19: Transition Metals and Coordination Chemistry
Chapter 20: Nuclear Chemistry
Chapter 21: Organic Chemistry
The Periodic Table
Essential Mathematics
Units and Conversion Factors
Fundamental Physical Constants
Water Properties
Composition of Commercial Acids and Bases
Standard Thermodynamic Properties for Selected Substances
Ionization Constants of Weak Acids
Ionization Constants of Weak Bases
Solubility Products
Formation Constants for Complex Ions
Standard Electrode (Half-Cell) Potentials
Half-Lives for Several Radioactive Isotopes
Chapter 22: Answer Key
About the Book
Chemistry: Atoms First 2e is a peer-reviewed, openly licensed introductory textbook produced through a collaborative publishing partnership between OpenStax and the University of Connecticut and UConn Undergraduate Student Government Association.
This text is an atoms-first adaptation of OpenStax Chemistry 2e. The intention of "atoms-first" involves a few basic principles: first, it introduces atomic and molecular structure much earlier than the traditional approach, and it threads these themes through subsequent chapters. This approach may be chosen as a way to delay the introduction of material such as stoichiometry that students traditionally find abstract and difficult, thereby allowing students time to acclimate their study skills to chemistry. Additionally, it gives students a basis for understanding the application of quantitative principles to the chemistry that underlies the entire course. It also aims to center the study of chemistry on the atomic foundation that many will expand upon in a later course covering organic chemistry, easing that transition when the time arrives.
The second edition has been revised to incorporate clearer, more current, and more dynamic explanations, while maintaining the same organization as the first edition. Substantial improvements have been made in the figures, illustrations, and example exercises that support the text narrative.
About the Contributors
Authors
Senior Contributing Authors
Paul Flowers, University of North Carolina at Pembroke
Edward J. Neth, University of Connecticut
William R. Robinson, PhD