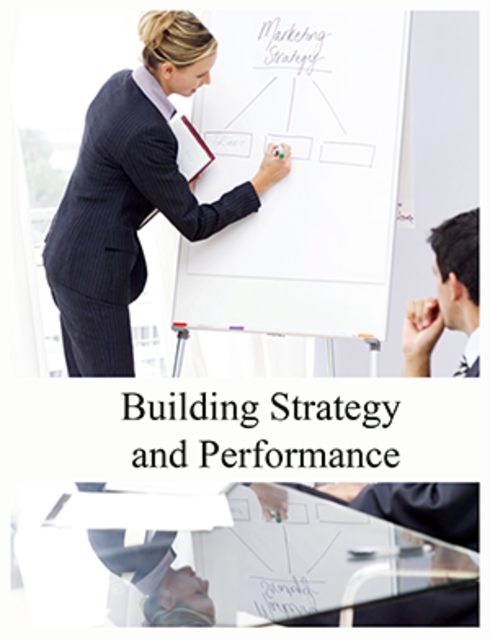 Building Strategy and Performance
Kim Warren, London Business School
Copyright Year: 2012
ISBN 13: 9781453332917
Publisher: Saylor Foundation
Language: English
Reviews
Reviewed by Scott Gallagher, Professor, James Madison University on 4/11/17
****IMPORTANT**** I recommend skipping down and reading my general review in other comments before going through each of these items.****** In thinking about my needs for an undergraduate first course in strategy the book has some important... read more
Reviewed by Scott Gallagher, Professor, James Madison University on 4/11/17
Comprehensiveness rating: 3 see less
****IMPORTANT**** I recommend skipping down and reading my general review in other comments before going through each of these items.******
In thinking about my needs for an undergraduate first course in strategy the book has some important omissions. While standbys such as five forces and resources are well covered other topics such as corporate strategy and global strategy are not discussed at all. However, this largely goes to my point that what this book appears to be trying to do is a little different than a traditional textbook. While all of us want our students to think systematically and clearly about why firm performance differs, this book makes diagramming that out its centerpiece.
The other area where the book does well is it at least discusses non-profit strategy. While I'm not sure it fully does it justice, in my opinion non-profit strategy, since it lacks the feedback of profits, is far more challenging, it does at least discuss and acknowledge the important and growing role of non-profits in our political economy. This is laudable.
Content Accuracy rating: 4
The book is good here as far as it goes. You have to keep in mind the book is written as a tacit criticism of existing approaches to strategy but if you are not dissatisfied with the current dominant logic of how to teach strategy you are probably not looking at this book to being with. The book is critical of some core strategy ideas but I do not believe it is unfairly so.
Relevance/Longevity rating: 4
The text is basically trying to present a way to graphically model firms using some terminology from strategy. So again, for what it is, it's very relevant, but you have to buy into the thesis that most other books have it wrong or are talking about the wrong things when it comes to strategy.
Clarity rating: 3
The writing is clear and easy to follow. So, the book is clear as far as it goes. But I think it omits some really important issues. As I've noted, at its core it is walking students though graphically modeling the firm and its direct environment, e.g. customers. Where the hole seems to be is how the estimates for the boxes are arrived at. There are several EXAMPLES of the boxes, just not where they were drawn from. There doesn't seem to be sufficient discussion of this and so students are basically going to be pulling numbers out of thin air. Maybe this is core weakness of a more "dynamic" approach to strategy, such an approach requires a fair amount of forecasting and scenario planning and that is hard to do, at least it would be hard for my undergraduate students to do.
Consistency rating: 4
The text builds on itself very well. There are numerous call backs to earlier parts of the book.
Modularity rating: 3
The text is very structured and builds on itself, as noted above in consistency. The breaks between sections seem logical. It seemed to me that it was basically an all or nothing affair and then I read where the author suggests (p.121) to pick only one or two frameworks to do. I wish she would have specified which ones are the best to start with.
Organization/Structure/Flow rating: 5
The book is very strong here as the sections clearly build on each other.
Interface rating: 5
I did not see any issues here.
Grammatical Errors rating: 5
I had not concerns, however, I am not an English teacher. Still, there were not enough errors that I was distracted from what the book was trying to say.
Cultural Relevance rating: 5
Well today anyone can take offense at anything. The book does have a discussion of Barbie versus Disney Princesses so if that is going to upset your students you may want to steer clear. However, I saw it as an effort to be inclusive.
Comments
I came at this book from a conventional strategy perspective - e.g. I teach five forces, resource based view, generic business level strategies, corporate strategy, etc. - at the undergraduate level. Many of these elements, especially the first two, are present in the book but they are not its focus. In fact, the book is a tacit critique of the most common frameworks and tools discussed in strategy.
As a result, the focus of the book is basically modeling business. I really think it should be titled Strategic Business Modeling or something like that rather than Building Strategy and Performance, because it is doing something very different than most strategy textbooks. In a way, it really isn't a textbook, in the sense that textbooks summarize a field for students, but rather a different way to think about strategy. If you are unhappy with the way strategy has generally been taught, then this book may be for you.
What your students will get out of this book is a big push toward thinking logically and systematically about a firm. It sort of reminded me of a value chain but a lot more in depth - almost to the extent of operations management. If you think your students will respond well to graphical diagrams, arrows and flows, then this book may very well be for you. We could do a lot worse than helping our students really think rigorously about strategy.
Finally, many traditional textbooks tout their book's support features for faculty such as slides. I would like to point out that this book does seem to offer some of these features based on the author's Strategy Dynamics webpage that is noted in the book, but I did not verify or evaluate these resources.
Table of Contents
Chapter 1: Performance Through Time
Chapter 2: Resources: Vital Drivers of Performance
Chapter 3: Resources and Bathtub Behavior
Chapter 4: Handling Interdependence Between Resources
Chapter 5: Building and Managing the Strategic Architecture
Chapter 6: You Need Quality Resources as Well as Quantity
Chapter 7: Managing Rivalry for Customers and Other Resources
Chapter 8: Intangible Resources and Capabilities
Chapter 9: Going Forward
About the Book
This book uses a balanced blend of frameworks and illustrations to teach you how to tackle the challenge of driving performance into the future.
Kim Warren takes special care with this new textbook, Building Strategy and Performance, to ensure that it delivers instruction on how to deliver strategy powerfully over a sustained period of time.
This book helps you to show your students where the levers are that they can control and how to choose what to do, when, and how much to achieve their specific goals.
This book effectively outlines the dynamics of strategy, how one drives performance - past, today and into the future. It shows what causes performance to improve or deteriorate and what your students can do to change this trajectory for the better.
But don't take our word for it, review the book now to see if it can help you to deliver the kind of tactical strategy course you desire for your students.
About the Contributors
Author
Kim Warren has been teaching Strategic Management in MBA and Executive programs at London Business School since 1990. There he has developed powerful frameworks for strategy analysis and strategic management that go beyond the simple, static tools that are more commonly used. Known as 'Strategy Dynamics', this method focuses on improvements to the time-path of business performance that is so crucial to the concerns of investors and other stakeholders. The method also provides a sound basis for strategy development in public-service and non-commercial organizations.