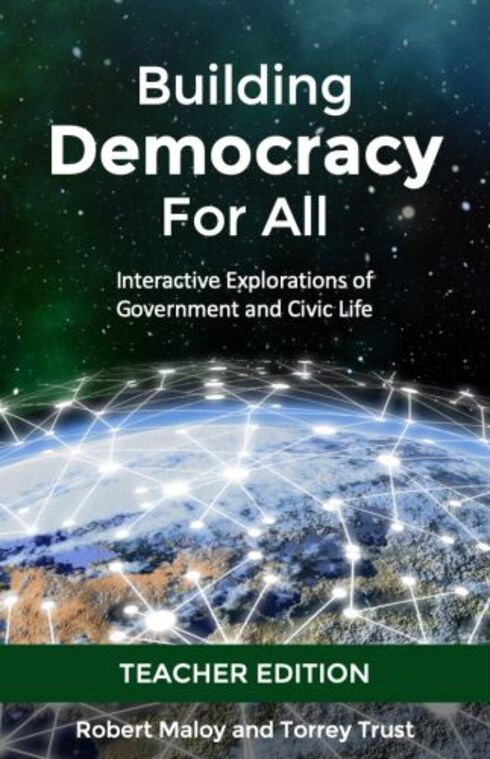 Building Democracy for All: Interactive Explorations of Government and Civic Life
Robert W. Maloy, University of Massachusetts Amherst
Torrey Trust, University of Massachusetts Amherst
Copyright Year: 2020
Publisher: EdTech Books
Language: English
Reviews
Reviewed by Heather Ann Novak, Adjunct Associate Professor, Polticial Science, Pace University on 8/31/21
It is a political science text, but it seamlessly incorporates history, STEM, communication and media and many components are interdisciplinary. read more
Reviewed by Heather Ann Novak, Adjunct Associate Professor, Polticial Science, Pace University on 8/31/21
Comprehensiveness rating: 5 see less
It is a political science text, but it seamlessly incorporates history, STEM, communication and media and many components are interdisciplinary.
Content Accuracy rating: 4
There is one point in which the text uses Trump as an example of an authoritarian leader. This could be seen as controversial, but I don't disagree. This was the only potential issue I found.
Relevance/Longevity rating: 5
It's examples include recent events engaging the reader and making concepts accessible. In addition, their approaches are current. The text includes unheard perspectives, examples and stories when examining our past and present. They even use Minecraft to explore the reality of Japanese Internment.
Clarity rating: 5
The text is clear, current and easy to follow.
Consistency rating: 5
The text is consistent and varied in its' approaches to interact with the terminology and framework
Modularity rating: 5
The text includes different ways to interact with the topics both as a teacher and a student. There are videos, links to additional reading, engaging and creative assignments. In addition there is a whole other offering on Media Literacy and Civic Learning that can be incorporated into lessons.
Organization/Structure/Flow rating: 5
Although the intended audience for this text is middle and or high school, the material is applicable to both higher ed, and education programs within community organizations.
Interface rating: 5
I found no interface issues at all with this text.
Grammatical Errors rating: 5
I found no grammatical errors within this text.
Cultural Relevance rating: 5
How refreshing to have a book where the majority of voice, examples and perspectives isn't just white, patriarchal and nationalistic. I would like more perspectives including, bias within the areas of disability, but it is exceptionally well done.
Comments
This text has multiple uses, and although it was made for use in the Massachusetts school system, the majority of it is applicable to all.
Table of Contents
Topic 1. The Philosophical Foundations of the United States Political System
Topic 2. The Development of the United States Government
Topic 3. Institutions of United States Government
Topic 4. The Rights and Responsibilities of Citizens
Topic 5. The Constitution, Amendments, and Supreme Court Decisions
Topic 6. The Structure of Massachusetts State and Local Government
Topic 7. Freedom of the Press and News/Media Literacy


About the Book
Designed as a core or supplementary text for upper elementary, middle and high school teachers and students, Building Democracy for All offers instructional ideas, interactive resources, multicultural content, and multimodal learning materials for interest-building explorations of United States government as well as students' roles as citizens in a democratic society. It focuses on the importance of community engagement and social responsibility as understood and acted upon by middle and high school students—core themes in the 2018 Massachusetts 8th Grade Curriculum Framework, and which are found in many state history and social studies curriculum frameworks around the country.
Building Democracy for All has been developed by a collaborative writing team of higher education faculty, public school teachers, educational librarians, and college students who are preparing to become history and social studies teachers. The primary editors and curators are from the University of Massachusetts Amherst College of Education. Contributing teachers come from school districts in the Connecticut River valley region of western Massachusetts (Amherst, Gateway, Westfield, Hampshire Regional, and Springfield). As an open resource, the book is being revised constantly by the members of the writing team to ensure timely inclusion of online resources and information.
About the Contributors
Authors
Robert W. Maloy is a senior lecturer in the College of Education at the University of Massachusetts Amherst where he coordinates the history teacher education program and co-directs the TEAMS Tutoring Project, a community engagement/service learning initiative through which university students provide academic tutoring to culturally and linguistically diverse students in public schools throughout the Connecticut River Valley region of western Massachusetts. His research focuses on technology and educational change, teacher education, democratic teaching, and student learning. He is coauthor of Transforming Learning with New Technologies (4th edition); Kids Have All the Write Stuff: Revised and Updated for a Digital Age; Wiki Works: Teaching Web Research and Digital Literacy in History and Humanities Classrooms; We, the Students and Teachers: Teaching Democratically in the History and Social Studies Classroom; Ways of Writing with Young Kids: Teaching Creativity and Conventions Unconventionally; Kids Have All the Write Stuff: Inspiring Your Child to Put Pencil to Paper; The Essential Career Guide to Becoming a Middle and High School Teacher; Schools for an Information Age; and Partnerships for Improving Schools. Robert has received a University of Massachusetts Amherst Distinguished Teaching Award (2010), the University of Massachusetts President's Award for Public Service (2010), a School of Education Outstanding Teacher Award (2004), a University Distinguished Academic Outreach Award (2004), and the Chancellor's Certificate of Appreciation for Outstanding Community Service (1998 and 1993).
Torrey Trust, Ph.D. is an Associate Professor of Learning Technology in the Department of Teacher Education and Curriculum Studies in the College of Education at the University of Massachusetts Amherst. Her scholarship and teaching focus on how technology shapes educator and student learning. Specifically, Dr. Trust studies how educators engage with digitally enhanced professional learning networks (PLNs), how emerging pedagogical tools (e.g., HyperDocs), practices (e.g., Making) and technologies (e.g., 3D printers, augmented reality) facilitate new learning experiences, and how to design and use open educational resources (OERs). Dr. Trust served as a professional learning network leader for the International Society for Technology in Education (ISTE) for five years, including a two-year term as the President of the Teacher Education Network from 2016 to 2018.
Dr. Trust's research, teaching, and service in the field of educational technology has received noticeable recognition, including the 2016 ISTE Online Learning Network Award, 2017 Outstanding Research Paper Award for the Journal of Digital Learning in Teacher Education, 2017 American Educational Research Association (AERA) Instructional Technology SIG Best Paper Award, 2017 ISTE Emerging Leader Award, 2017 Association for Educational Communication & Technology (AECT) Division of Distance Learning Crystal Award (2nd Place), 2019 AERA Technology as an Agent of Change for Teaching & Learning SIG Early Career Scholar Award, and 2020 AECT Annual Achievement Award. In 2018, Dr. Trust was selected as one of the six recipients worldwide for the ISTE Making IT Happen Award, which honors outstanding educators and leaders who demonstrate extraordinary commitment, leadership, courage and persistence in improving digital learning opportunities for students.