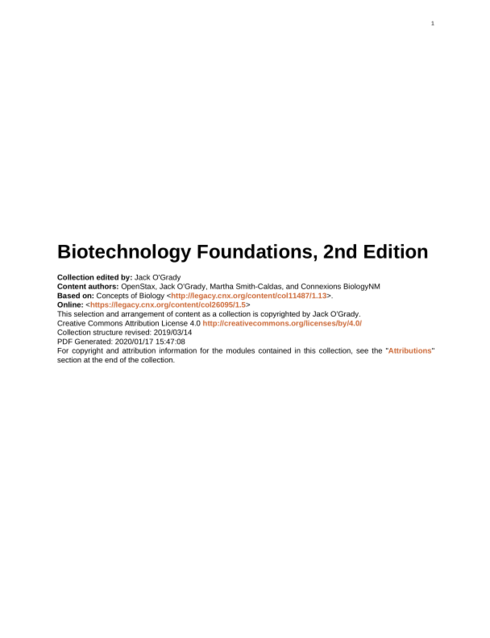 Biotechnology Foundations - 2nd Edition
Jack O'Grady
Copyright Year: 2013
Publisher: OpenStax CNX
Language: English
Reviews
Reviewed by Justin Anderson, Professor, Radford University on 7/7/20
The emphasis here should be on the word "foundations" in the title. As in, foundation for understanding biotechnology. There is very little in the book on biotech (chapters 14 and, to a lesser extent, 15 and 16). The rest of the book is repackaged... read more
Reviewed by Justin Anderson, Professor, Radford University on 7/7/20
Comprehensiveness rating: 4 see less
The emphasis here should be on the word "foundations" in the title. As in, foundation for understanding biotechnology. There is very little in the book on biotech (chapters 14 and, to a lesser extent, 15 and 16). The rest of the book is repackaged from the OpenStax Concepts of Biology textbook, which I have used in introductory biology courses for non-majors.
Content Accuracy rating: 5
I found no real errors in accuracy, as it is an introduction to basic cell and molecular biology.
Relevance/Longevity rating: 3
The basic biology in the textbook is relevant at a very introductory level or for referring back to. It should only require minimal updating. Changes should be relatively easy to do, and are probably already necessary. For example, there is only one mention of CRISPR, and that is a throw-away sentence in Chapter 1.
Clarity rating: 5
The text is an easy read for anyone with a basic background in biology. Having used Concepts of Biology in my classes, I do realize that some students struggle with even this level of biology. I read the online version, and it was broken up into short sections, each on its own page. Figures are interspersed at the appropriate places, making the pages flow well.
Consistency rating: 5
No real issues with consistency, although it was obvious when the author took over the writing from the chapters taken from Concepts of Biology.
Modularity rating: 5
This text would be easy to use out of the provided order, as the chapters are broken into sections, each with its own page. There are two or three places where material already presented is repeated nearly word-for-word, including the same figures. I found this to be a bit wasteful, since the relevant sections could have been referenced instead.
Organization/Structure/Flow rating: 4
Overall, the text flows fine. If going from start to finish, there were a couple jarring (to me) changes in topics, including a short section on the history of the discovery of nucleic acid structure and overly long sections on the organization and function of various government agencies. That's not to say these aren't relevant to biotechnology, just that their presentation didn't provide all that much useful information.
Interface rating: 5
The book is easy to use in the online format, with a table of contents that is expandable and clickable. I had no trouble jumping around, or finding where I had left off.
Grammatical Errors rating: 5
I think I may have noted a couple grammatical errors, but they weren't egregious enough for me to write down.
Cultural Relevance rating: 4
In general, this is just an introductory biology book. However, there are several places that go into a little history of various concepts, and these tend to focus on older science, and therefore men. Rosalind Franklin and Henrietta Lacks get some extended mention, however.
Comments
To be honest, I was hoping for more focus on biotechnology, so I find myself disappointed. Because most of this is a repurposing of the Concepts of Biology by OpenStax, there isn't a lot of new or extra info in here. Also note that this is in OpenStax's CNX lineup, which is being archived starting in the summer of 2020. The text will still be available after this time, though.
Table of Contents
1 Unit 1. The Foundations of Biotechnology
Chapter 1. The Study of Life
Chapter 2. The Building Blocks of Life
Chapter 3. What is Biotechnology?
Chapter 4. Biotechnician Tools: Measurements & Uncertainty
Chapter 5. Biotechnician Tools: Preparing Solutions
Chapter 6. Biotechnician Tools: Basic Laboratory Equipment
2 Unit 2. Introduction to Biomanufacturing
Chapter 7. Cell Structure and Function
Chapter 8. Microbes
Chapter 9. Microbial Techniques
Chapter 10. Microbial Growth
Chapter 11. Control of Microbial Growth
3 Unit 3. Molecular Biotechnology
Chapter 12. Nucleic Acid Structure & Function
Chapter 13. Protein Structure and Function
Chapter 14. Laboratory Techniques: Nucleic Acids and Proteins
Chapter 15. Viruses, Vaccines, and the Immune System
Chapter 16. Immunochemistry
About the Book
Given the broad definition of biotechnology applications and products, it is easy to see how there is enormous overlap within the fields of cellular biology, microbiology, chemistry, and biomedical engineering. It is the goal of this textbook to provide foundational knowledge to begin building your biotechnology toolkit and enter an exciting career of making a difference through biotechnology.
This textbook first explores the fundamentals of laboratory science and biotechnology. Unit 1 begins with a dive into the foundation of biology and chemistry by asking what is life and what are the molecules of life? The end of the unit offers a primer into laboratory science; preparing solutions and operating basic lab equipment. Unit 2 brings readers through a vital tool of biomanufacturing, understanding the growth and control of microbes. Many biotechnology products are made by harnessing the work of microbes, and this unit explores this invisible and intriguing world of microorganisms. The final unit, molecular biotechnology, offers a more in-depth look at how biological molecules such as DNA and protein are manipulated into creating useful products. 
About the Contributors
Author