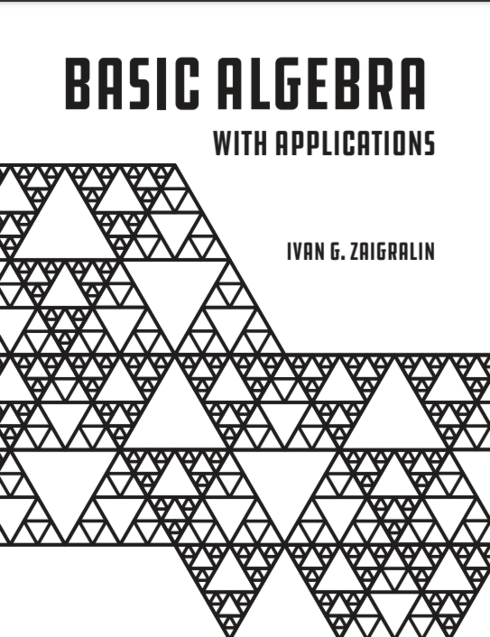 Basic Algebra with Applications - 6th Edition
Ivan G. Zaigralin, Arden-Arcade, California
Copyright Year: 2018
Publisher: Ivan G. Zaigralin
Language: English
Reviews
Reviewed by Perla Salazar, Associate Professor, Garden City Community College on 12/6/22
The textbook covers all concepts expected in a basic algebra textbook. The index/glossary is well organized and finding what you are looking for is very easy. All concepts are well explained and give good examples as well as homework problems. ... read more
Reviewed by Perla Salazar, Associate Professor, Garden City Community College on 12/6/22
Comprehensiveness rating: 4 see less
The textbook covers all concepts expected in a basic algebra textbook. The index/glossary is well organized and finding what you are looking for is very easy. All concepts are well explained and give good examples as well as homework problems. I would have liked that more methods for factoring quadratic trinomials were included. The only method explained in the textbook about factoring quadratic trinomials is the trial and error method.
Content Accuracy rating: 5
The content presented is accurate and well explained. The examples, definitions, and solutions are accurate.
Relevance/Longevity rating: 5
The content is relevant to the topics being covered. The examples and solutions are well chosen. Topics expected for an introduction to algebra are covered. This would be a good book for an intermediate algebra class or a review for college algebra class. I plan on using this book with my companion section for college algebra. The organization of the book makes it easy for instructors to update examples if needed.
Clarity rating: 5
The book is very clear. The definitions are followed with illustrative examples. Multiple examples and their solutions are provided for most topics.
Consistency rating: 5
The book is very consistent in its terminology and framework. The organization is easy to follow, topics are easy to find. Terminology is well defined and well illustrated by examples following the definitions.
Modularity rating: 5
The textbook is organized in chapters with smaller sections within each chapter. This textbook can be easily divided into small reading assignments.
Organization/Structure/Flow rating: 5
The content organization of the textbook is very good. There is a logical sequence of topics and ideas are grouped in a reasonable manner.
Interface rating: 5
I didn't encounter any interface issues. All images and charts were displayed well. The textbook navigation was easy and I could find what I needed fast.
Grammatical Errors rating: 5
I found no grammatical errors.
Cultural Relevance rating: 4
I didn't come across any words or examples that would be considered offensive. However, it could be a more inclusive textbook if people's names from multiple cultural backgrounds are added to the examples. All names currently used in examples can be perceived as being from one single cultural background.
Comments
This textbook does a good job at breaking down algebraic concepts to its basic parts. This textbook would be good for an intermediate algebra class or for a review class before college algebra. I plan on using this textbook to help my companion college algebra class review and fill in gaps of knowledge so they can be successful in college algebra. I wish the textbook covered more factoring methods, such as the ac method or the box method, but overall it has everything I was looking for in a college algebra review book.
Table of Contents
Contents
Chapter 1. Concepts
Chapter 2. Linear Equations
Chapter 3. Graphing
Chapter 4. Linear Systems
Chapter 5. Polynomial Equations
Chapter 6. Factoring Polynomials
Chapter 7. Rational Expressions
Chapter 8. Radicals
Chapter 9. Quadratic Equations
Appendix A. To Instructors
Appendix B. To Developers
Index
About the Book
Basic Algebra with Applications
About the Contributors
Author
Ivan G. Zaigralin, Los Rios Community College District