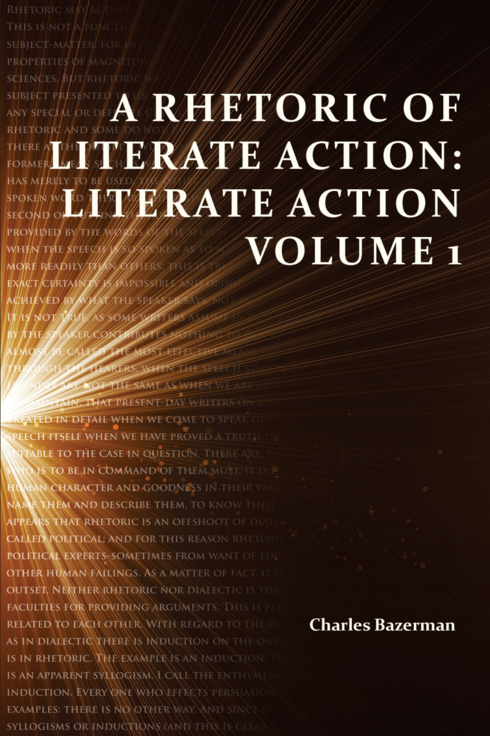 A Rhetoric of Literate Action: Literate Action Volume 1
Charles Bazerman, University of California, Santa Barbara
Copyright Year: 2013
ISBN 13: 9781602354753
Publisher: WAC Clearinghouse
Language: English
Table of Contents
Front Matter
Introduction
Chapter 1. Rhetorics of Speaking and Writing
Chapter 2. Knowing Where You Are: Genre
Chapter 3. When You Are
Chapter 4. The World of Texts: Intertextuality
Chapter 5. Changing the Landscape: Kairos, Social Facts, and Speech Acts
Chapter 6. Emergent Motives, Situations, Forms
Chapter 7. Text Strategics
Chapter 8. Emergent Form and the Processes of Forming Meaning
Chapter 9. Meanings and Representations
Chapter 10.Spaces and Journeys for Readers: Organization and Movement
Chapter 11. Style and Revision
Chapter 12. Managing Writing Processes and the Emergent Text
References
About the Book
The first in a two-volume set, A Rhetoric of Literate Action is written for "the experienced writer with a substantial repertoire of skills, [who] now would find it useful to think in more fundamental strategic terms about what they want their texts to accomplish, what form the texts might take, how to develop specific contents, and how to arrange the work of writing." The reader is offered a framework for identifying and understanding the situations writing comes out of and is directed toward; a consideration of how a text works to transform a situation and achieve the writer's motives; and advice on how to bring the text to completion and "how to manage the work and one's own emotions and energies so as to accomplish the work most effectively."
About the Contributors
Author
Charles Bazerman, Professor of Education at the University of California, Santa Barbara, is the author of numerous research articles and books on the social role of writing, academic genres, and textual analysis, as well as textbooks on the teaching of writing.