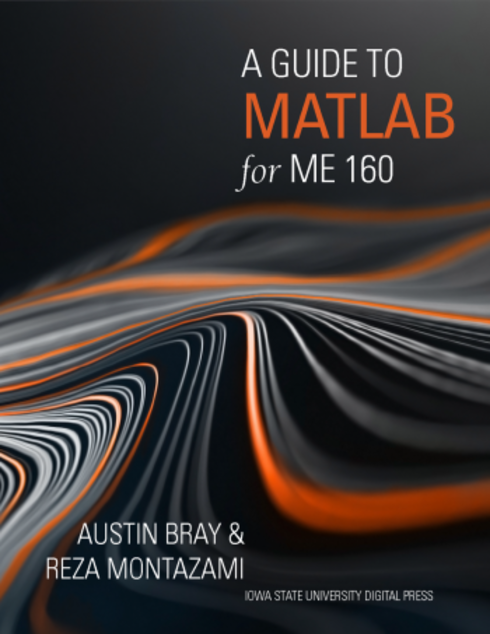 A Guide to MATLAB for ME 160
Austin Bray
Reza Montazami
Copyright Year: 2022
Publisher: Iowa State University
Language: English
Reviews
Reviewed by Caroline Baker, Assistant Professor, Anderson University on 2/17/23
This book is directly related to a specific course, so it only introduces concepts that are necessary for that class. It would be minimally useful for a general MATLAB class. read more
Reviewed by Caroline Baker, Assistant Professor, Anderson University on 2/17/23
Comprehensiveness rating: 2 see less
This book is directly related to a specific course, so it only introduces concepts that are necessary for that class. It would be minimally useful for a general MATLAB class.
Content Accuracy rating: 5
It seems pretty accurate regarding MATLAB's capabilities and the appropriate syntax.
Relevance/Longevity rating: 3
Updates will be difficult because of the typesetting of the MATLAB commands. In addition, some of the functionality taught (building a GUI, etc) is not particularly relevant to a more general teaching of MATLAB.
Clarity rating: 4
The images are pretty fuzzy, which makes it difficult to read the MATLAB code. In addition, more examples would really clarify some of the explanations.
Consistency rating: 5
The formatting seemed pretty consistent.
Modularity rating: 5
The book is divided into manageable chapters and sections within those chapters.
Organization/Structure/Flow rating: 4
The flow and organization of the book appears fine. There are some large sections of provided code that seem like they exist without enough build up to them.
Interface rating: 4
The images from the computer program itself are really fuzzy and could be formatted better.
Grammatical Errors rating: 5
The grammar of the book appears fine.
Cultural Relevance rating: 5
The book is a programming book and doesn't really touch on cultural topics.
Table of Contents
Chapter 1: Introduction
Chapter 2: Basic Commands in MATLAB
Chapter 3: MATRIX Operations
Chapter 4: Writing Scripts
Chapter 5: Commands
Chapter 6: Graphing in MATLAB
Chapter 7: Graphical User Interface
Chapter 8: Functions and Function Handles
Chapter 9: Inputting and Outputting Data
Chapter 10: Projects
Appendix A: Additional MATLAB Resources
Appendix B: A commentary on this work
About the Book
This textbook provides an introduction to the MATLAB programming language for first-year mechanical engineering students enrolled in ME 160, Mechanical Engineering Problem Solving with Computer Applications. Designed to follow the content taught in class, this book provides a supplement to in-class learning that is presented at a level that is understandable to a student with no experience coding before coming to Iowa State University.
About the Contributors
Authors
Austin Bray
Dr. Reza Montazami