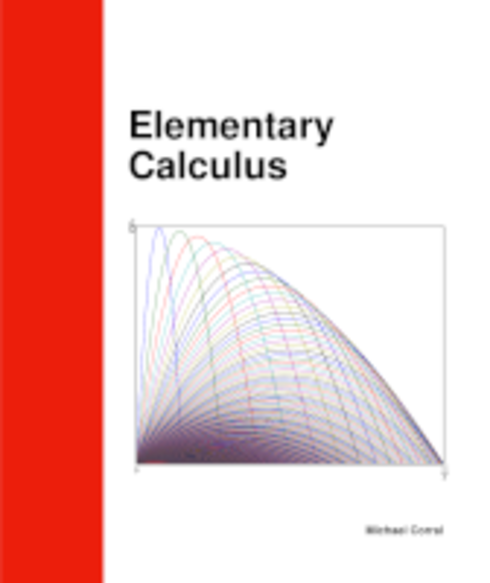 Elementary Calculus
Michael Corral, Schoolcraft College
Copyright Year: 2020
Publisher: Michael Corral
Language: English
Reviews
Reviewed by Esteban Diaz, Assistant Professor of Instruction, University of Texas at Arlington on 4/5/23
The approach taken by the textbook to begin with infinitesimals is truly commendable. By starting with these fundamental concepts, the reader is able to gain a deep and intuitive understanding of the subject matter. This approach also greatly... read more
Reviewed by Esteban Diaz, Assistant Professor of Instruction, University of Texas at Arlington on 4/5/23
Comprehensiveness rating: 5 see less
The approach taken by the textbook to begin with infinitesimals is truly commendable. By starting with these fundamental concepts, the reader is able to gain a deep and intuitive understanding of the subject matter. This approach also greatly enhances the understanding of derivatives, as it allows the reader to see how they relate to infinitesimals and the broader context of calculus.
The treatment of integrals in the textbook is similarly impressive. Every detail is carefully analyzed and explained, making it easy for the reader to follow along and truly grasp the concepts. The author's attention to detail and clear explanations ensure that even complex concepts are presented in a way that is accessible to all readers.
Content Accuracy rating: 5
From the best of my knowledge while reading the book, I didn't see any numerical or logical inconsistency.
Relevance/Longevity rating: 5
The content presented in the text is not only current, but has been carefully curated in a way that ensures its relevance and usefulness for the foreseeable future. Rather than relying on fleeting trends or passing fads, the author has focused on presenting foundational concepts that are likely to remain relevant for years to come.
Moreover, the author's thoughtful approach to organizing the material means that updates can be easily incorporated without disrupting the flow of the text. The text is structured in a way that anticipates potential updates and allows for them to be seamlessly integrated without requiring a complete overhaul of the entire book.
This flexibility is a testament to the author's foresight and attention to detail. By taking the time to structure the text in a way that anticipates changes and allows for easy updates, the author has created a truly valuable resource for students and educators alike. Whether used in a classroom setting or for self-study, this text is sure to remain relevant and useful for many years to come.
Clarity rating: 5
The language used in the text is impressively clear and accessible, making it easy for readers of all levels to follow along with the material. Even when technical terminology or jargon is used, the author ensures that the necessary context is provided so that readers can fully understand what is being discussed.
Furthermore, the author's ability to provide the appropriate context for technical terms is a testament to their skill as an educator. They recognize that not all readers will have the same level of prior knowledge, and take care to explain concepts in a way that is approachable and informative. This is particularly important in technical subjects such as calculus, where a lack of understanding of key terms and concepts can quickly lead to confusion and frustration.
Overall, the text strikes an impressive balance between technical rigor and accessibility. The language used is consistently lucid and straightforward, while still conveying the necessary complexity of the subject matter. Thanks to the author's skillful use of language and attention to detail, readers are able to engage fully with the material and gain a deep understanding of calculus.
Consistency rating: 5
The text is notable for its remarkable consistency in terminology and framework, which is essential for helping readers build a strong foundation of understanding. The author has taken great care to ensure that key terms and concepts are presented in a clear and systematic way, making it easier for readers to connect new concepts to the broader framework that has been established. This consistency reflects the author's deep understanding of the material and their commitment to presenting it in a way that is both accurate and accessible. Whether used for self-study or as part of a classroom curriculum, the text's internal consistency ensures that readers are able to engage fully with the material and gain a deep understanding of calculus.
Modularity rating: 5
The text's well-structured and easily divisible format makes it a versatile resource that can be adapted to a variety of course structures and learning environments. The author's careful attention to avoiding excessive self-referentiality ensures that the text can be easily reorganized without disrupting the reader's learning experience. These features make the text a valuable tool for both educators and students seeking to learn calculus.
Organization/Structure/Flow rating: 5
The author's mastery of the subject matter is evident in the text's logical and clear presentation of topics. From the foundational concepts of calculus to the more advanced techniques and applications, each chapter builds on the previous one in a way that is easy to follow and understand. The author's skillful organization of the material not only makes it easier for readers to grasp individual topics but also helps them to see how these topics fit together into a broader framework. This approach ensures that readers come away with a comprehensive understanding of calculus and its real-world applications. Whether used for self-study or as part of a classroom curriculum, the text's clear and logical presentation of material makes it an invaluable resource for anyone seeking to learn calculus.
Interface rating: 5
The text's interface design is a standout feature, with the author's attention to detail ensuring a seamless and distraction-free reading experience. Navigation is intuitive, and images/charts are clear with no distortion. Unnecessary display features are avoided, resulting in a functional and aesthetically pleasing resource for students and educators.
Grammatical Errors rating: 5
To the best of my knowledge the text contains no grammatical errors.
Cultural Relevance rating: 5
The textbook is for teaching of Calculus.
Comments
I recently came across a textbook that has blown me away with its quality. It is one of the best textbooks I have ever seen and I am thoroughly impressed by it. This is the first time I have truly understood infinitesimals and their real-world applications. If I had the opportunity to choose which textbook to teach with, I would undoubtedly choose this one.
The author's treatment of derivatives is exceptionally elegant, and they have done an excellent job of incorporating numerous pedagogical concepts. While the part on integrations follows a more direct approach, it still perfectly complements the overall structure of the textbook.
There are a few minor issues, such as the notation for sin dx. Personally, I would prefer something like sin(dx), but this is just a small detail that can easily be corrected.
Furthermore, the sections on exercises are well-organized and contain different exercises tailored to different levels of understanding. The author stays true to their belief that mainstream textbooks are often filled with unnecessary information that only serves to cloud the learning process instead of enhancing it. Overall, I highly recommend this textbook to anyone interested in the subject.
Table of Contents
1 The Derivative
2 Derivatives of Common Functions
3 Topics in Differential Calculus
4 Applications of Derivatives
5 The Integral
6 Methods of Integration
7 Analytic Geometry and Plane Curves
8 Applications of Integrals
9 Infinite Sequences and Series
About the Book
This textbook covers calculus of a single variable, suitable for a year-long (or two-semester) course. Chapters 1-5 cover Calculus I, while Chapters 6-9 cover Calculus II. The book is designed for students who have completed courses in high-school algebra, geometry, and trigonometry. Though designed for college students, it could also be used in high schools. The traditional topics are covered, but the old idea of an infinitesimal is resurrected, owing to its usefulness (especially in the sciences).
There are 943 exercises in the book, with answers and hints to selected exercises.
About the Contributors
Author
Michael Corral, Schoolcraft College