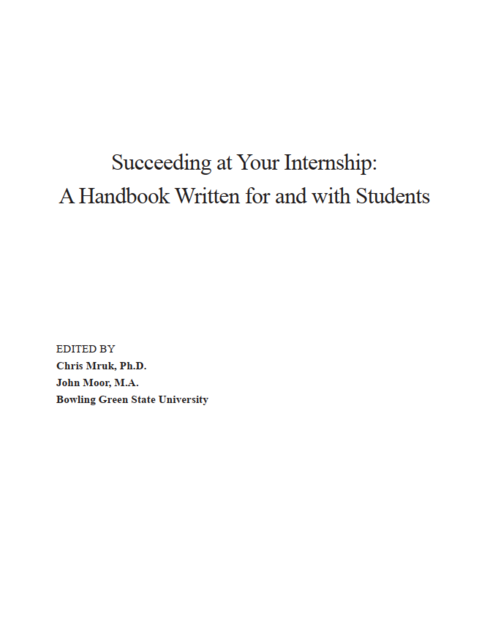 Succeeding at Your Internship: A Handbook Written for and with Students
Christopher J. Mruk, Bowling Green State University
John C. Moor, Bowling Green State University
Copyright Year: 2020
Publisher: Bowling Green State University Libraries
Language: English
Table of Contents
Chapter 1: What This Book is About and How to Use It
Chapter 2: Finding and Preparing for a Suitable Internship Site
Chapter 3: Getting Started at the Site
Chapter 4: Using Supervision Effectively
Chapter 5: The Importance of Ethics
Chapter 6: Appreciating Cultural Diversity (Multiculturalism)
Chapter 7: Learning to Be Competent
Chapter 8: Completing the Internship
About the Book
There are several textbooks for students whose majors include internships in human services, broadly defi­­­ned, such as case management, counseling, criminal justice, and social work. Most of these books are written in an academic format. Typically, it involves an introduction to a theoretical orientation that concerns working with others followed by a series of chapters devoted to learning professional skills associated with a given discipline. This approach is fine, as far as it goes, but also has two drawbacks. One is that the texts are usually sold by main stream publishers, which means they are expensive. Another is that they seldom address what might be described as the experiential dimension of the internship that most beginners face on their own. This new book addresses both concerns. The fact that it is offered as a free text addresses the first issue, of course, but the second one requires a new approach. It began with asking students to talk about what they experienced when going through their first internship and what they would tell others about how to make it a successful one. That work led to a structured narrative about basic practical topics, such as finding an internship, getting started there, making effective use of supervision, understanding ethics, appreciating cultural diversity, becoming competent, and completing the internship. The text includes descriptions, suggestions, and exercises. It may be used as either a primary course text or, due to its relative brevity, a supplemental one. Although the lead editor is an experienced clinician and professor who has supervised internships for a variety of human services majors over many years, the book was written with and for students to make it more readable and more useful.
About the Contributors
Editors
Chris Mruk is a professor of psychology at Bowling Green State University and has offered internships for undergraduate human services majors as well as doctoral students in psychology for some 30 years. He also had a "real job," as his wife is fond of saying, before coming to academia when he worked as a clinical psychologist. That experience includes employment in an inpatient psychiatric unit, supervising a heroin addiction program in Detroit, working as a crisis intervention expert in one of the nation's first two 24-hour full-service emergencies psychiatric services, being a therapist in a community mental health center, directing a college counseling service at St. Francis University (Pennsylvania), and consulting for the Firelands Regional Medical System in Sandusky, Ohio. He has written a number of clinically-oriented books, one of which is in its 4th edition, as well as some 30 chapters and articles. Chris is the recipient of a number of teaching awards, including an appointment as a Professor of Teaching Excellence at Bowling Green State University. Details concerning his background can be found at www.cmruk.org. His primary duties in writing the book concerned its content and structure.
John Moor is a Teaching Professor in the Humanities Department at Bowling Green State University, Firelands. He has been teaching composition classes at the college since 1988. Before that, he taught high school English for 6 ½ years. He received his B.A. in English at Bowling Green State University in 1977 and his M.A. in Mass Communications from the same institution in 1988. He has written for several local weekly and monthly newspapers over the years. When he's not grading student essays, he enjoys projects such as this—revising and editing manuscripts. (Really!)