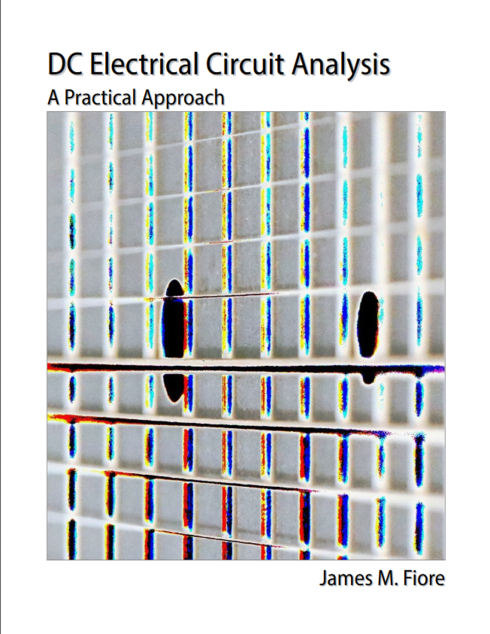 DC Electrical Circuit Analysis: A Practical Approach
James M. Fiore, Mohawk Valley Community College
Copyright Year: 2020
ISBN 13: 9781654515478
Publisher: dissidents
Language: English
Table of Contents
Chapter 1: Fundamentals
Chapter 2: Basic Quantities
Chapter 3: Series Resistive Circuits
Chapter 4: Parallel Resistive Circuits
Chapter 5: Series-Parallel Resistive Circuits
Chapter 6: Analysis Theorems and Techniques
Chapter 7: Nodal & Mesh Analysis, Dependent Sources
Chapter 8: Capacitors
Chapter 9: Inductors
Chapter 10: Magnetic Circuits and Transformers
About the Book
Welcome to DC Electrical Circuit Analysis, an open educational resource (OER). The goal of this text is to introduce the theory and practical application of analysis of DC electrical circuits. It is offered free of charge under a Creative Commons non-commercial, share-alike with attribution license. For your convenience, along with the free pdf and odt files, print copies are available at a very modest charge. Check my web sites for links.
This text is based on the earlier Workbook for DC Electrical Circuits, which it replaces. The original expository text has been greatly expanded and includes many examples along with computer simulations. For the convenience of those who used the Workbook, many of the problem sets are the same, with some re-ordering depending on the chapter.
About the Contributors
Author
James M. Fiore
My name is Jim and I'm the resident dissident, programmer and author. I've been a college professor for many years teaching in the areas of electrical engineering technology, computer programming and the science of sound. I'm also a musician and an endurance athlete. I established dissidents in the late 1980s as a way to offer various software items that I created, figuring that other people might find them useful as well. Some of these have been commercial and some have been freeware. I also write a lot, including published college text books and lab manuals. Recently, the open educational resource movement has gained momentum (no doubt at least partly propelled by the rising costs of college tuition and texts).