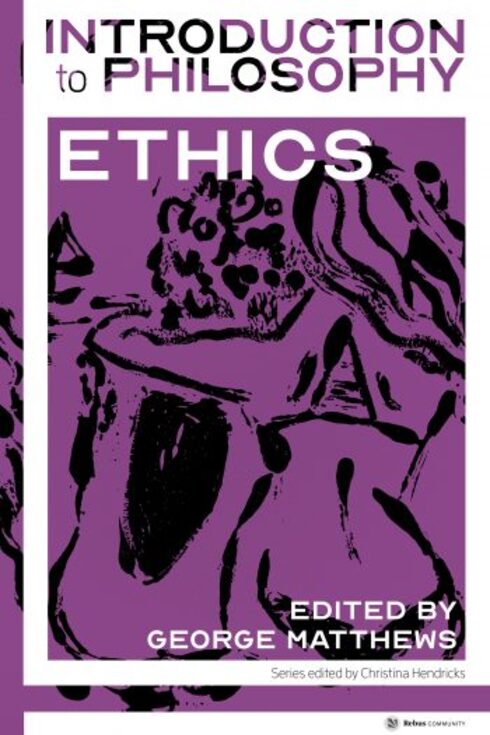 Introduction to Philosophy: Ethics
George Matthews
Christina Hendricks
Copyright Year: 2019
ISBN 13: 9781989014080
Publisher: Rebus Community
Language: English
Table of Contents
1. Aren't Right and Wrong Just Matters of Opinion? On Moral Relativism and Subjectivism
2. Can We Have Ethics without Religion? On Divine Command Theory and Natural Law Theory
3. How Can I Be a Better Person? On Virtue Ethics
4. What's in it for Me? On Egoism and Social Contract Theory
5. Utilitarianism
6. Kantian Deontology
7. Feminism and Feminist Ethics
8. Evolutionary Ethics
About the Book
We often make judgments about good and bad, right and wrong. Philosophical ethics is the critical examination of these and other concepts central to how we evaluate our own and each others' behavior and choices.
This text examines some of the main threads of discussion on these topics that have developed over the last couple of millenia, mostly within the Western cultural tradition. It considers basic questions about moral and ethical judgment: Is there such a thing as something that is really right or really wrong independent of time, place and perspective? What is the relationship between religion and ethics? How can we reconcile self-interest and ethics? Is it ever acceptable to harm one person in order to help others? What do recent discussions in evolutionary biology or have to say about human moral systems? What is the relation between gender and ethics? The authors invite you to participate in their exploration of these and many other questions in philosophical ethics.
About the Contributors
Authors
George Matthews (book editor) studied philosophy at Pratt Institute, where he also earned a BFA in Sculpture, at Hunter College, Loyola University of Chicago, and The Pennsylvania State University, where he earned his Doctorate in Philosophy for work on German Idealism. He currently teaches philosophy in person at Plymouth State University and online at Pennsylvania College of Technology. His research and teaching interests are in ethics, social and political philosophy, environmental philosophy, philosophy of mind and the philosophical and psychological study of rationality and irrationality. He remains a life-long student, having recently become a formal student in the Mountains and Rivers Order in the Soto lineage of Zen Buddhism. His extra-philosophical pursuits also include gardening, cooking, and wandering and climbing in the mountains.
Christina Hendricks (series editor) is a Professor of Teaching in Philosophy at the University of British Columbia in Vancouver, BC, Canada, where she often teaches Introduction to Philosophy courses. She is also the and also the Academic Director of the Centre for Teaching, Learning and Technology (2018-2023). Christina has been an open education researcher and advocate for a number of years, having been a BCcampus Open Textbook Fellow, an OER Research Fellow with the Open Education Group, the Creative Commons Canada representative to the CC Global Network, and a member of the Board of Directors for the Canadian Legal Information Institute.