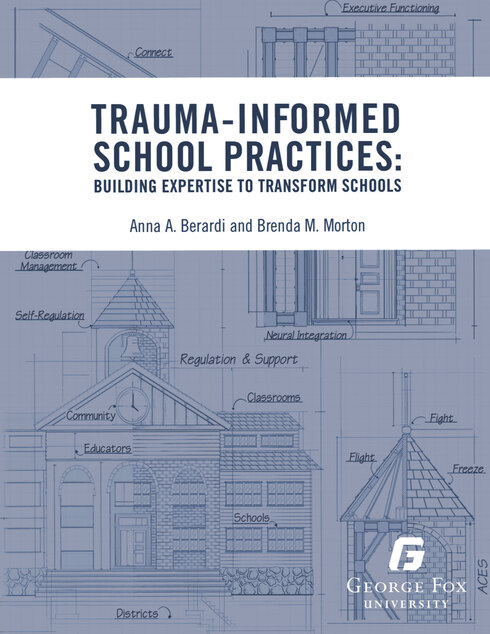 Trauma-Informed School Practices: Building Expertise To Transform Schools
Anna A. Berardi
Brenda M. Morton
Copyright Year: 2019
Publisher: George Fox University Library
Language: English
Table of Contents
Section I: Foundational Principles of Trauma-Informed School Practices
Chapter 1: The State of Public Schools
Chapter 2: Optimum Development and Academic Readiness
Chapter 3: When Stress and Trauma Overwhelm Coping Resources
Chapter 4: Trauma and Classroom Impact
Chapter 5: Trauma-Informed Response Best Practices
Chapter 6: The Trauma-Informed School Practices Tri-Phasic Model
Section II: Implementing Trauma-Informed School Practices
Chapter 7: Planning for Transition to Trauma-Informed School Practices: District, School, and Educator Considerations
Chapter 8: Implementing Trauma-Informed School Practices in the Classroom
Chapter 9: Responding to Behavioral Disruptions Using Trauma-Informed School Practices: Principles and Practices
Section III: Sustaining Trauma-Informed School Practices
Chapter 10: Orienting and Supporting Parents as TISP Co-Facilitators
Chapter 11: Applying Trauma-Informed School Practices to Educator Competencies
Chapter 12: Nurturing Effective and Sustainable Trauma-Informed School Practices
About the Book
This textbook represents the combined insight and experience of Morton, a k12 educator, and Berardi, a psychotherapist, both of whom are also university educators with extensive work experience serving districts and their teachers seeking to incorporate trauma-informed principles into their school culture and classroom. The authors identify that the field of education is now ready to deepen its level of response to the paradigm shift created by advances in neuroscience and traumatology. Hence, the primary focus is on identifying and applying trauma-informed educator competencies needed to transform districts, schools, educators, classrooms, and the field of education itself, while also including community members such as parents and board members in these processes - a total system makeover. At the conclusion of this text, the student, educator, or mental health professional will have a deeper understanding of what trauma-informed practice requires of them. This includes practical strategies on how to transform our learning communities in response to the devastating effect of unmitigated stress and trauma on our student's ability to learn and thrive throughout the lifespan.
About the Contributors
Authors
Anna Berardi, Ph.D., is the founder and director of the Trauma Response Institute, and a tenured professor of marriage and family therapy in the Graduate School of Counseling at George Fox University—Portland, Oregon. Anna began her work as a social worker, and is a licensed and practicing psychotherapist, utilizing best-practice trauma-informed approaches such as Eye Movement Desensitization and Reprocessing (EMDR), Trauma-Focused Cognitive Behavioral Therapy (TF-CBT), and Emotion-Focused Therapy (EFT) to facilitate healing processes for individuals and couples impacted by the lingering effects of trauma. For the past 25 years she has advocated for the needs of marginalized and under-served populations through the training of mental health professionals, including school counselors and school psychologists, serving various communities in the Pacific Northwest. Anna's scholarly publications and conference presentations primarily focus on clinical supervision and training, social justice advocacy, and trauma-informed care.
Brenda Morton, EdD., is a tenured Associate Professor in the School of Education at George Fox University. She taught middle and high school at both public and private schools in Oregon and is a licensed administrator. In 2009, Brenda joined the faculty at George Fox University School of Education, where she works in teacher preparation with undergraduate and graduate students. Early on in her career, Brenda recognized the needs of at-risk youth and began to focus on this specific group of vulnerable learners. In 2010, Brenda and her family became a foster family to a sibling group of four. The challenges and joys of foster parenting led her to focus her dissertation on academic outcomes of foster youth. Her dissertation was an extension of her love for at-risk youth and deep desire to understand, connect, and create a path forward. To that end, she earned certification as a National Dropout Prevention Specialist and a post-doctoral certification in Trauma Response.