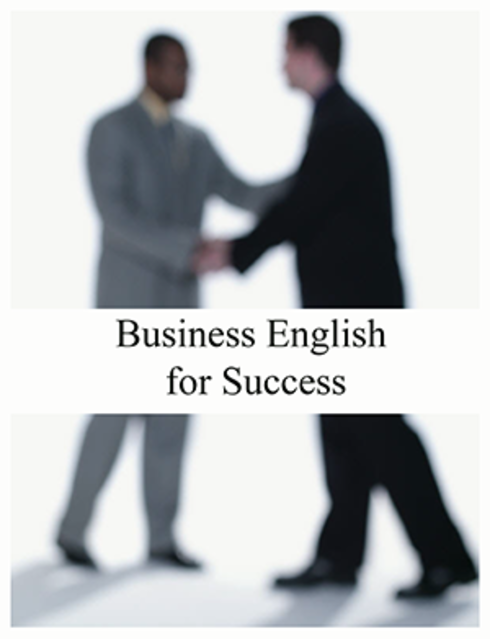 Business English for Success
Scott McLean, Arizona Western College
Copyright Year: 2011
ISBN 13: 9781453320181
Publisher: Saylor Foundation
Language: English
Table of Contents
Chapter 1: Writing Basics: What Makes a Good Sentence?
Chapter 2: Punctuation
Chapter 3: Working with Words: Which Word Is Right?
Chapter 4: Help for English Language Learners
Chapter 5: Writing Paragraphs: Separating Ideas and Shaping Content
Chapter 6: Refining Your Writing: How Do I Improve My Writing Technique?
Chapter 7: The Writing Process: How Do I Begin?
Chapter 8: Writing Essays: From Start to Finish
Chapter 9: Effective Business Writing
Chapter 10: Writing Preparation
Chapter 11: Writing
Chapter 12: Revising and Presenting Your Writing
Chapter 13: Business Writing in Action
Chapter 14: APA and MLA Documentation and Formatting
About the Book
Business English for Success is a creative solution to a common challenge across Business Communication courses: Business English or Business Presentations? Some classes place an equal emphasis on oral and written communication. If that's the case for you check out our text Business Communication for Success. If, however, your class places the emphasis squarely on written communication and writing proficiency, then Business English for Success is for you.
Business English for Success provides instruction in steps, builds writing, reading, and critical thinking, and combines comprehensive grammar review with an introduction to paragraph writing and composition. This step-by-step approach provides a clear path to student-centered learning. A wide range of writing levels and abilities are addressed, helping each student prepare for the next writing or university course.
The text opens with a discussion on the sentence and then breaks it down into its elemental components, before reconstructing them into effective sentences, paragraphs, and larger assignments. Then, starting in Chapter 9: Effective Business Writing, the discussion applies lessons learned from the previous foundational chapters into common business issues and applications. From paraphrasing and plagiarism to style to the research process, the expectations increase as several common business documents are presented, including text messages and e-mail, memorandums and letters, the business proposal, business report, resume, and the sales message.
This textbook has been used in classes at:Arizona Western College, Hostos Community College, Virginia State University, Truckee Meadows Community College, San Jose State University, Concordia University - Irvine, University New Brunswick - Fredericton, Cerritos College, University of Houston - Downtown, Flat World Knowledge University, A-C Central High School, University of The People, Truckee Meadows Community College, Danville Community High School
About the Contributors
Author
Scott McLean is an Associate Professor of Communication, including Journalism and English, at Arizona Western College in a combined campus partnership with the University of Arizona and Northern Arizona University-Yuma. He also served as the 2007-2011 Shadle-EdgeCombe Endowed Faculty Chair.
Scott is the author of "The Basics of Speech Communication" and "The Basics of Interpersonal Communication," both currently published by Allyn & Bacon. He is also the author of "Business Communication for Success," "Writing for Success" and "Business English for Success" with Flat World Knowledge, and has published in peer-reviewed journals, classic car magazines, and newspapers.
From his experience working with students at the community college and undergraduate level, including English 95 (development), 100 (college prep), 101 (composition and argumentation), 102 (literature and analysis), and 350 (business communication), he has learned the importance of clear, concise learning resources with scaffolding, frequent opportunities for engagement and demonstration of skill mastery, and the importance of the first English course on overall academic success for many students. He has taught at AWC/San Luis on the US/Mexican Border, for Central Oregon Community College's Branch Campus on the Warm Springs Indian Reservation, and for Universidad San Sebastian in Concepcion, Chile.
Scott studied at Pontificia Universidad Catolica de Chile, at Washington State University's Edward R. Murrow School of Communication, and at Northern Arizona University-Flagstaff's Department of English in the area of Professional Writing.