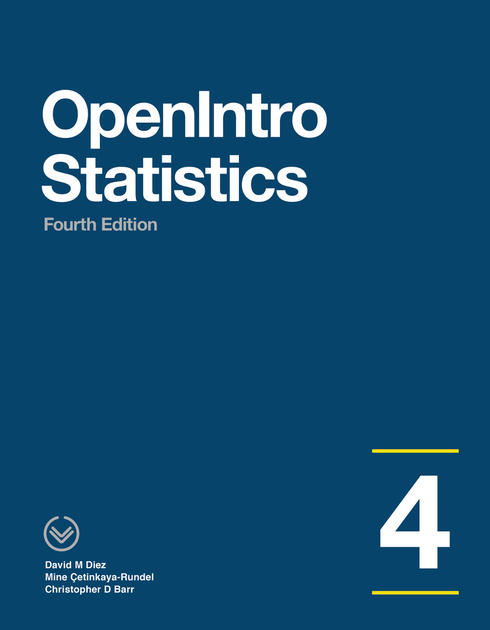 OpenIntro Statistics - Fourth Edition
David M. Diez, Harvard School of Public Health
Christopher D. Barr, Harvard School of Public Health
Mine Cetinkaya-Rundel, Duke University
Copyright Year: 2015
Last Update: 2019
Publisher: OpenIntro
Language: English
Table of Contents
1. Introduction to data.
2. Summarizing data.
3. Probability.
4. Distributions of random variables.
5. Foundations for inference.
6. Inference for categorical data.
7. Inference for numerical data.
8. Introduction to linear regression.
9. Multiple and logistic regression.
About the Book
OpenIntro Statistics covers a first course in statistics, providing a rigorous introduction to applied
statistics that is clear, concise, and accessible. This book was written with the undergraduate level
in mind, but it's also popular in high schools and graduate courses.
We hope readers will take away three ideas from this book in addition to forming a foundation
of statistical thinking and methods.

• Statistics is an applied field with a wide range of practical applications.
• You don't have to be a math guru to learn from real, interesting data.
• Data are messy, and statistical tools are imperfect. But, when you understand the strengths
and weaknesses of these tools, you can use them to learn about the world.
About the Contributors
Authors
David M. Diez is a Quantitative Analyst at Google where he works with massive data sets and performs statistical analyses in areas such as user behavior and forecasting.
Christopher D. Barr is an Assistant Research Professor with the Texas Institute for Measurement, Evaluation, and Statistics at the University of Houston.
Mine Cetinkaya-Rundel is the Director of Undergraduate Studies and Assistant Professor of the Practice in the Department of Statistical Science at Duke University.