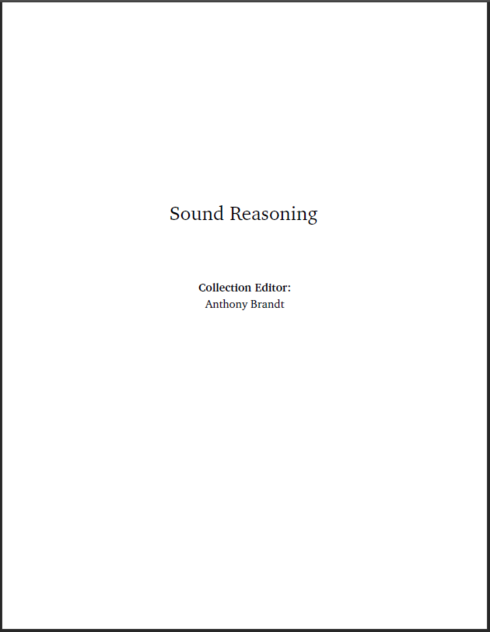 Sound Reasoning
Anthony Brandt
Robert McClure
Copyright Year: 2011
Publisher: OpenStax CNX
Language: English
Table of Contents
1. Sound Reasoning: A New Way to Listen
2. How Music Makes Sense
3. Listening Gallery: How Music Makes Sense
4. Musical Emphasis
5. Listening Gallery: Musical Emphasis
6. Musical Form
7. Listening Gallery: Musical Form
8. Expository and Developmental
9. Listening Gallery: Expository and Developmental
10. Overall Destiny
11. Listening Gallery: Overall Destiny
12. Time's Effect on the Material
13. Listening Gallery: Time's Effect
14. Summary: A Quick Guide for Listening
15. Making Music Modern
16. Listening Gallery: Making Music Modern
17. Conclusion: What is Music Trying to Express?
18. Part II: Hearing Harmony
19. Part III: The Language of Transformation
About the Book
"Sound Reasoning" is a web-based, introductory music appreciation course. It offers a new approach to music appreciation for adults, focusing on style-independent concepts. While the course concentrates primarily on Western classical and modern music, the concepts that are introduced apply to music of any style or era. The goal of "Sound Reasoning" is to equip you with questions that you may ask of any piece of music, thereby creating a richer and more comprehensive understanding of music both familiar and unfamiliar. Here are some additional features of the course. 1) "Sound Reasoning" is completely listening based. No ability to read music is required. 2) The course assumes little or no musical background. A minimum of terminology is invoked. 3) Musical examples are interpolated directly into the text. 4) The course is interactive. A "listening gallery" with exercises follows each module, so that you may practice and refine your listening skills. 5) The modules may be studied in sequence or individually. 6)You may easily print a .pdf of any module.. "Sound Reasoning" is designed as both a stand-alone, self-paced course as well as a supplement to existing university classes.
About the Contributors
Authors
Anthony Brandt, Composer Anthony Brandt (b. 1961) earned his degrees from California Institute of the Arts and Harvard University. His honors include a Koussevitzky Commission from the Library of Congress and grants from the National Endowment for the Arts, Meet-the-Composer, the Houston Arts Alliance, the New England Foundation for the Arts and the Margaret Fairbank Jory Copying Assistance Program. He has been a fellow at the Wellesley Composers Conference, the Tanglewood Institute, the MacDowell Colony and the Djerassi Resident Artists Colony. He has been a Visiting Composer at the Bowdoin International Festival, the Bremen Musikfest, Baltimore's New Chamber Arts Festival, Southwestern University, SUNY- Buffalo, Cleveland State University, and the Universidad Verucruzana and Composer-in-Residence of Houston's OrchestraX and the International Festival of Music in Morelia, Mexico.
Robert McClure