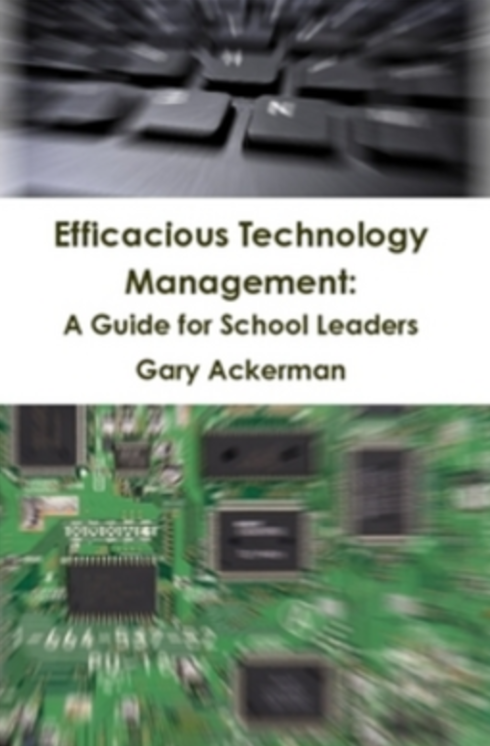 Efficacious Technology Management: A Guide for School Leaders
Gary Ackerman
Copyright Year: 2018
Publisher: Gary Ackerman
Language: English
Reviews
Reviewed by Firasat Khan, Associate Professor, Metropolitan State University on 8/2/18
The coverage of topics is excellent in its range. Experienced academic IT professionals, technology educators, and business managers transitioning into IT management will all find this textbook an engaging read. Overall, an excellent... read more
Reviewed by Firasat Khan, Associate Professor, Metropolitan State University on 8/2/18
Comprehensiveness rating: 5 see less
The coverage of topics is excellent in its range. Experienced academic IT professionals, technology educators, and business managers transitioning into IT management will all find this textbook an engaging read. Overall, an excellent supplemental text covering K-12 and higher education IT and management.
Content Accuracy rating: 5
The author does not reveal any strong preference or bias. The coverage of technology as well as management is balanced, nuanced, and cognizant of realities on the ground.
Relevance/Longevity rating: 3
The integration of relevant theories and frameworks ensures longevity. While some of the technical content, for instance about IT networks, is expected to become obsolete fasters than the rest of the book, there is plenty of forward-thinking content to ensure the values of this edition of the book for at least 5-7 years. The management guidance and coverage of the nature of academic IT management in a collaborative context is not expected to become obsolete at all. The rich discussion of the history of academic technology is especially insightful and valuable as we see history repeat itself with new rounds of technological innovation.
Clarity rating: 5
The language is reader-friendly but does expect some technical background when it comes to the more technical chapters 4 to 6 in the middle of the text. This is a valuable portion of the text for experienced IT professionals but it does not pose too much of a challenge for a non-technical person seeking to master some of the terminology, concepts and applications in academic IT environments.
Consistency rating: 4
There is no overall framework but the author does cover the technologies and systems that a technical manager cares about, and also includes management issues and challenges from the perspective of someone who can see the complex set of perspectives to be considered. Readers will notice a very pragmatic thread of realism and managed expectations throughout. Nothing is overstated or presented in a dogmatic manner.
Modularity rating: 5
While there is formal intent in the order of the chapters, readers may be assigned discreet topics as chapters of the text separately, without impacting understandability. Depending on the intended use of this book, the instructor may assign certain sections out of order as desired.
Organization/Structure/Flow rating: 5
The author has vast experience in managing academic IT environments and it shows with not only rich content but also good organization and flow throughout. The reader is encouraged to read the book sequentially, but could also jump to page 16 of the introduction to understand the flow. The book starts with the opening chapter covering why we need efficacy in academic IT, to broad coverage of dimensions of IT in education, and culminates with chapters covering planning and decision-making by IT managers and leaders.
Interface rating: 5
The interface is very direct and simple with appropriate figures and visuals sprinkled throughout. Display features are not overdone.
Grammatical Errors rating: 4
It is a text that is certainly written at a college level, and is void of any grammatical errors.
Cultural Relevance rating: 1
The text is never culturally insensitive and is almost entirely written in a culturally agnostic manner as is often the case with technical content. Since there are no cultural examples (and none expected), I would not rate this text as a culturally relevant text in the context of inclusion of racial, ethnic or other demographic backgrounds.
Comments
Spending on K-12 and higher education comprises over 9% of the US GDP in 2018, and IT spend is estimated at $27 billion. This book provided IT leadership with as broad framework to enhance and re-design their environments and services to serve educational institutions and is a timely addition to the toolkit used by academic IT leaders and management. As a former higher education CIO, I can see the value of the theories, applied concepts and cases spread throughout this complex, yet easy to read text. This book can be a useful supplementary text in graduate IS/IT programs as well as MBA programs with an IS concentration.
Table of Contents
Introduction
Chapter 1: Information Technology, Society, and Schools
Chapter 2: Technology-Rich Teaching & Learning
Chapter 3: Access to Sufficient Computing Devices
Chapter 4: IT Networks
Chapter 5: Web Services
Chapter 6: Technology Support Systems
Chapter 7: Discourse, Design, Data
Chapter 8: Understanding Change
ConclusionReferences
About the Book
Dr. Gary Ackerman, an educational technology specialist with decades of experience in K-12, community college, and faculty development has released Efficacious Technology Management: A Guide for School Leaders. This is his second book, and it is available under a Creative Commons license.
About the Contributors
Author
Dr. Gary Ackerman has consulted with business owners and health care professionals nationwide on exit strategy, taxation, real estate, and retirement planning issues since 2001. He earned his Doctorate in Veterinary Medicine from the University of Georgia in 1981. After 20 years of owning multiple practices in Virginia, Dr. Ackerman now assists in planning business and real estate sale transitions, seeking to minimize taxes and maximize retirement income or family assets through IRS Section 1031 real estate exchanges, 721 exchange mergers and trust or family LLC installment sales.