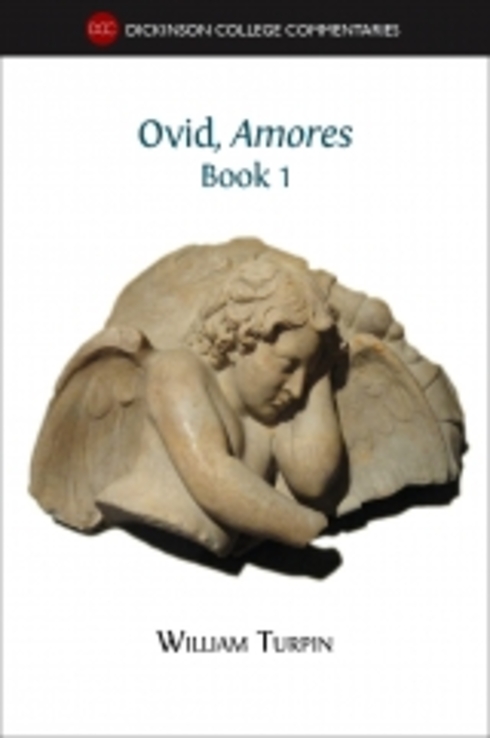 Ovid, Amores (Book 1)
William Turpin, Vassar College
Copyright Year: 2016
ISBN 13: 9781783741649
Publisher: Open Book Publishers
Language: English
Reviews
Reviewed by E.Del Chrol, Professor, Marshall University on 2/17/20
Excellent treatment of the first book of Ovid's Amores. Provides information about the life of Ovid, scansion, the textual tradition (!). Each poem has a thorough introductory essay that directs students to possible interpretations of the poem and... read more
Reviewed by E.Del Chrol, Professor, Marshall University on 2/17/20
Comprehensiveness rating: 5 see less
Excellent treatment of the first book of Ovid's Amores. Provides information about the life of Ovid, scansion, the textual tradition (!). Each poem has a thorough introductory essay that directs students to possible interpretations of the poem and what to look for. There is a great deal of commentary (maybe even a bit too much for an intermediate student), and a full glossary with the frequency of each word listed -- excellent for deciding what is worth a flashcard.
Content Accuracy rating: 5
I found no errors in fact or data.
Relevance/Longevity rating: 5
Author avoids tacky pop cultural references, maintaining a timeless style in the commentary. This is not that author eschews dealing with sensitive subjects like intimate partner assault (1.7) and racism (1.13).
Clarity rating: 5
But for the explanation of the textual tradition which is written in a technical style that clashes with the student-friendly tone of the rest of the text, the text is written lucidly. The formatting, font, and special symbols for scansion are quite easy to read. The overall package is quite attractive
Consistency rating: 5
Consistent throughout, I was surprised that unlike other volumes the commentary stayed at approximately the same volume and length throughout the book, instead of weaning students off the assistance. This may be from the knowledge that a class may not use all of a text but may pick and choose favorite poems.
Modularity rating: 5
Each individual poem can stand on its own.
Organization/Structure/Flow rating: 5
Follows the poems
Interface rating: 5
It is a rather attractive production
Grammatical Errors rating: 5
Text is standard, clear English, no typos that I saw, no infelicities of grammar.
Cultural Relevance rating: 5
Text treats the potential hot-button topics in Ovid like intimate partner violence and racism. Does not do so in an ideological way, and is a little tepid, but that provides space for the teacher to engage with the topics pointed out in the text.
Comments
I will likely adopt this text. In addition to the features mentioned above (the thorough commentary, good introductory essays, glossary with frequency of each word), there are a couple other excellent benefits of this textbook. It takes advantage of it being an online book. For example, in the suggested readings, everything has a DOI number, so students can go immediately to the article mentioned (provided their library gives them access to it, of course. Mine won't but that's not the book's fault). Also, there are readings in meter for all of the poems on youtube, linked at the end of the intro essays. For the print version there is a QR code that goes to the individual readings. As mentioned above, the textual tradition section was a bit detailed and technical for an intermediate student, but may still bear some interest. The other introductory essay about Ovid is tepid. The essay on scansion has probably more detail than a beginning student can master on one reading, but it presents excellent reasons why scansion is vital both for understanding a poem but for understanding the language as well. An excellent, good looking book, and it is remarkable it is open.
Table of Contents
Chapter 1: The Life of Ovid
Chapter 2: The Amores
Chapter 3: The Manuscript Tradition of Ovid's Amores by Bart Huelsenbeck, with the assistance of Dan Plekhov
Chapter 4: Select Bibliography
Chapter 5: Scansion
Chapter 6: Epigram: preface from the author
Chapter 7: Amores 1.1: Ovid finds his muse
Chapter 8: Amores 1.2: Conquered by Cupid
Chapter 9: Amores 1.3: Just give me a chance
Chapter 10: Amores 1.4: Secret signs
Chapter 11: Amores 1.5: The siesta
Chapter 12: Amores 1.6: On the doorstep
Chapter 13: Amores 1.7: Violence and love
Chapter 14: Amores 1.8: The bad influence
Chapter 15: Amores 1.9: Love and war
Chapter 16: Amores 1.10: Love for sale
Chapter 17: Amores 1.11: Sending a message
Chapter 18: Amores 1.12: Shooting messengers
Chapter 19: Amores 1.13: Oh how I hate to get up in the morning
Chapter 20: Amores 1.14: Bad hair
Chapter 21: Amores 1.15: Poetic immortality
Full vocabulary for Ovid's Amores, Book 1
About the Book
From Catullus to Horace, the tradition of Latin erotic poetry produced works of literature which are still read throughout the world. Ovid's Amores, written in the first century BC, is arguably the best-known and most popular collection in this tradition.
Born in 43 BC, Ovid was educated in Rome in preparation for a career in public services before finding his calling as a poet. He may have begun writing his Amores as early as 25 BC. Although influenced by poets such as Catullus, Ovid demonstrates a much greater awareness of the funny side of love than any of his predecessors. The Amores is a collection of romantic poems centered on the poet's own complicated love life: he is involved with a woman, Corinna, who is sometimes unobtainable, sometimes compliant, and often difficult and domineering. Whether as a literary trope, or perhaps merely as a human response to the problems of love in the real world, the principal focus of these poems is the poet himself, and his failures, foolishness, and delusions.
By the time he was in his forties, Ovid was Rome's most important living poet; his Metamorphoses, a kaleidoscopic epic poem about love and hatred among the gods and mortals, is one of the most admired and influential books of all time. In AD 8, Ovid was exiled by Augustus to Romania, for reasons that remain obscure. He died there in AD 17.
The Amores were originally published in five books, but reissued around 1 AD in their current three-book form. This edition of the first book of the collection contains the complete Latin text of Book 1, along with commentary, notes and full vocabulary. Both entertaining and thought-provoking, this book will provide an invaluable aid to students of Latin and general readers alike.
This book contains embedded audio files of the original text read aloud by Aleksandra Szypowska.
About the Contributors
Author
William Turpin studied at Vassar College and took degrees in Classics and Ancient History from St. Andrews, Toronto, and Cambridge. Since 1982 he has been a member of the Classics department of Swarthmore College, teaching courses in Greek, Latin, and Ancient History. Most of his publications are articles on the history of Roman Law, but he has also written on Tacitus, Horace, and Ovid's Amores 1.1. He has written a commentary for students on Apuleius, Metamorphoses III (Bryn Mawr Classical Commentaries) and is working on more commentaries for students, on Horace, Satires I, Tacitus' Agricola, and a number of Medieval Latin texts. In the summer he teaches online reading courses in Medieval Latin (free and open to all), intended for students at the early intermediate level and above; information is posted on the website for the Swarthmore College Department of Classics.