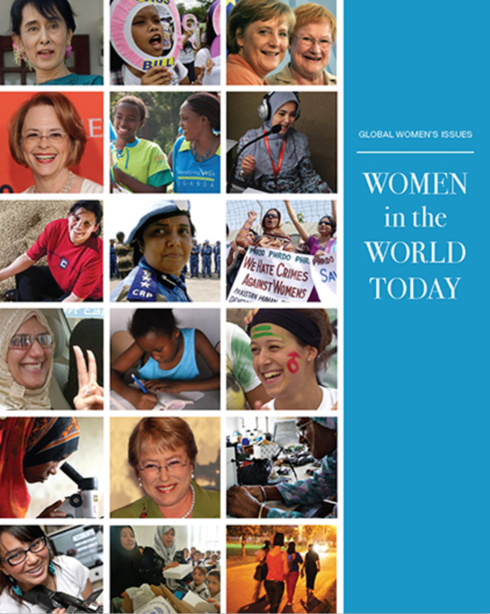 Global Women's Issues: Women in the World Today, extended version
Janni Aragon, University of Victoria
Mariel Miller, University of Victoria
Copyright Year: 2012
ISBN 13: 9781622399253
Publisher: BCcampus
Language: English
Table of Contents
Overview: Interview with Ambassador Melanne Vereer
Chapter 1: Women and Poverty
Chapter 2: Women and Education
Chapter 3: Women and Health
Chapter 4: Violence Against Women
Chapter 5: Women, Girls and Armed Conflict
Chapter 6: Women in the Economy
Chapter 7: Women in Power and Decisionmaking
Chapter 8: Institutional Mechanisms for the Advancement of Women
Chapter 9: Human Rights of Women
Chapter 10: Women and the Media
Chapter 11: Women and the Environment
Chapter 12: Rights of the Girl Child
Conclusion
Bibliography: Additional Resources
Versioning History
About the Book
We cannot solve global challenges unless women participate fully in efforts to find solutions. Female participation in the private sector is a crucial economic driver for societies worldwide. Economic security benefits every facet of a woman's life, with positive effects on the health, education and vitality of families. Learn about women who are changing their societies for the better. This book is based on the twelve critical areas of concern identified in the Beijing Declaration and Platform for Action at the Fourth World Conference on Women in Beijing in 1995: The burden of poverty on women, unequal access to education and training, inequalities and inadequacies in and unequal access to health care and related services, violence against women, the effects of armed or other kinds of conflict on women, including those living under foreign occupation, inequality in economic structures and policies, inequality between men and women in the sharing of power and decision-making at all levels, insufficient mechanisms at all levels to promote the advancement of women, lack of respect for and inadequate promotion and protection of the human rights of women, stereotyping of women and inequality in women's access to and participation in all communication systems, especially in the media, gender inequalities in the management of natural resources and in the safeguarding of the environment, and persistent discrimination against and violation of the rights of the girl child. This extended version of Global Women's Issues: Women in the World Today includes, for each chapter, a summary, key words, multiple choice questions, discussion questions, essay questions, and a list of additional resources. Copies of the original book are also available in Arabic, Portuguese, and Spanish.
About the Contributors
Authors
Dr. Janni Aragon (BA/MA San Diego State University, MA/PhD UC Riverside) is an Adjunct Assistant Professor in Political Science at the University of Victoria. She has taught courses on American Politics, Political Theory, Gender and Politics, Feminist Theory, Gender and International Relations, Model United Nations Simulation, Internship in Political Science, as well as numerous Women's Studies courses at the University of Victoria and San Diego State University. Her research interests include: Gender and Politics, American Politics, Women and Technology, Third Wave Feminisms, Social Movements, and Transnational Feminism. She has been published in New Political Science, Women's Studies Quarterly, and the International Journal of Media and Cultural Politics. She is currently working on a project focused on pedagogy, popular culture, and technology entitled, "Feminist Pedagogical Border Crossing: Using Popular Culture to Teach Globalization to the 'Net Gen.'"
Dr. Aragon was the 2011-13 Chair of the Academic Women's Caucus at UVic. In this capacity, Aragon represents all women faculty and librarians at all equity, diversity, and human rights meetings. She also sits on the Senate in the Learning and Teaching Committee. She also served as the 2010-11 President of the Caucus for Women and Gender Justice for the Western Political Science Association (WPSA). She has served as the Chair of the Gender and Politics section and Teaching, Research, and Professional Development section of regional political science associations. Dr. Aragon and Dr. Kathleen Jones co-coordinated the Feminist Theory Conference at the WPSA in 2009.
Mariel Miller is an Educational Design Specialist in the Department of Technology Integrated Learning. She works with instructors and programs to facilitate learning through designing, developing, and refining online courses. Her research and professional interests include the design and use of online environments to support regulation of learning as a dynamic and social process. Specifically, her SSHRC funded doctoral research centres on leveraging scripting and visualization tools to support teams to regulate collaboration.