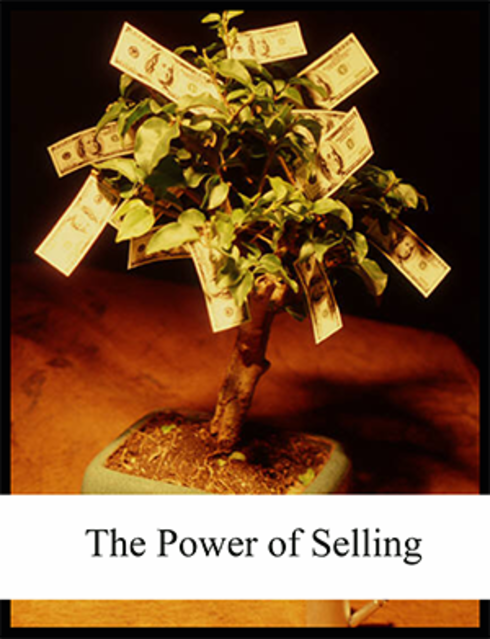 The Power of Selling
Kimberly Richmond, Richmond Marketing + Communications
Copyright Year: 2010
ISBN 13: 9781936126002
Publisher: Saylor Foundation
Language: English
Table of Contents
Chapter 1: The Power to Get What You Want in Life
Chapter 2: The Power to Choose Your Path: Careers in Sales
Chapter 3: The Power of Building Relationships: Putting Adaptive Selling to Work
Chapter 4: Business Ethics: The Power of Doing the Right Thing
Chapter 5: The Power of Effective Communication
Chapter 6: Why and How People Buy: The Power of Understanding the Customer
Chapter 7: Prospecting and Qualifying: The Power to Identify Your Customers
Chapter 8: The Preapproach: The Power of Preparation
Chapter 9: The Approach: The Power of Connecting
Chapter 10: The Presentation: The Power of Solving Problems
Chapter 11: Handling Objections: The Power of Learning from Opportunities
Chapter 12: Closing the Sale: The Power of Negotiating to Win
Chapter 13: Follow-Up: The Power of Providing Service That Sells
Chapter 14: The Power of Learning the Ropes
Chapter 15: Entrepreneurial Selling: The Power of Running Your Own Business
About the Book
The Power of Selling is the perfect textbook to teach students about the proven process of selling. More important, it teaches students how to apply the tenets of selling to how to sell themselves and get the job they want, with the same process professional sales people learn (or brush up) on their own selling skills.
What makes someone successful in sales? Are great sales people born or made? Is there one magic selling process, or does the process change based on the business' or the customer? How can the selling process really come alive for students in the classroom? How do students learn how to sell for life, not just for a course? The Power of Selling by Kim Richmond answers these questions and makes the principles of selling come alive.
Kim looks at the topic of selling through a different lens, and provides inspiration and ideas. The Power of Selling provides an exciting and interactive experience for both professors and students through the use of 4 unique elements:
1. Content The content is based on the core selling tenets so instructors will find the familiar principles of selling. In addition, the impact of Sales 2.0 is addressed at every stage including how to use interactive tools such as Twitter, LinkedIn, Facebook, blogs, and wikis effectively.
2. Selling U: The last section of each chapter is called Selling U. It applies the concepts covered in the chapter to a student's job search. Selling U topics include how to think about yourself as a brand, how to create a powerful cover letter and resume, how to create your personal elevator pitch, how to use networking and informational interviews to get the word out about your brand, how to prepare and dress for an interview, and how to negotiate and accept the right job offer. What makes The Power of Selling different is that Selling U is integrated into every chapter, which makes this text the ultimate guide to selling yourself.
3. Video Resources:Videos are used throughout the book. Additional videos that are not included in the text are available for instructor use. Here are videos that are available:
… Video Ride-alongs — One of the best ways to learn about sales is by going on ride-alongs. So every chapter starts with an exclusive feature called a Video Ride-along. These short videos feature seven different sales professionals — one that starts each chapter. Each one talks about how he or she applies one of the key concepts covered in the chapter in their job. These videos are designed to be "virtual ride-alongs" so the students can actually feel as though they are getting insights first hand from selling professionals.
… Over 50 videos are included featuring the sales professionals who are highlighted in the Video Ride-alongs. About half of the videos are used in the textbook. The balance are available for instructor use. Several are included in Video Learning Segments (see below). These videos are excellent resources for use in the classroom, exercises, and assignments.
… Video Learning Segments In addition to the traditional supplements of Instructor Manual, PowerPoints, and Test Bank, there are also Video Learning Segments. These are PowerPoint slides embedded with videos designed to supplement the course PowerPoints and focus on one concept, like an ethical dilemma, pre-call preparation, or effective presentations, how to use email effectively. Each segment includes slides, videos, discussion questions, or exercises.
4. The Power of Selling LinkedIn Group.
This group was created on LinkedIn.com expressly as a resource for the faculty and students who use this textbook. The group includes sales professionals from across the country and from different industries. This is a great tool for faculty and students alike to network, participate in discussions, ask questions, and connect with "real world" selling professionals.
Kim Richmond's The Power of Selling is a fresh, interactive, and applied textbook intended for all introductory and sales, selling and salesmanship courses. If you're ready to prepare your "students of selling" for all that lies ahead in their professional career—you're ready for this book. Check it out.
About the Contributors
Author
Kimberly K. Richmond is an executive, author, speaker, and professor in the sales and marketing arena. She is a senior marketing executive with over twenty-five years of sales, marketing, and branding experience. She has held senior marketing positions at several major companies, including executive vice president of marketing at FAO Schwarz and other senior marketing roles at Kraft Foods, Sears, Zany Brainy, The Right Start, and Charming Shoppes.
Ms. Richmond is currently a principal at Richmond Marketing + Communications, the marketing consultancy she founded. Her firm specializes in multichannel sales, marketing, and branding including traditional and online marketing and social networking strategies. She also consults with sales organizations to help them realize the true potential of their marketing and selling efforts.
She is the author of Brand You, a guide to building and marketing your personal brand that was published by Pearson Prentice Hall in November 2008. She is also an adjunct professor at the Haub School of Business at Saint Joseph's University (Philadelphia) and Rutgers University in New Jersey. She is a member of the Thought Leaders Panel for the Center for Consumer Research and the Advisory Board of the Department of Marketing at Saint Joseph's University. Ms. Richmond frequently speaks at industry and academic events. She also serves on the Board of Governors of the Philly Ad Club.
Ms. Richmond earned a Bachelor of Arts in Journalism from Northern Illinois University and a Master of Business Administration from Loyola University in Chicago.