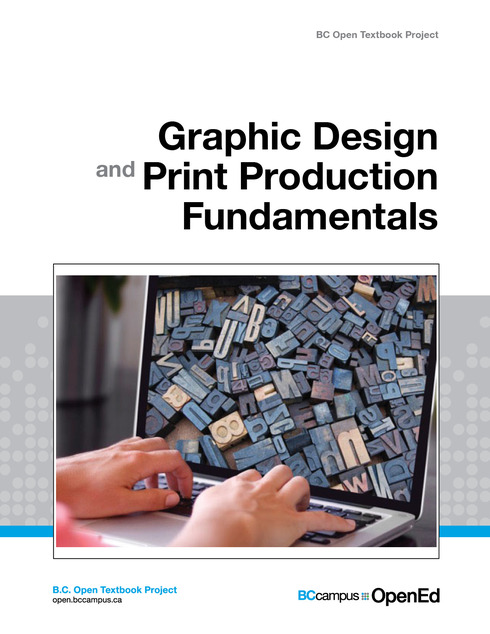 Graphic Design and Print Production Fundamentals
Wayne Collins, British Columbia Institute of Technology
Alex Haas, Emily Carr University
Ken Jeffery, British Columbia Institute of Technology
Alan Martin, British Columbia Institute of Technology
Roberto Medeiros, Ricoh Canada
Steven Tomljanovic, British Columbia Institute of Technology
Copyright Year: 2015
Publisher: BCcampus
Language: English
Table of Contents
Chapter 1: Design History
Chapter 2: Design Process
Chapter 3: Design Elements, Design Principles, and Compostitional Organization
Chapter 4: Colour Management in the Graphic Technologies
Chapter 5: Pre-Press
Chapter 6: Imaging
Chapter 7: Web2Print


About the Book
This textbook -- written by a group of select experts with a focus on different aspects of the design process, from creation to production -- addresses the many steps of creating and then producing physical, printed, or other imaged products that people interact with on a daily basis. It covers the concept that, while most modern graphic design is created on computers using design software, the ideas and concepts don't stay on the computer. The ideas need to be completed in the computer software, then progress to an imaging (traditionally referred to as printing) process. Keywords are highlighted throughout and summarized in a Glossary at the end of the book, and each chapter includes exercises and suggested readings.
About the Contributors
Authors
Wayne Collins completed his Bachelor of Arts in English Language Studies at the University of Regina while concurrently completing a traditional five-year trades apprenticeship in pre-press with the Graphic Arts Union. He moved to Vancouver in 1985 and worked at Zenith Graphics, first as a film stripper and camera operator, and later as a computer systems operator and manager. He moved to Creo in their formative years and helped champion their computer to plate systems across North America. Before starting the Graphic Communications Diploma Program at British Columbia Institute of Technology in 2006, Wayne managed the pre-press department at Hemlock Printers in Vancouver for 15 years.
Alex Haas is a multidisciplinary designer, illustrator, and artist. Her design practice encompasses art direction, typeface design, and image creation. She has a special fondness for book design. She has partnered with Canadian publishers, art galleries, artists, universities, furniture makers, filmmakers, First Nation educators and historians, musicians, the CBC and the National Film Board in her design projects. Alex studied illustration and art direction at the Alberta College of Art and Design, received her design degree in visual communication from Nova Scotia College of Art and Design University, and her Master's in Applied Art, media stream, from Emily Carr University. She has taught various aspects of design at Emily Carr University, Simon Fraser University, and British Columbia Institute of Technology for the past 18 years.
Ken Jeffery instructs in print technology and communication design for the Digital Arts Department at British Columbia Institute of Technology. He holds a Master's of Arts in Learning and Technology from Royal Roads University, where he researched strategies for effectively implementing social media in the classroom. Prior to a move to the world of higher education, Ken spent over 18 years in the printed communications industry. Starting out composing hand-set type for letterpress, he moved quickly to adopt digital design and web2print workflows. As a business owner working on all aspects of business from sales and marketing to production and fulfillment, he brings hands-on experience to today's modern classroom, and he is eager to share his experience with the next generation of visual communicators.
Alan Martin has a Bachelor of Fine Arts in printmaking from the University of Victoria. He has been involved professionally in the graphic arts since 1977, first in traditional film assembly and then in electronic pre-press from its early days in the 1980s onward. For the past 11 years he has worked for Kodak, supporting their pre-press workflow products. Alan is currently product support manager for the InSite family of web-based review applications. He teaches several courses at British Columbia Institute of Technology, including Colour Management Systems.
Roberto Medeiros is a production print solution engineer with Ricoh Canada. His career in the copier and digital printing industry began in 1988 as a copier technician. In 2000, his role was transitioned to exclusively supporting colour and production print solutions. In 2012, Roberto joined the Graphic Communications Technology Program at British Columbia Institute of Technology as a part-time instructor teaching Advanced Digital Imaging. In 2015, he achieved his Idealliance Color Management Professional – Master certification.
Steven Tomljanovic has been recognized as a leader in web2print and variable data with over 15 years of experience in IT and almost 10 years of experience in the print industry. He was a part of the first graduating class of the British Columbia Institute of Technology GTEC printing program. Upon graduation, Steven helped companies build their online business presence with great success. He has been honoured with PrintAction magazine's PA35, awarded to the top 35 industry leaders under the age of 35 in Canada. Steven shares his passion by teaching e-commerce, web2print, and web marketing courses at British Columbia Institute of Technology in the GTEC and New Media & Design Programs within the School of Business. Steven currently works as the web2print specialist at MET Fine Printers, located in Vancouver BC.