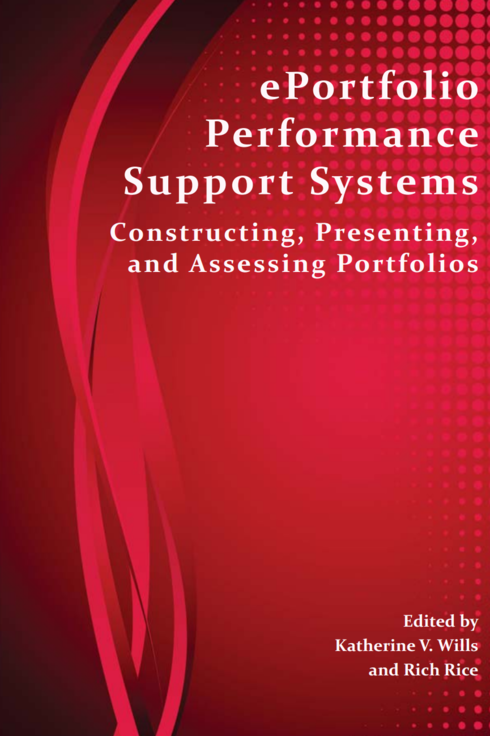 ePortfolio Performance Support Systems: Constructing, Presenting, and Assessing Portfolios
Katherine V. Wills, Indiana University Purdue University at Columbus
Rich Rice, Texas Tech University
Copyright Year: 2013
ISBN 13: 9781602354432
Publisher: WAC Clearinghouse
Language: English
Table of Contents
Front Matter
Acknowledgements
Introduction, Katherine V. Wills and Rich Rice
Section 1: Systematic Performance Support Systems
Chapter 1. Postmodernism, Palimpsest, and Portfolios: Theoretical Issues in the Representation of Student Work, Kathleen Blake Yancey
Chapter 2. The Hypermediated Teaching Philosophy ePortfolio Performance Support System, Rich Rice
Chapter 3. The Social ePortfolio: Integrating Social Media and Models of Learning in Academic ePortfolios, Lauren F. Klein
Section 2: Constructing the Bridge
Chapter 4. ePorts: Making the Passage from Academics to Workplace, Barbara J. D'Angelo and Barry M. Maid
Chapter 5. What Are You Going to Do With That Major? An ePortfolio as Bridge from University to the World, Karen Ramsay Johnson and Susan Kahn
Chapter 6. Career ePortfolios: Recognizing and Promoting Employable Skills, Karen Bonsignore
Section 3: Presenting Interactive Designs
Chapter 7. Showcase Hybridity: A Role for Blogfolios, Geoffrey Middlebrook and Jerry Chih-Yuan Sun
Chapter 8. Accessible ePortfolios for Visually-Impaired Users: Interfaces, Designs, and Infrastructures, Sushil K. Oswal
Chapter 9. From Metaphor to Analogy: How the National Museum of the American Indian can inform the Augusta Community Portfolio, Darren Cambridge
Section 4: Authentic Assessment Tools and Knowledge Transfer
Chapter 10. Mapping, Re-Mediating, and Reflecting on Writing Process Realities: Transitioning from Print to Electronic Portfolios in First-Year Composition, Steven Corbett, Michelle LaFrance, Cara Giacomini, and Janice Fournier
Chapter 11. ePortfolios as Tools for Facilitating and Assessing Knowledge Transfer from Lower Division, General Education Courses to Upper Division, Discipline-specific Courses, Carl Whithaus
Chapter 12. Balancing Learning and Assessment: A Study of Virginia Tech's Use of ePortfolios, Marc Zaldivar, Teggin Summers, and C. Edward Watson
About the Book
ePortfolio Performance Support Systems: Constructing, Presenting, and Assessing Portfolios addresses theories and practices advanced by some of the most innovative and active proponents of ePortfolios. Editors Katherine V. Wills and Rich Rice interweave twelve essays that address the ways in which ePortfolios can facilitate sustainable and measureable writing-related student development, assessment and accountability, learning and knowledge transfer, and principles related to universal design for learning, just-in-time support, interaction design, and usability testing.
About the Contributors
Editors
Katherine V. Wills is Interim Division Head of Liberal Arts and Associate Professor in the English program at Indiana University Purdue University at Columbus, Indiana. Recent publications explore uses of reflective practice in writing across curriculum, ePortfolios, and international service learning. With J. Blake Scott and Bernadette Longo, she co-edited Critical Power Tools: Technical Communication and Cultural Studies (SUNY, 2006), which received the national award for Best New Collection in Technical and Scientific Writing by the National Council of Teachers of English (2007).
Rich Rice is Associate Professor in the Technical Communication and Rhetoric program at Texas Tech University where he serves as Director of the Multiliteracy Lab. He is a member of the Conference on College Composition and Communication's Committee on Best Practices for Online Writing Instruction. His recent articles are in the areas of ePortfolios, new media knowledge creation, mobile medicine, basic writing and photo essays, remediated film, nontraditional graduate support systems, and media labs.