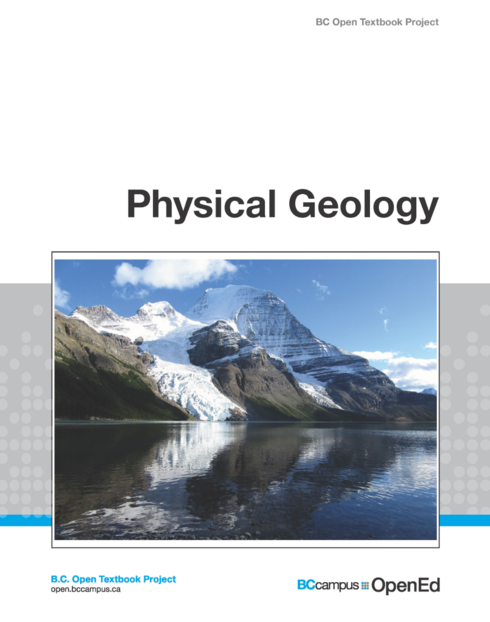 Physical Geology
Steven Earle, Vancouver Island University
Copyright Year: 2015
Publisher: BCcampus
Language: English
Table of Contents
Chapter 1 Introduction to Geology
Chapter 2 Minerals
Chapter 3 Intrusive Igneous Rocks
Chapter 4 Volcanism
Chapter 5 Weathering and Soil
Chapter 6 Sediments and Sedimentary Rocks
Chapter 7 Metamorphism and Metamorphic Rocks
Chapter 8 Measuring Geological Time
Chapter 9 Earth's Interior
Chapter 10 Plate Tectonics
Chapter 11 Earthquakes
Chapter 12 Geological structures
Chapter 13 Streams and Floods
Chapter 14 Groundwater
Chapter 15 Mass Wasting
Chapter 16 Glaciation
Chapter 17 Shorelines
Chapter 18 Geology of the Oceans
Chapter 19 Climate Change
Chapter 20 Geological Resources
Chapter 21 Geological History of Western Canada
Chapter 22 The Origin of Earth and the Solar System


About the Book
Physical Geology is a comprehensive introductory text on the physical aspects of geology, including rocks and minerals, plate tectonics, earthquakes, volcanoes, glaciation, groundwater, streams, coasts, mass wasting, climate change, planetary geology and much more. It has a strong emphasis on examples from western Canada, especially British Columbia, and also includes a chapter devoted to the geological history of western Canada. The book is a collaboration of faculty from Earth Science departments at Universities and Colleges across British Columbia and elsewhere.
About the Contributors
Author
Steve Earle PhD was born in the Okanagan Valley in the southern interior of British Columbia, and lived in Vancouver, London (UK) and Saskatoon before moving to Nanaimo in 1992. He has no plans to leave Vancouver Island. He has a BSc in geology from the University of British Columbia, and a PhD in geochemistry from Imperial College (University of London). He worked in the mineral exploration industry from 1978 to 1995, and he still does some mineral exploration consulting.