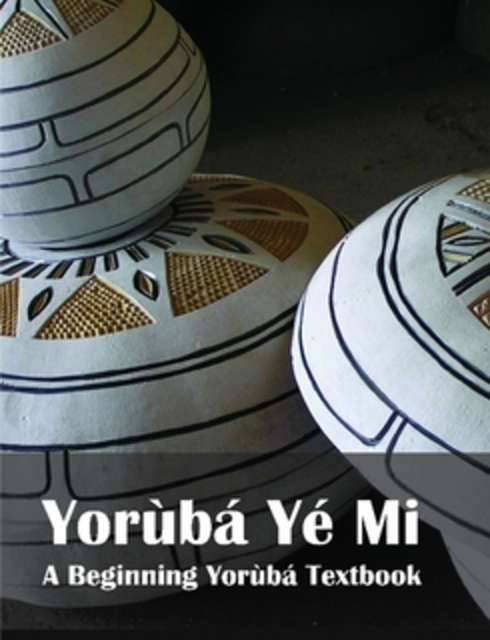 Yorùbá Yé Mi
Fehintola Mosadomi, University of Texas, Austin
Copyright Year: 2014
ISBN 13: 9781937963026
Publisher: COERLL
Language: English
Reviews
Reviewed by Robert Sanders, Assoc. Prof. of Spanish (BA French, PhD Spanish, 10 years experience directing a large first year Spanish program), Portland State University on 2/8/17
This beginning Yoruba textbook has all of the basic components I would expect: a focus on four skills and functions ranging from greetings and descriptions to planning, shopping, food, clothing, housing, and medical attention, starting with the... read more
Reviewed by Robert Sanders, Assoc. Prof. of Spanish (BA French, PhD Spanish, 10 years experience directing a large first year Spanish program), Portland State University on 2/8/17
Comprehensiveness rating: 4 see less
This beginning Yoruba textbook has all of the basic components I would expect: a focus on four skills and functions ranging from greetings and descriptions to planning, shopping, food, clothing, housing, and medical attention, starting with the student in the classroom and extending out to family, friends, celebrities and, in the final chapter, back to university studies.
The text contains ample exercises that can be performed in class or prepared at home, and has a solid introduction to Yoruba phonetics and grammatical structures, as well as an extensive appendix of phonetics exercises focusing on tonality (a particular difficulty for North American students of Yoruba) with audio recordings.
The text is well supported by a companion website, hosted by the Center for Open Educational Resources and Language Learning (a National Language Resource Center). The audio files are easily accessed at this site using a mobile device and the QR codes in the text.
The approach of the textbook is highly immersive, which in early chapters precludes extensive discussion of culture. Later chapters have longer readings and dialogues (as well as monologues) revealing cultural concepts. The text does introduce and practice well cultural behavior norms. I would have liked to have more treatment, early on, of the influence of Yoruba in the world and particularly in the Americas, perhaps accompanying the introductory maps of Yoruba's geographic heritage and influence, albeit this might conflict with the text's focus on L2. I was also surprised to see no mention of Wole Soyinka, the 1986 Nobel Laureate for Literature.
Content Accuracy rating: 5
I have a B.A. in French and a Ph.D. in Spanish, and have studied a few other languages along the way, but am not familiar with Yoruba (I am reviewing other aspects of the text). Nonetheless, the number of professional, academic and native collaborators and consultants, within and without the University of Texas at Austin, suggests that the content of the text is very reliable.
Relevance/Longevity rating: 4
Generally speaking, curricula at this level of language study tend to be universal, and are not highly exposed to shifting cultural or political contexts. The text does include some references to celebrities which would necessarily date any textbook, but such references are generally necessary for students beginning to describe people in a new language. These activities are quickly identifiable and can easily be updated in time.
There are a couple of references to and a photo of the author's school, the University of Texas at Austin, in the final chapter. From a traditional textbook perspective I would say this should be avoided, as it gives the book a sense of being homespun. However, it may be that in the new information sharing communities of Open Educational Resources, textbooks need not be as generic or anonymous as in traditional publishing and perhaps the references to UT give the text authenticity.
Clarity rating: 5
The organization is very clear and, as a beginning text, the language is necessarily simple. The grammar explanations (chapters 1-11 of 12) are given in simple English. The exercise instructions are in Yoruba and very clear English.
Consistency rating: 4
The chapters follow a clear framework, so after a couple of chapters the students (and instructors) will have clear expectations for the material and will be able to find a rhythm. Each chapter begins with a statement of objectives, then vocabulary taken from the chapter's cultural readings and mono/dialogues, followed by grammar explanations and practice exercises, many of them incorporating the readings and/or monologues or dialogues.
Modularity rating: 4
Some of the chapters of this text would work very well for review or to bolster a non-traditional language program for which one did not want to adopt a complete text, such as a short term study abroad program or in Community Based Learning. Some chapters don't have sufficient audio files to stand alone very well, but those that do would be easy to use because the book chapters contain all of the exercises and the audio files are free and are inked via QR codes—I found them very easy to use and generally of very good quality.
It is disappointing to see the textbook published with the Creative Commons NoDeriviativeWorks license, preventing others from remixing the text and its resources.
Organization/Structure/Flow rating: 5
The chapters build up in complexity pretty consistently as learners increase their abilities; the cultural readings, monologues and dialogues particularly become more extensive and, as far as I can tell, more revealing of culture. The introduction is excellent, and the final chapter brings students back to the topic of the first chapter (studying), but without presenting any new grammar, therefor it makes and excellent conclusion to the book and I believe gives students a sense of accomplishment as well as an opening to reflect on future academic plans in relation to their language and cultural studies.
The chapters are generally of about 24 pages each, sometimes as short as 16 and sometimes as long as 28, with length corresponding naturally to the type of content presented. I was somewhat disappointed with the irregular distribution of audio files. The introduction and the appendix have many, and the early chapters tend to have a few, but while some of the later chapters had six audio files, others had only one or none.
Interface rating: 3
The number of professional, academic and native collaborators and consultants suggests that the content of the text is very reliable. But there are some issues with the layout that detract from the user experience and lower the perceived value of the text. While these don't make the text less usable, hopefully they will be addressed in time. Perhaps most notable is the footer identifying the Center for Open Educational Resources and Language Learning and the University of Texas. This seems heavy-handed and gives the book the feel of a user manual. At the moment there isn't really good control of the white space in the text, with many pages half empty and some totally blank. These are the spaces that a traditional development editor would fill with images and additional cultural notes. Currently the images feel like an odd mix of texture photos, photos, line art and clip art, there are no design elements to tie the visuals together. The photos would also benefit greatly from captions and credits. The text is laid out on 8.5x11" paper, an excellent choice for open resources, but they pages are not well laid out to allow for binding, either three-hole, spiral, or tape.
Grammatical Errors rating: 5
I did not see any grammar errors or errata in the English portions of the book.
Cultural Relevance rating: 4
Yorùbá Yé Mi appears to me to be a respectful and inclusive text, although I would have preferred to see more images of men in the chapter on fashion, and more images of women in the chapter on work. It might also have been nice to see an image of urban housing in the chapter on home.
Comments
One of the strengths of Yorùbá Yé Mi is that it is a product of a collaborative effort, under the direction of Dr. Mosadomi, of about twenty academic, student and professional participants, contributors, consultants, and assistants, with the support of the Center for Open Educational Resources and Language Learning. Including the work of students and Fulbright FL Teaching Assistants embodies and important dimension of the Open Ed Resource movement. The accompanying website also curates some student videos that add to the textbook resources.
I believe this is an important addition to the resources available, free or otherwise, for the teaching of Yoruba. The Center for Advanced Research on Language Acquisition at the University of Minnesota indicates there are 31 college and universities in the U.S. that offer Yoruba courses, yet in search through Faculty Center (facultycenter.net) I was only able to find seven Yoruba textbooks, three of them being out of print and a couple of the remainder being difficult to acquire.
Table of Contents
Chapter 1 - Orí Kìíní | Greetings
Chapter 2 - Orí Kejì | My Classroom
Chapter 3 - Orí Kẹta | Mark The Date
Chapter 4 - Orí Kẹrin | What Time Do We Meet?
Chapter 5 - Orí Karùnún | My Family Tree
Chapter 6 - Orí Kẹfà | Shop With
Chapter 7 - Orí Keje | Let's Find Something To Eat!
Chapter 8 - Orí Kẹjọ | Are You Feeling Good Today
Chapter 9 - Orí Kẹsànán | My Work Place
Chapter 10 - Orí Kẹwàá | Home Sweet Home!
Chapter 11 - Orí Kọkànlá | Nice Style!
Chapter 12 - Orí Kejìlá | Campus Life
About the Book
The Yorùbá Yé Mi textbook, combined with an open access, multi-media website at http://www.coerll.utexas.edu/yemi, is an interactive, communicative, introductory Yorùbá program. It provides college/university students with basic listening, speaking, reading, and writing skills of language learning in Yorùbá. It exposes the learner not only to Yorùbá language in meaningful situations but also to the culture of the Yorùbá-speaking people of South-western Nigeria. It contains effective techniques for teaching and learning Yorùbá including tones, and is user friendly in its approach.
About the Contributors
Author
Fehintola Mosadomi is assistant professor in the Department of Middle Eastern Studies.
She holds a Ph.D. in interdisciplinary linguistics with a minor in Francophone studies from Tulane University, with two master's degrees from the University of Delaware.
Her research interests include Yoruba language, culture and history, Yoruba women and Creole studies.
Dr. Mosadomi is a poet, who has authored several articles in books and journals on Creole studies, African language and gender, African linguistics and pedagogy. She is completing her manuscript on Yoruba grammar.
Dr. Mosadomi was awarded the Dana-Dartmouth Fellowship, was a Fellow at the Center for Research on Women at Tulane University, and is a Faculty Fellow at the Center for Women's and Gender Studies at The University of Texas at Austin. She received a grant from Liberal Arts Instructional Technology Services for Yoruba technology.