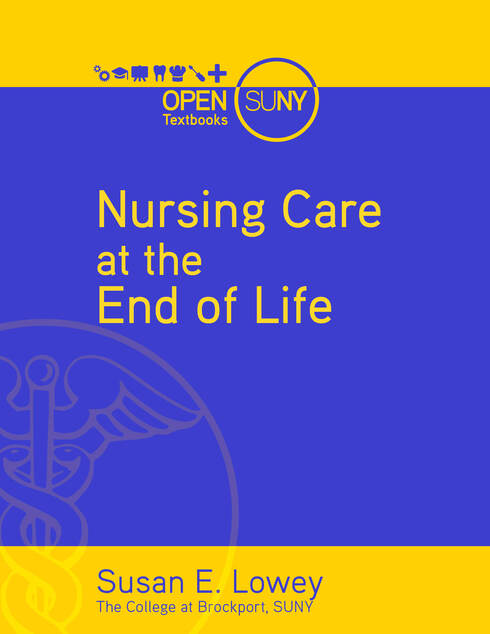 Nursing Care at the End of Life: What Every Clinician Should Know
Susan E. Lowey, SUNY, Brockport
Copyright Year: 2015
ISBN 13: 9781942341192
Publisher: Open SUNY
Language: English
Table of Contents
Part I. Anticipation
1. A Historical Overview of End-of-Life Care
2. Types and Variability within Illness Trajectories
3. Conceptual Frameworks Guiding Death & Dying
4. Models of Organized End-of-Life Care: Palliative Care vs. Hospice
5. Initiating Conversations about Goals of Care
Part II. In the Moment
6. Management of Pain and Physical Symptoms
7. Management of Emotional and Spiritual Distress
8. Ethical Concerns in End-of-Life Care
9. Care at the Time of Death
10. Nurse–Patient–Family Communication
Part III. Afterwards
11. Diversity in Dying: Death across Cultures
12. Grief and Bereavement
About the Book
Nursing Care at the End of Life: What Every Clinician Should Know should be an essential component of basic educational preparation for the professional registered nurse student. Recent studies show that only one in four nurses feel confident in caring for dying patients and their families and less than 2% of overall content in nursing textbooks is related to end-of-life care, despite the tremendous growth in palliative and end-of-life care programs across the country. The purpose of this textbook is to provide an indepth look at death and dying in this country, including the vital role of the nurse in assisting patients and families along the journey towards the end of life. There is an emphasis throughout the book on the simple, yet understated value of effective interpersonal communication between the patient and clinician. The text provides a basic foundation of understanding death and dying, including a brief historical examination of some main conceptual models associated with how patients cope with impending loss. An overview of illness trajectories and models of care, such as hospice and palliative care are discussed. Lastly, the latest evidence-based approaches for pain and symptom management, ethical concerns, cultural considerations, care at the time of death, and grief/bereavement are examined. The goal of this text is to foster the necessary skills for nurses to provide compassionate care to individuals who are nearing the end of life and their families. Every chapter contains a "What You Should Know" section which highlights and reinforces foundational concepts.
About the Contributors
Author
Dr. Susan Lowey works with both juniors and seniors in the traditional Nursing program, teaching Community Health Nursing and Nursing Research at SUNY, Brockport. She earned her PhD in Health Practice Research from the University of Rochester and was awarded a Claire M. Fagin Fellowship from the Building Academic Geriatric Nursing Capacity Program for her post-doctoral work. Improving care at the end of life, with a particular focus on symptom management, is the focus of Dr. Lowey's research. The majority of her clinical practice has been as a community health hospice nurse providing care for dying patients and their loved ones.
Dr. Lowey holds national certification as a board certified hospice and palliative care nurse (CHPN) through the National Board for Certification of Hospice and Palliative Nurses. In addition, she is a certified ELNEC (End-of-Life Nursing Education Consortium) trainer (Core and Geriatric). She is also an appointed member of the National Board for Certification of Hospice and Palliative Nurses Registered Nurse Examination Development Committee and holds another appointment as the ESPO Representative on the Membership Executive Committee through the Gerontological Society of America. Dr. Lowey also serves as one of the faculty representatives for Omicron Beta, Brockport's Chapter of Sigma Theta Tau International Honor Society.